Reflections and Advice:
1.) What do you think makes your school unique relative to other boarding schools?
A great "old ivy" type of Boarding School. Was once all male - I was in the last class of Darlington men. Now is coed. I can't imagine going to school and living with girls...
2.) What was the best thing that happened to you in boarding school?
While I resisted going to Darlington at first, it was the best experience of my life. It prepared me for college in a way that living at home never could.
3.) What might you have done differently during your boarding school experience?
I can't imagine what I would have done differently, other than going in ninth grade rather than waiting for tenth.
4.) What did you like most about your school?
I loved the experience and I now love saying that I attended The Darlington School.
5.) Do you have any final words of wisdom for visiting or incoming students to your school?
No final words of wisdom. Just go and take it all in. The entire experience will mean so much to you once you graduate.
Academics:
1.) Describe the academics at your school - what did you like most about it?
Advanced college preparatory academics. Study Hall, both in the dorm room and the auditorium. "Night Train..."
Athletics:
1.) Describe the athletics at your school - what did you like most about it?
The full gamut of sports: football, basketball, baseball, soccer, swimming...
Art, Music, and Theatre:
1.) Describe the arts program at your school - what did you like most about it?
Heavy emphasis on music and drama. Enjoyed my participation in both...
Extracurricular Opportunities:
1.) Describe the extracurriculars offered at your school - what did you like most about it?
YMCA (Young Men's Christian Association). Social Committee President: we hired the bands and put on dances.
Dorm Life:
1.) Describe the dorm life in your school - what did you like most about it?
Dorm life was as is expected. Kind of a "Hogan's Heroes" experience. Learning to live with a roommate as a young person. Having a window on your door, covered by a towel, so that proctors could look in on you at any time.
Dining:
1.) Describe the dining arrangements at your school.
Very good dining -- breakfast, lunch and dinner, seven days a week. No real assigned seating. Very diverse and varied menu.
Social and Town Life:
1.) Describe the school's town and surrounding area.
Rome, Georgia, a small town in Northwest Georgia.
2.) Describe the social life at your school - what did you like most about it?
We dated local Rome girls. We also had a girl's school nearby, Thornwood School, where most of our dates came from. The two schools have now merged into one Darlington School.
The campus is breathtakingly beautiful. Complete with its own lake and full brick buildings from the dorms to the classrooms. There was never a dull day on campus because just sitting out around with friends. . .
Walking onto the campus and seeing the beautiful architecture and landscape of Darlington is absolutely a highlight of the school. You feel like you've been transported somewhere incredibly quaint and special.One thing that I. . .
I thought it was very unique how my school would pair boarding students with families of day students who lived in the area and attended the school in order to give the boarding students opportunities. . .
Show more reviews (

8 reviews

)
Mastering the Boarding School Selection Process: A 5-Step Guide
Discover the ultimate 5-step guide to choosing the perfect boarding school for your child. Explore essential factors, such as academics, campus facilities, extracurricular activities, and more. Make an informed decision to provide your child with an enriching and transformative educational experience. Read now!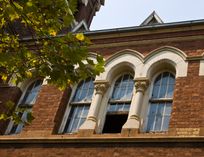 5 Founders and Their Boarding Schools
What prompts somebody to start a boarding school? The motives range from idealism to munificence right on through to capitalism. The common thread seems to be ample capital and a vision of what education can do.