Reflections and Advice:
1.) What do you think makes your school unique relative to other boarding schools?
We had mandatory after school activities that really pushed me out of my shell as a typically introverted person. I carried varsity letters in baseball with a state championship as a manager and it helped me understand my role as a statistical thinker. I wouldn't have gotten that out of a normal school.
2.) What was the best thing that happened to you in boarding school?
I graduated! I was on a bad path before going to Darlington, they helped me get back on a correct path.
3.) What might you have done differently during your boarding school experience?
Not gotten busted drinking during Summer School. I presented myself poorly. Luckily, there was 1 get out of jail free, second time would have been expulsion. I learned and didn't do it again, some of my classmates didn't learn and were gone 3 weeks later.
4.) What did you like most about your school?
It was friendly, the teachers were great and enthusiastic.
5.) Do you have any final words of wisdom for visiting or incoming students to your school?
I hear my dorm got torn down, so I guess you can't go there. But enjoy your walk around the lake, you'll do that a lot ;)
Academics:
1.) Describe the academics at your school - what did you like most about it?
The opportunity for very different kinds of AP programs. Not just languages, but art history and computer science as well. Helped me get a really good understanding of the subject matter in a small class setting.
Athletics:
1.) Describe the athletics at your school - what did you like most about it?
We had it all, swimming, lacrosse, baseball and softball, football. There was a lot of participation from everyone, including alumni.
Art, Music, and Theatre:
1.) Describe the arts program at your school - what did you like most about it?
I went to plays, but was not involved in the arts.
Extracurricular Opportunities:
1.) Describe the extracurriculars offered at your school - what did you like most about it?
We had state of the art equipment for everything and teachers and coaches that truly cared.
Dorm Life:
1.) Describe the dorm life in your school - what did you like most about it?
I had a German room-mate my junior year, she taught me conversational German while we went to bed at night. Where in a normal high school could that have happened?
Dining:
1.) Describe the dining arrangements at your school.
The food was delicious, easily accessible in either the dinning hall or snack bar in the common area. You had a meal plan paid for, or additional cash for things like grilled cheeses and snacks.
Social and Town Life:
1.) Describe the school's town and surrounding area.
Rome is a small, beautiful town. I loved going to the coffee shop on the weekends and meeting the locals. Lots of good hiking too.
2.) Describe the social life at your school - what did you like most about it?
Day students and dorm students interacted well and were able to hang out together. Having off periods was helpful for making friends as well.
The campus is breathtakingly beautiful. Complete with its own lake and full brick buildings from the dorms to the classrooms. There was never a dull day on campus because just sitting out around with friends. . .
Walking onto the campus and seeing the beautiful architecture and landscape of Darlington is absolutely a highlight of the school. You feel like you've been transported somewhere incredibly quaint and special.One thing that I. . .
I thought it was very unique how my school would pair boarding students with families of day students who lived in the area and attended the school in order to give the boarding students opportunities. . .
Show more reviews (

8 reviews

)
Mastering the Boarding School Selection Process: A 5-Step Guide
Discover the ultimate 5-step guide to choosing the perfect boarding school for your child. Explore essential factors, such as academics, campus facilities, extracurricular activities, and more. Make an informed decision to provide your child with an enriching and transformative educational experience. Read now!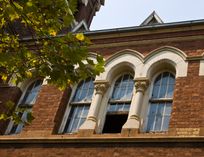 5 Founders and Their Boarding Schools
What prompts somebody to start a boarding school? The motives range from idealism to munificence right on through to capitalism. The common thread seems to be ample capital and a vision of what education can do.