Reflections and Advice:
1.) What do you think makes your school unique relative to other boarding schools?
Idyllwild Arts is uniquely situated in the beautiful San Jacinto Mountains. Waking up every morning to fresh mountain air--and sometimes even snow!--was an incredible experience. And even though the small town was rather secluded, we were still only two hours from LA, which meant we took many field trips to various cultural events in the city. As for the school itself, there was a huge focus on community and service. We had a weekly "all school" meeting at which any student could make an announcement to the school community. We also had a lot of service projects that students could participate in to benefit the school at large.
2.) What was the best thing that happened to you in boarding school?
I was always an anxious person, but going to Idyllwild forced me into a position where I couldn't avoid making friends or interacting with people on a daily basis. It really made me come out of my shell, and gain a lot of self-confidence. Especially in my art, I was forced to share my writing and constantly create and challenge myself. The foundations Idyllwild laid continue to help me throughout life.
3.) What might you have done differently during your boarding school experience?
One thing I wish I did was work harder on my art, in particular. I look back and realize I had so much time to write back then, but I spent a lot of it bringing Netflix series. If I got another chance, I would take full advantage of that time and create as much as possible. But don't work too hard. I would say going out and exploring with your friends, and having new experiences is also just as important as working hard.
4.) What did you like most about your school?
What I love about Idyllwild is the feeling that everyone is there together to create. It's a very supportive environment, and in my opinion not very competitive. We were all there for one thing--to make good art. In the process I made a lot of good friends and had experiences I wouldn't trade for the world. And the alumni network keeps on giving. I've gone to many alumni events since I've graduated, and I made a lot of friends among alums that I didn't even attend school with. Being an Idyllwild Arts student is like having a lifelong membership.
5.) Do you have any final words of wisdom for visiting or incoming students to your school?
My biggest advice is that it is what you make it. Some students will be very ambitious, work hard, and do great things. Other students will slack off and make bad decisions in the forest. In the end, it's up to you to decide what you're going to get out of this experience. You get a lot of freedom here, and you need to use it wisely. But also, enjoy it. Spend a lot of time walking through the forest, and hanging out with friends in the amphitheater.
Academics:
1.) Describe the academics at your school - what did you like most about it?
I enjoyed the academic classes because they were very to the point. We weren't assigned a lot of busy work. Being an art school, the teachers knew our main focus was our arts discipline and not our academic classes. Therefore our academics were often related to our arts. There was also a lot of diversity in the classes we were able to choose. For example, seniors were able to pick English electives related to their interests--some examples included Novel into Film, Theory and Criticism, Mythology, and Contemporary Literature. There were also honors classes available, but one downside is that there were no AP classes offered. We were still able to take the AP tests, however.
Athletics:
1.) Describe the athletics at your school - what did you like most about it?
There are no athletics programs. It's an arts school. Some people got together to play soccer or basketball on their own time. There was a hiking club and an ultimate frisbee club, too.
Art, Music, and Theatre:
1.) Describe the arts program at your school - what did you like most about it?
Idyllwild Arts shines in the arts department, for obvious reasons. They have top of the line studios, theaters, and even a new concert hall now for performances. I was a creative writing major, so I can't speak much to the other majors. But I remember seeing multiple plays, fashion shows, and concerts during my time there. There is a huge range of classes you can take, and we even had the opportunity to take classes outside of our discipline. I took a lot of writing classes, but I also took screenwriting classes through the film department and a painting class through the visual arts department. Many of my friends took acting classes, or fashion classes, and one of my friends even "double majored" in writing and dance. The school is very flexible and will pretty much let you take whichever arts classes you want. For us creative writers, we don't require expensive facilities but we would go on field trips to see plays or author readings, and we had many professional authors come visit us and conduct master classes that included workshops and critique. For a young writer it was an invaluable and an unmatched experience.
Extracurricular Opportunities:
1.) Describe the extracurriculars offered at your school - what did you like most about it?
I was active in the National Honor Society. We would put on events on campus like open mic nights, bake sales, dances, and other fun activities. We went on a service trip to help build houses for Habitat for Humanity during Spring Break, and we would also shovel snow for the elderly in the winter. The thing about extracurriculars here is that they are very student-driven. If you have an idea, you can put it into action and get support from the faculty to make it a reality.
Dorm Life:
1.) Describe the dorm life in your school - what did you like most about it?
Living in the dorms was one of my favorite experiences. I lived in Pierson Hall my first year and Husch Hall my second year. Pierson was newer but further away from the center of campus, so it was a bit of a hike to get there. Husch was closer to everything but the facilities were a bit older. Both were nice dorms and I never had any significant issues. We were allowed to have mini-fridges, so I kept a lot of food in my room. There was also a communal fridge and full kitchen, so students could cook if they felt so inclined. There were also vending machines for snacks. One issue I had was with the laundry facilities. Sometimes the dryer wouldn't dry my clothes all the way and it was super frustrating.
Dining:
1.) Describe the dining arrangements at your school.
I loved the food at IAA. There was a ton of range in the food they served. There was even a full salad bar so there were always fresh vegetables and fruit available in addition to hot food. My favorite days were quesadilla bar and omelet bar on Sundays. There was also a huge range of vegetarian and vegan options, and the dining hall staff were very accommodating if you had special food requirements. One thing I didn't like that they started to implement for the younger grades (and have since implemented for everyone) is breakfast check-in. You were required to go to breakfast, which was unfortunate for people who liked to eat breakfast in their room or skip breakfast altogether. I did like how the dining hall often had snacks available in the fireside room for anyone who wanted to stop by for a quick apple or bagel in between classes. In addition to the dining hall, the student store sold a lot of snack and drink items for an extra cost that you could get at any time.
Social and Town Life:
1.) Describe the school's town and surrounding area.
Idyllwild is a wonderful town! The school ran vans on the weekends to the center of town, but you could also walk from campus as it was just about a mile and a half or so away. It's a very artsy town, so there are a lot of art galleries, coffee shops, and good restaurants. I ended up meeting my husband in the town of Idyllwild, and so I go there often when we visit his family. It's very, very beautiful, though there may not be much of interest there to teenagers. On weekends we would go see a movie or get coffee and have lunch. Nothing too crazy exciting.
2.) Describe the social life at your school - what did you like most about it?
Living in close proximity means you're always close to your friends. While Idyllwild has drama like any boarding school does, in general it is a very accepting place to people of all nationalities, genders, and orientations. Expect a very liberal and progressive point of view--it is an arts school, after all. There are a lot of international students, as well, so you get to learn a lot about other cultures. Some of my lifelong friends came from Sweden, Peru, Canada, Taiwan, Egypt, Korea--you meet a wide variety of people.
Idyllwild Arts Academy is renowned for its dedication to providing a comprehensive arts education. The school serves pupils in grades 9 through 12 and provides a wide variety of artistic disciplines, such as music, dance. . .
Comprehensive Arts Education: Idyllwild Arts Academy's dedication to providing a comprehensive arts education is one of its standout features. The academy offers a wide variety of artistic disciplines, including music, dance, visual arts, drama, film. . .
The academy lays a lot of emphasis on encouraging its students' creativity, focus, and artistic expression. A strong academic program is combined with a demanding arts curriculum to give children a well-rounded education. Students are. . .
Show more reviews (

21 reviews

)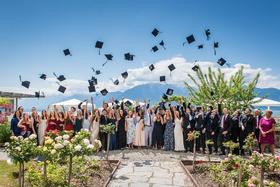 Nurturing Futures: A Journey through Boarding at Haut-Lac School in Switzerland
Nestled in the hills overlooking Lake Geneva in the French-speaking part of Switzerland lies an educational gem that embodies a unique blend of academic excellence, cultural richness and a profound sense of community. Founded over 30 years ago, Haut-Lac International Bilingual Day and Boarding School is now home to both 600 day students and a maximum of 30 boarders from around the world.
What To Wear at Your Job Interview
Navigating job interviews can be stressful, but knowing what to wear shouldn't be. Our comprehensive guide covers the essential dress code tips for men and women interviewing at boarding schools. Make your first impression count with style and professionalism.
Navigating the Modern Maze: Emerging Challenges for Boarding Schools
Explore the pressing challenges facing boarding schools, from marketing difficulties and rising insurance costs to facility maintenance and recruitment of competent trustees and teachers. This article delves into these complex issues and proposes innovative strategies to overcome them.