Reflections and Advice:
1.) What do you think makes your school unique relative to other boarding schools?
The school is highly international, so my closest friends were from all over the world. The diversity created a really unique class dynamic with perspectives I never would've thought of. The arts focus was also definitely unique - I spent half the day in academic classes, and half the day in arts, and both were valued equally.
2.) What was the best thing that happened to you in boarding school?
Our senior prank was pretty great- we broke into the classrooms, filled them with chickens, and took out all the furniture, and re arranged it outside to block cars from coming. I've learned to become a deeper thinker, a better friend, and a more conscious citizen of the world.
3.) What might you have done differently during your boarding school experience?
I was a day student.
4.) What did you like most about your school?
Recently, I was at a party in Los Angeles talking to the kids I would have gone to high school with, and they asked me about one girl they had seen on Instagram, that had been expelled from the school. They asked me if I thought she should've been, and I said, "of course. She wasn't passionate about her art." (She didn't get expelled for her art, but this was a side note) They looked at me really confused, and I realized that in most schools to judge someone based off their character and dedication to art, rather than just what outfit they wore, was unheard of. The student community at Idyllwild values people based off of how hardworking and driven they are, instead of how much money someone has or who they kissed, and I think this is incredibly unique in a teenage environment.
5.) Do you have any final words of wisdom for visiting or incoming students to your school?
Go to Environmental Club! Go up to the point at night time and look up at the stars, or to the astronomy tower. The first month of school you will panic, and think you can't do it, and the last month of school before you graduate you will wish it would never end.
Academics:
1.) Describe the academics at your school - what did you like most about it?
The classes are largely discussion based, so you get a lot of unique perspectives from everyone. The desks are U-shaped, so that everyone can see each other and share their ideas. Students were mostly encouraged to question the ideas presented and I definitely learned how to hold my own in a discussion or debate at IAA, and formulate my ideas clearly.
Athletics:
1.) Describe the athletics at your school - what did you like most about it?
There isn't really an athletics program at IAA.
Art, Music, and Theatre:
1.) Describe the arts program at your school - what did you like most about it?
In visual arts, I liked how there was such a focus on the conceptual side of art. In my painting and photography classes, we did focus on technique, but we were taught to be aware of what we were trying to say with our art, versus than just focusing on what looked coolest. In theatre, I liked the sense of community in the department.
Extracurricular Opportunities:
1.) Describe the extracurriculars offered at your school - what did you like most about it?
If you want to make a club, then great, you can make it. In my sophomore year, my friend and I decided to make an environmental club, and right away we had teachers volunteering to advise us. We were strongly supported and even had trips arranged to our food sources two hours away. If you take initiative, you can get a lot done.
Dorm Life:
1.) Describe the dorm life in your school - what did you like most about it?
I was a day student.
Dining:
1.) Describe the dining arrangements at your school.
There is a fresh salad bar with really good options if you don't want whatever they are serving at the hot food bar. I always got enough sustenance and Chris, the head cook, is really hard working and dedicated to creating delicious and good quality food. It gets better every year.
Social and Town Life:
1.) Describe the school's town and surrounding area.
The town is very friendly, and the environment surrounding it and the school is incredible. We used to leave some academic classrooms and walk down to the creek, or meadow, on the edge of campus to discuss whatever topic we are learning. The nature surrounding me made a wonderful environment that gave me perspective and insight through my academic and artistic struggles.
2.) Describe the social life at your school - what did you like most about it?
Idyllwild Arts is the island of misfit toys. I met the weirdest, funniest, and kindest group of people I think I ever will. Going to Idyllwild Arts, you have to already be passionate about art and learning, or become that way fast, and so being around so many people dedicated to developing their artistic and world perspectives pushed me to deepen my own thinking.
Daily Schedule:
Weekday
Weekend
Idyllwild Arts Academy is renowned for its dedication to providing a comprehensive arts education. The school serves pupils in grades 9 through 12 and provides a wide variety of artistic disciplines, such as music, dance. . .
Comprehensive Arts Education: Idyllwild Arts Academy's dedication to providing a comprehensive arts education is one of its standout features. The academy offers a wide variety of artistic disciplines, including music, dance, visual arts, drama, film. . .
The academy lays a lot of emphasis on encouraging its students' creativity, focus, and artistic expression. A strong academic program is combined with a demanding arts curriculum to give children a well-rounded education. Students are. . .
Show more reviews (

21 reviews

)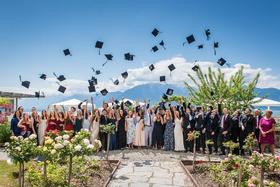 Nurturing Futures: A Journey through Boarding at Haut-Lac School in Switzerland
Nestled in the hills overlooking Lake Geneva in the French-speaking part of Switzerland lies an educational gem that embodies a unique blend of academic excellence, cultural richness and a profound sense of community. Founded over 30 years ago, Haut-Lac International Bilingual Day and Boarding School is now home to both 600 day students and a maximum of 30 boarders from around the world.
What To Wear at Your Job Interview
Navigating job interviews can be stressful, but knowing what to wear shouldn't be. Our comprehensive guide covers the essential dress code tips for men and women interviewing at boarding schools. Make your first impression count with style and professionalism.
Navigating the Modern Maze: Emerging Challenges for Boarding Schools
Explore the pressing challenges facing boarding schools, from marketing difficulties and rising insurance costs to facility maintenance and recruitment of competent trustees and teachers. This article delves into these complex issues and proposes innovative strategies to overcome them.