Reflections and Advice:
1.) What do you think makes your school unique relative to other boarding schools?
Ridley College is unquestionably Canada's finest boarding/day school. Founded in the 1880s, it has produced generations of leaders in all walks of life. Its motto, "Terar dum Prosim" (loosely - "wear oneself out in service"), continues to guide the school into the 21st century. Ridley students enjoy a comprehensive education that builds the heart, mind, and soul. While an outstanding faculty teaches a rigorous curriculum that stimulates both academic excellence and inquiry, athletics, chapel, and cadets all serve to fortify a student's spiritual, moral and physical dimensions.
2.) What was the best thing that happened to you in boarding school?
Away from home, I learned to be self-reliant, focused, and more disciplined. I began to consider the long-term consequences of seemingly unimportant choices. Life took on a more serious mantle.
3.) What might you have done differently during your boarding school experience?
Accept the rules and you'll be free to make positive choices. Participate, join, and explore new activities. Seek people and experiences outside of your normal comfort zone. Recognize that time accelerates as one ages. Seize the day! Know that these may be the best days of your life.
4.) What did you like most about your school?
For the first time in my life, I felt that I had become a part of something greater than myself. While I was merely passing through, I became aware that I had joined the ranks of fellow Ridleans, both past and future, who would carry and cherish their school's legacy for many years to come.
5.) Do you have any final words of wisdom for visiting or incoming students to your school?
As a 17 year-old, Chapel seemed to be an inconvenience that one learned to tolerate. In hindsight, I look back nearly a half-century and remember those twice-daily services of introspection and personal reflection with great fondness. My two years at Ridley College were among the very best in my life. I entered Ridley as a boy, and exited as a man.
Academics:
1.) Describe the academics at your school - what did you like most about it?
Small class sizes, well-planned syllabi; emphasis on whole language (particularly writing); tutorials in specific content areas; excellent facilities; knowledgeable, creative, and articulate teachers; mandatory study periods; demanding but meaningful assignments; and thought-provoking electives. As a student, I learned to express myself with both confidence and competence. Students were taught to be both creative and critical thinkers - two qualities that served me well in university and graduate school. Ridley produces "life-long learners".
Athletics:
1.) Describe the athletics at your school - what did you like most about it?
The camaraderie that existed on the individual teams, regardless of the proficiency level. Also, the student support given to all teams was remarkable. The coaches, facilities, and equipment ('tho antiquated by today's standards) were all top-drawer. The inter-school rivalries among the Little Big Four (UCC, SAC, and TCS) were high points on every team's schedule. I was proud to be a part of the very earliest rowing teams, as well as a medal-winner at both the Independent School Relays and the SOSSA Track & Field Championships. I was especially proud to have my picture (First XII - 1968) join the many others in the hall leading into the Chapel. In fact, a picture of that 1968 football team still adorns my office.
Art, Music, and Theatre:
1.) Describe the arts program at your school - what did you like most about it?
I participated in several dramatic and music endeavours while at Ridley. I appreciated the ability to try new activities, regardless of one's skill or prior experience.
Extracurricular Opportunities:
1.) Describe the extracurriculars offered at your school - what did you like most about it?
Several of us (mostly Americans of draft-age), formed a student-run "Chapel Committee", with Rev. Hunt's blessings. We were allowed to create topical presentations for the Evensong services during the Trinity Term. In order to do so, we met on a regular basis with the Reverend, to discuss current events, societal issues, and matters related to our age-group. As a direct result of these meetings, I studied Religion and Philosophy as my minor while at Colgate University.
Dorm Life:
1.) Describe the dorm life in your school - what did you like most about it?
During my years at Ridley ('67- '69), I was considered a 6th Form "neutral". As such, I was not subjected to the "Old Boy system", which was based on a three-year residency. The system was alternately a means of student-supervised discipline and mean-spirited bullying. I am glad that it was vanquished to the dustbin of history many years ago. In general, dorm life was pleasant - residents mingled, although they tended to self-segregate by form-level. Each House had its own personality, often derived from (and reflecting) the House Master's own personality. As a VIA (grade 13) student, I was allowed to choose my best friend, despite his VIB (grade 12) status, as a roommate. Our room (23 AB) soon became the meeting room for the flat. Accommodations and services (cleaning and laundry) were uniformly excellent.
Dining:
1.) Describe the dining arrangements at your school.
Our meals, served table-side by a wait staff, were typically bland, cold, and tasteless. Nonetheless, meals were the one time that you were able to converse with classmates about topics of one's choosing. Assigned as table "heads" on a rotating schedule, one learned to converse with different students and faculty members on a routine basis. The special events - Cross Country, Christmas, end-of-terms, and graduation dinners - were memorable occasions. The dinner meal (at noontime) was a daily opportunity for the Headmaster to address the entire school, including students, faculty and staff.
Social and Town Life:
1.) Describe the school's town and surrounding area.
Old downtown St. Catharines was a 15 minute walk from school. It was a vibrant community at that time, with a wide variety of retail stores, restaurants, and cinemas nearby. The Ridley Commons now offers similar stores nearby the school.
2.) Describe the social life at your school - what did you like most about it?
Cliques existed, but school pride and identity always seemed to prevail. Socializing was usually (in order)by form, flat and dorm. Athletic and extra-curricular participation expanded one's social network.
Daily Schedule:
Weekday
Weekend
7:15 PM
Study/Evening leave
11:00 PM
VI Form leave ends
School is a special time and place for everyone. It is where we make our first friends and the best of memories. This post on school quotes for kids will help you motivate your little. . .
It had a great sense of community on my first day I felt right at home. Everyone was really welcoming the teachers set out to make sure that we were all well included. The dorms. . .
For me, it was a great experience as a result of a combination of good teachers,mentors and athletics. I graduated 50 years ago and return at least every five years for a class reunion. there. . .
Show more reviews (

3 reviews

)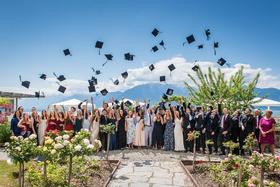 Nurturing Futures: A Journey through Boarding at Haut-Lac School in Switzerland
Nestled in the hills overlooking Lake Geneva in the French-speaking part of Switzerland lies an educational gem that embodies a unique blend of academic excellence, cultural richness and a profound sense of community. Founded over 30 years ago, Haut-Lac International Bilingual Day and Boarding School is now home to both 600 day students and a maximum of 30 boarders from around the world.
What To Wear at Your Job Interview
Navigating job interviews can be stressful, but knowing what to wear shouldn't be. Our comprehensive guide covers the essential dress code tips for men and women interviewing at boarding schools. Make your first impression count with style and professionalism.
Navigating the Modern Maze: Emerging Challenges for Boarding Schools
Explore the pressing challenges facing boarding schools, from marketing difficulties and rising insurance costs to facility maintenance and recruitment of competent trustees and teachers. This article delves into these complex issues and proposes innovative strategies to overcome them.