Mercersburg Academy - Review #2
About the Author:

College Enrolled
Georgetown University
Home Town, State (Country)
Hickory, NC
Years Attended Boarding School
4
Activities During Boarding School
The Mercersburg News is one of the few weekly, student-run publications in the country, and it was undoubtedly one of my favorite activities at Mercersburg. There are reporters and editors from all grades, and the faculty advisers encourage students to take risks with their topics and to write articles that pertain to current events, but use the global student body to add personal, Mercersburg twists. I also played soccer in ninth grade, did three terms of Endeavor Outdoor Education, played two seasons of lacrosse, and ran four seasons of track, and two seasons of cross country. In each activity, I not only expanded my friend group, but I also became close with faculty members who were invested in me and eager to help if I had an issue. My experience on the cross country team was a highlight of my Mercesburg career because of the incredible coaches and close-knit team. Every day we had check-ins where each runner and coach elaborated on their day--both the good and the bad--which fostered quite the little family setting. I was also Class President and Class Treasurer each for two years, which was a great way to increase my interaction with school administrators and upperclassmen. In tenth grade I declaimed during Irving Marshall week which was a once-in-a-lifetime experience. I was also on Blue Key, a Prefect, a member of the Feminist Book Club, and of the Women's Activist Club.
Daily Schedule:
Weekday
| | |
| --- | --- |
| 8:45 AM | Classes start at 8:50 |
| 11:45 AM | Lunch is from 11:55-12:20ish |
| 1:00 PM | Every weekday except for Tuesday has a 30 minute Help period after lunch |
| 3:45 PM | Classes end at 3:40 |
| 4:00 PM | PGAs (after school activities) start around 4:00 |
| 6:30 PM | Dinner is from 6:30-7:00 |
| 8:00 PM | Study hours begin |
| 11:00 PM | Lights out (this varies a bit depending on the grade level and dorm) |
Weekend
| | |
| --- | --- |
| 9:00 AM | The gym opens on Saturdays at 9:00 (as opposed to 6:30 or 7:00 am on weekdays and 1:00 pm on Sundays) |
| 10:00 AM | My friends and I liked to go to brunch in the Dining Hall around 10:00 am and sometimes stay until after lunch (around 1:00 pm) |
| 5:30 PM | Dinner opens in the Dining Hall |
| 7:00 PM | Dinner closes in the Dining Hall |
Review

Description

Duke University

Opportunity and Community were the two buzzwords that largely encompass my Mercersburg experience. What lies between these two speaks just as loudly. There is a certain "presence of the present" that exists at Mercersburg that. . .

Georgetown University

Building a sense of community is definitely a theme throughout boarding schools, but how well Mercersburg cultivates community sets it apart. Students are required to participate in an afterschool activity every term and since the. . .

Johns Hopkins University

Mercersburg Academy is certainly known for its beautiful, spacious campus that rivals no other. The picturesque landscape is often seen bustling with students during the early hours of the day and scattered with a few. . .

College of William and Mary

One of the most defining aspects of Mercersburg Academy, and one of the most significant parts of the school in my experience is the number of ways they encourage their students to either travel or. . .

Tufts University

We have sit-down meals everyday of the weekday. The tables rotate every two weeks so you really get to know different faculties and students. We also have Irving-Marshall week, so students are divided into two. . .

Show more reviews

(12

reviews)
April 20, 2018
Actually, there is no secret to getting your child into boarding school. Just a lot of hard work and a heavy commitment of time.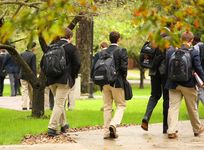 March 22, 2018
Some cynics think single-sex education is old-fashioned. The Kiski School shows how educating boys in a single-sex school is successful.
March 08, 2018
The wide range of fine academic, athletic, and other facilities found in boarding schools underscores the determination of schools to provide the very best for their students.