Reflections and Advice:
1.) What do you think makes your school unique relative to other boarding schools?
The military environment is very conducive to scholastics and athletic excellence.
2.) What was the best thing that happened to you in boarding school?
I learned to respect but not blindly bow down to authority. I rebelled but maintained an ordered lifestyle. Many tours were marched.
3.) What might you have done differently during your boarding school experience?
I would have done nothing differently. My advice to new kids...LISTEN and HEAR
4.) What did you like most about your school?
I loved the horses and living a structured life.
5.) Do you have any final words of wisdom for visiting or incoming students to your school?
There are many secret places on Post. The history is amazing. The ghosts of past cadets can be heard. Truly a positive experience if you want it to be. But be prepared for some hardships and homesickness. This will make you stronger in life.
Academics:
1.) Describe the academics at your school - what did you like most about it?
Teachers were the top of their peer group. Each student can get as much one on one as they need to excel. Dedicated study times help each student develop good study habits.
Athletics:
1.) Describe the athletics at your school - what did you like most about it?
Mandatory athletics or team sports kept kids fit and healthy. Inter-mural sports were always fun. They now have a great indoor athletic facility that we didn't have.
Art, Music, and Theatre:
1.) Describe the arts program at your school - what did you like most about it?
There is an entire Company of fellow musicians if a band is your thing.
Extracurricular Opportunities:
1.) Describe the extracurriculars offered at your school - what did you like most about it?
This isn't an art school. You learn to shoot rifles and learn military sciences along with regular scholastics.
Dorm Life:
1.) Describe the dorm life in your school - what did you like most about it?
The barracks were a little starker when I was there. Now, with high speed internet connections and comfortable carpeted rooms, life appears to be much more comfortable there than the '70's.
Dining:
1.) Describe the dining arrangements at your school.
Fantastic SOS and a den of culinary atrocities to make your grandmother proud.
Social and Town Life:
1.) Describe the school's town and surrounding area.
Roswell is a hard town with a lot of crime but the Institute is a very safe place and most town folks are friendly to cadets.
2.) Describe the social life at your school - what did you like most about it?
The social life began on weekends. If you did well during the week, you will have free time. The local girls were friendly. The best social occasions happened when I went home on furlough but the friends I made are lifelong.
Daily Schedule:
Weekday
6:30 AM
March to Breakfast Role Call
8:00 AM
Classes until 3:30
3:30 PM
Team sports or Intermural sports
5:00 PM
clean up and get ready for Supper Role Call
10:00 PM
Lights out of Late Lights for studying
Weekend
6:00 AM
Weekends are usually free but there might be an activity planned like an inspection or Pass and Review
12:00 PM
I usually went to a local resturant for a second breakfast
10:00 AM
Call to Quarters and Taps
One aspect of New Mexico Military Institute that makes it unique is the way it is run. It is run by a cadet chain of command which is set up just like the military. First. . .
The military environment supported rigorous academics as well as athletics and active extracurricular activities. Its location in the American Southwest provides a unique experience from traditional boarding schools back east.. . .
The military environment is very conducive to scholastics and athletic excellence. . .
Show more reviews (

4 reviews

)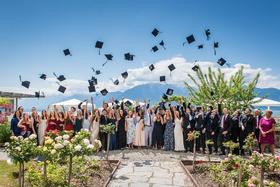 Nurturing Futures: A Journey through Boarding at Haut-Lac School in Switzerland
Nestled in the hills overlooking Lake Geneva in the French-speaking part of Switzerland lies an educational gem that embodies a unique blend of academic excellence, cultural richness and a profound sense of community. Founded over 30 years ago, Haut-Lac International Bilingual Day and Boarding School is now home to both 600 day students and a maximum of 30 boarders from around the world.
What To Wear at Your Job Interview
Navigating job interviews can be stressful, but knowing what to wear shouldn't be. Our comprehensive guide covers the essential dress code tips for men and women interviewing at boarding schools. Make your first impression count with style and professionalism.
Navigating the Modern Maze: Emerging Challenges for Boarding Schools
Explore the pressing challenges facing boarding schools, from marketing difficulties and rising insurance costs to facility maintenance and recruitment of competent trustees and teachers. This article delves into these complex issues and proposes innovative strategies to overcome them.