Buxton School - Review #1
About the Author:

College Enrolled
Wesleyan University
Home Town, State (Country)
Williamstown, MA
Years Attended Boarding School
3
Activities During Boarding School
Work program head, gardening head, editor of the student zine, head of the recreation committee, participant in several theatrical productions, participant in the creative writing club.
Review

Description

Wesleyan University

The most defining aspect of Buxton, in my eyes, was work program. Work program was a time twice a week when students perform the basic maintenance work of the school: cleaning, gardening, raking, chopping the. . .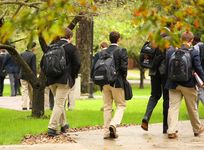 March 19, 2018
Some cynics think single-sex education is old-fashioned. The Kiski School shows how educating boys in a single-sex school is successful.
March 14, 2018
Determining which programs are 'must haves' is an important part of choosing the right boarding school for your child.
March 08, 2018
The wide range of fine academic, athletic, and other facilities found in boarding schools underscores the determination of schools to provide the very best for their students.