Reflections and Advice:
1.) What do you think makes your school unique relative to other boarding schools?
For me, Buxton school felt like home away from home. I was a day student my first year, and was surprised at how quickly I realized that I wanted to board there. The feeling of community is always the first thing that comes to mind when I think back to my Buxton days. Reading the New York Times over breakfast, making new friends on the path to the New Building, stacking wood together during work program. Obviously, Buxton is a school, too, but I learned so much more there than just academics. Apart from academics and community, the arts are what make Buxton special. There are so many chances to try out new art forms, at a time when kids are figuring out themselves and learning how it is they want to present themselves to the world.
2.) What was the best thing that happened to you in boarding school?
I know it sounds cliché, but Buxton is the best thing that could have happened to me in high school. I was at my local public school, I didn't have many friends and I was academically underchallenged. I also had very little contact to art opportunities, something I didn't even know I was missing. At Buxton I learned that being good at school is not enough to make you a valuable part of the community, or rather, being good at academics doesn't define your value. There is so much to explore and people have so many different things to offer this world.
3.) What might you have done differently during your boarding school experience?
I had a real hard time my first two weeks at Buxton. I had been so excited to start there, and then I found myself as a freshman away from home, surrounded by all these older students who knew each already and seemed so self-assured and intimidating. I wanted to leave. It wasn't until a couple weeks in that I really started to find the people I could connect with, the people I felt like I could be myself around. I guess my advice would be to stick it out for a little while, be brave and be yourself. It could be the experience of a lifetime.
4.) What did you like most about your school?
The people. I found friends for life, and even those I may loose through the years are important to me still. Those people helped me figure out who I am and who I want to be.
5.) Do you have any final words of wisdom for visiting or incoming students to your school?
Go to Buxton with an open mind. Become friends with people you would never have become friends with or maybe even met anywhere else. Don't be sad if you don't get exactly the room or the roommates you were hoping for - the best memories are sometimes the unexpected ones.
Academics:
1.) Describe the academics at your school - what did you like most about it?
At Buxton, we were really encouraged to express our curiosity academically. There was a very cool and ever-changing spectrum of electives - psychology, latin american literature, africa, journalism and the media to name a few. The discussion-based classes taught us how to express our thoughts clearly and with intention.Although there are grades and tests, they are not presented as the sole priority in teaching. Instead, you are taught for the sake of learning. At Buxton, we didn't get a look at our grades until Junior year, when it was time to start thinking about preparing for SATs and college applications. Instead of letter grades, we got written feedback from our teachers three times a year. Along with this, we were expected to write a self evaluation for each class and a broad self evaluation on our role in the Buxton community. These evaluations were read aloud and reflected on together with a school director. This way, we always had a good idea of how we were doing academically and socially without needing to fixate on a grade. This is a much more differentiated and fair way to evaluate, in my opinion.
Athletics:
1.) Describe the athletics at your school - what did you like most about it?
The main sport offered in the Fall during my time at Buxton was soccer. Those who didn't play did alternative sports, from walking/hiking to running, etc. Throughout the year, there were several african and indonesian dance classes offered. In the winter there was a basketball team and in the spring ultimate frisbee. In my time, some people who wanted to learn capoiera (brazilian martial arts/dance) created a club and began practicing together. There is a great amount of capacity to make the sport or the club that you want happen if it isn't already offered. That being said, the sports at Buxton are not exceedingly competitive compared to other schools.
Art, Music, and Theatre:
1.) Describe the arts program at your school - what did you like most about it?
Buxton offers amazing visual arts opportunities. Ceramics, studio art, photography, video production and print making are exception here. There is a great amount of opportunity to try out something new. There are music classes, orchestra and chorus, sometimes folk singing as a club. I also did theater at Buxton, in form of the fall or spring theater production as well as drama class.
Extracurricular Opportunities:
1.) Describe the extracurriculars offered at your school - what did you like most about it?
Buxton does offer a lot of extracurricular activities, because of this I tried out a lot of activities I may not have otherwise expected myself to try. West african dance and drum and folk singing come to mind. There is a lot of space at Buxton to create new extracurricular activities, as well. If you engage with the student body and faculty, you can almost always find someone who shares and interest and makes something new happen.
Dorm Life:
1.) Describe the dorm life in your school - what did you like most about it?
Dorm life at Buxton was unique in that three times a year there is room change. This means that each year, every student experiences four different living constellation. I myself was sceptical at first, but I came to love it. The best thing about this, is that every time a clique might be forming, room change comes around and jostles up the social life. Friends stick, of course, but because of room change I got to live with and make friends with a whole lot more people than I would have thought.
Dining:
1.) Describe the dining arrangements at your school.
The dining room tables are round, so it's a family - style set up. Each week there is a new waiter assigned for each table and that waiter has to be punctual to carry out the food and set the table and clean it up at the end of the meal. Only waiters have to sit at the table they are assigned to for that week, everyone else may choose where to sit. The heads of waiters are also students, it is there task for half a year to create the weekly waiter lists and make sure nobody is waiter twice in a row. There's always a salad bar, and since my time at Buxton I believe there is more and more self-grown food offered.
Social and Town Life:
1.) Describe the school's town and surrounding area.
Town time was twice a week - Tuesday afternoons and Saturdays after work program. It's a small college town with a lovely ice cream shop and coffee shop and the green river is a sweet place to wade or swim. It's a small town, but sweet.
2.) Describe the social life at your school - what did you like most about it?
I liked the community feeling of it. The diversity of students. It is a college preparatory school, but Buxton feels far from "preppy". There are so many students from all over the country, and all over the world, really. It's really special to get to live in that way with people who normally would be so much outside of your "bubble".
Daily Schedule:
Weekday
12:00 AM
Set your table for lunch
Weekend
10:00 AM
Order eggs for breakfast, or make yourself a waffle
3:00 PM
Go for a walk with friends
5:00 PM
Get dressed up with roommates for sunday dinner
The most defining aspect of Buxton, in my eyes, was work program. Work program was a time twice a week when students perform the basic maintenance work of the school: cleaning, gardening, raking, chopping the. . .
For me, Buxton school felt like home away from home. I was a day student my first year, and was surprised at how quickly I realized that I wanted to board there. The feeling of. . .
Buxton is a small and special school. They focus on the arts but are not technically an art school. It's set on an old property and is very pretty. One of the special things, is. . .
Show more reviews (

1 review

)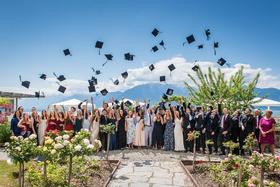 Nurturing Futures: A Journey through Boarding at Haut-Lac School in Switzerland
Nestled in the hills overlooking Lake Geneva in the French-speaking part of Switzerland lies an educational gem that embodies a unique blend of academic excellence, cultural richness and a profound sense of community. Founded over 30 years ago, Haut-Lac International Bilingual Day and Boarding School is now home to both 600 day students and a maximum of 30 boarders from around the world.
Navigating the Modern Maze: Emerging Challenges for Boarding Schools
Explore the pressing challenges facing boarding schools, from marketing difficulties and rising insurance costs to facility maintenance and recruitment of competent trustees and teachers. This article delves into these complex issues and proposes innovative strategies to overcome them.
What To Wear at Your Job Interview
Navigating job interviews can be stressful, but knowing what to wear shouldn't be. Our comprehensive guide covers the essential dress code tips for men and women interviewing at boarding schools. Make your first impression count with style and professionalism.