Middlesex School - Review #1
About the Author:

College Enrolled
Colby College
Home Town, State (Country)
Lancaster, MA
Years Attended Boarding School
4
Activities During Boarding School
I believe the scope of activities that Middlesex offers is distinctive. I didn't take advantage of this until later in my high school career, but once I did, it opened up a lot of doors for me, both socially and intellectually. As an Opinions section editor for The Anvil, our school newspaper, I both expressed my own passionate opinions and worked with my peers to share theirs. Some of the most important groups to me were Feminist Reading Group and Equality Action Group, where I found people who cared about the same social justice issues as me. It challenged me to tackle difficult topics and make tangible efforts to begin to remedy these issues. For example, with groups from school, I went to the Boston Women's March and the Boston Protest Against Muslim Ban and Anti-Immigration Orders; these were truly life changing experiences. I was a head of Middlesex Democrats to keep the campus politically active and aware. I enjoyed holding positions such as Student Activities officer and Spirit Club Head to facilitate good times and school spirit on campus. As a dorm proctor, I acted as a bridge between the students and faculty in the dorm and a sort of big brother. I had fun with Circle Soccer and Knee Hockey League, started Short Story Society, and tried out Model Congress. The list goes on and on.
Daily Schedule:
Weekday
| | |
| --- | --- |
| 7:15 AM | Wake up, get breakfast |
| 8:00 AM | Class starts |
| 9:30 AM | Free period! Chill with friends, grab a snack, start homework |
| 12:00 PM | Lunch |
| 1:30 AM | Free period last block, go to the athletic center to work out before practice |
| 3:30 AM | Practice |
| 5:45 AM | Dinner |
| 7:15 AM | Start homework |
| 9:45 AM | Go hang with friends in stu-fac |
| 11:30 AM | Good night |
Weekend
| | |
| --- | --- |
| 8:00 AM | Class |
| 9:30 AM | All school assembly |
| 11:30 AM | Out of class, go grab lunch |
| 2:00 AM | Game time |
| 6:00 AM | Go to Buffalo Wild Wings with friends |
| 8:00 AM | Watch college football |
| 9:00 AM | Go to dance in stu-fac |
| 11:00 AM | Back in the dorm to check in for the night |
| 11:30 AM | Late snack, watch Netflix with roommate and talk about the week |
| 12:30 PM | Bed time |
Review

Description

Colby College

To me what makes Middlesex such a special place is the strong sense of community. With a small student-to-faculty ratio, you get to work closely with each teacher and develop relationships that often extend beyond. . .

Brown University

The two primary aspects that I believe differentiate Middlesex (MX) from other independent schools are its class schedule and its student body composition. MX has a six day class schedule; every week, students have. . .

Princeton University

Middlesex sets its self apart from other schools through its tight-knit community and its passionate, caring faculty members. The faculty members here are more than teachers or mentors; they are friends and family. They are. . .

Cornell University

The first unique aspect of Middlesex that comes to mind is our plaque tradition. It is and always has been a graduation requirement to carve a plaque and every single one is hung up. . .

Harvard College

An aspect of Middlesex that truly sets it apart from other boarding schools is the strong relationships formed between the students and the faculty. Middlesex, probably by design, has it so that an individual can. . .

Show more reviews

(17

reviews)
April 20, 2018
Actually, there is no secret to getting your child into boarding school. Just a lot of hard work and a heavy commitment of time.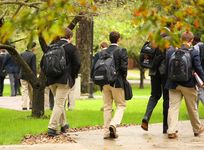 March 22, 2018
Some cynics think single-sex education is old-fashioned. The Kiski School shows how educating boys in a single-sex school is successful.
March 08, 2018
The wide range of fine academic, athletic, and other facilities found in boarding schools underscores the determination of schools to provide the very best for their students.