Reflections and Advice:
1.) What do you think makes your school unique relative to other boarding schools?
Exeter is simply the creme of the crop. The students there represent the best of their former schools, and the atmosphere of the school reflects that. The teaching is phenomenal, and the style unique. Instead of rows of seats, every class is taught around a round table. Class participation and discussion is very important to academic success, unlike many other schools. The "Harkness method", as they call it, involves kids leading the discussions. If you are one of those kids that likes to sit in the back of classes and absorb the material, you may have a hard time at first in this place. Everyone is expected to participate daily in discussions, and your grade will reflect that. The campus is a very unique, beautiful place with three main quads. It is far more like an ivy league college than a high school, and I was simply in awe of it from the moment I saw it. There are many great old brick buildings with a very academic feel, and you really get a sense of the history of the place from the moment you step on the quad. The campus is nicely condensed and the distance between any two places is never a very long walk. The academic buildings are nicely clustered and well organized.
2.) What was the best thing that happened to you in boarding school?
The best thing that happened to me was being placed in my dorm. I had an awesome resident faculty and a great group of friends who I still see often. It was in the dorm that I formed bonds with people that I didn't think were possible in so short a time. One achievement I had that was really hard-won was achieving cum laude, which means I was in the top 20% of my class. At Exeter this is truly an achievment for anyone, and I was particularly proud of this. A's are not given out liberally here- the grading is very difficult. Only those that are truly gifted and work hard will come out on top.
3.) What might you have done differently during your boarding school experience?
School will be a shock for most when they first arrive. The classes are not like any others that you will have taken, and you need to prepare to work hard the moment you hit the ground. At the same time, get out and meet your dormmates and get to know them. Remember that you are on your own and that you bear all the responsibility for yourself. Getting used to being on your own will be one of the hardest and most rewarding experiences of boarding school
4.) What did you like most about your school?
It's hard to say what I like most, but it would have to be the kids that go there. There is such a great diversity and mix of great kids that it's almost impossible not to find your place. They are some of the most intellectually stimulating people I have met, and I'll never forget the great times I had just hanging out late at night in the dorm with my buddies. It is a truly wonderous and memorable place to go to school.
5.) Do you have any final words of wisdom for visiting or incoming students to your school?
Check out the Grill, it's a popular hangout spot. I would highly recommend Ewald dorm, but if you get placed anywhere on campus you're bound to have a good time. If you are a more sociable, outgoing person, then south-side is the place for you. If you are more academic, and/or relaxed and chill, north side would probably be better.
Academics:
1.) Describe the academics at your school - what did you like most about it?
Exeter gives you a very unique education. For starters, the teachers are phenomenal for the most part. Their expertise on the subject matter and ability to get you to learn is unrivaled in my opinion. There are a huge variety of classes to take (especially senior year) which isn't true of most boarding schools. The best part though is the students. They are, for the most part, highly intelligent and hard working, and classrooms are often very competitive environments. There are no divisions in the classes, nearly everyone is on the same page and expected to be on the ball every class. The conversations outside of class rival those inside in terms of intellectual stimulation
Athletics:
1.) Describe the athletics at your school - what did you like most about it?
Athletics are highly competitive, and Exeter teams tend to do very well. Mandatory participation in an activity is required for all trimesters except 2, but there are a huge variety of activities. The facilities are unrivaled- better than most colleges. The coaching is generally good, but there are always a few coaches that could be better.
Art, Music, and Theatre:
1.) Describe the arts program at your school - what did you like most about it?
The theatre program is generally good and well attended with very good instructors. The facilities, again, are phenomenal with a large theatre, art studio and state of the art photo lab. I participated in the filmmaking course, which was a great learning experience. Photography and theatre are probably Exeter's strongest arts, and have high levels of participation.
Extracurricular Opportunities:
1.) Describe the extracurriculars offered at your school - what did you like most about it?
In terms of extracurriculars, you get out what you put in. If you attend the meetings and work hard at the club, it will be rewarding. There are vast numbers of clubs at Exeter, and a new club can be started at almost any point. With over 1000 kids at the school, there is a huge variety of interests.
Dorm Life:
1.) Describe the dorm life in your school - what did you like most about it?
Dorm life at Exeter was one of my greatest experiences. The dorms are mixed in age, with freshman and seniors living in the same building. This breeds a great bond between those in the dorm, and younger kids have the opportunity to learn from their elders. The friends I made in the dorm will be friends for life. There is great dorm unity, an almost frat-like experience in some dorms. The rooms are generally big, and there are many singles to be had. By the time you are a sophmore or junior you will definitley have a single if you want it. In addition, most local businesses deliver directly to dorms, so food is available late.
Dining:
1.) Describe the dining arrangements at your school.
There are two dining areas in Exeter, both serving the same food. The food is generally average with some diversity, but certainly not the highlight of Exeter. Most will get along fine with the food, and fortunately there are many other places to eat in the town. The dining halls are very social, active places and are bustling with activity. They are open most of the day so you may come and go as you please.
Social and Town Life:
1.) Describe the school's town and surrounding area.
The town is really great. It's small in comparison to many college towns but for a private shool it's rather big. There are plenty of places to eat and most of what you would need is withing walking distance. It's a beatiful area with plenty of walking and biking paths and is only 15 minutes from Portsmouth and a nice mall.
2.) Describe the social life at your school - what did you like most about it?
Social life at Exeter is not like most. There are few cliques, very little social stratification. There are certainly groups of friends that tend to hang out together, but none are considered "cooler" than others. Everyone has a group of friends at Exeter to which they belong, and finding that group is usally very easy. In addition, a built-in set of friends exists in the dorms, where I met my three best friends. There is usually something happening on Saturday night, and "The Grill" is always packed with socialites.
Daily Schedule:
Weekday
7:00 AM
Most kids wakeup around 7 to get to class at 8
8:00 AM
Most classes start, although some days later than others
9:00 AM
Classes are very flexible, and different students will have very different schedules. Only 4-5 classes are taken per term.
3:00 PM
Sports either begin around 2:30-3:00 or around 4:30-5:00 and thus either your day will end with sports or end with classes
7:00 PM
Club activity or dinner
8:00 PM
Club activity, meeting or other commitment
9:00 PM
Most students required to check into the dorm (seniors its 10:00)
Weekend
8:00 AM
Wakeup for, yes that's right, saturday classes (only a half day)
3:00 PM
Sports/free time, usually involved hanging out with friends and relaxing from a hard week
Phillips Exeter is distinct for its use of the Harkness Method and its unique athletic opportunities afforded by a robust alumni network and excellent teachers from various high-level academic positions within their fields. Harkness, a. . .
The use of the Harkness table. The discussion based, or flipped, classroom is what truly separates Exeter from all other private schools. . .
The Harkness table is used in all classrooms, facilitating discussion and exploration of subjects that allow students to take the reins on their own education. With classes averaging 12 students or fewer, every student is. . .
Show more reviews (

27 reviews

)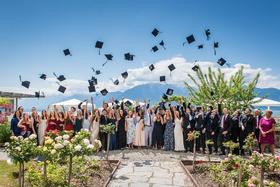 Nurturing Futures: A Journey through Boarding at Haut-Lac School in Switzerland
Nestled in the hills overlooking Lake Geneva in the French-speaking part of Switzerland lies an educational gem that embodies a unique blend of academic excellence, cultural richness and a profound sense of community. Founded over 30 years ago, Haut-Lac International Bilingual Day and Boarding School is now home to both 600 day students and a maximum of 30 boarders from around the world.
What To Wear at Your Job Interview
Navigating job interviews can be stressful, but knowing what to wear shouldn't be. Our comprehensive guide covers the essential dress code tips for men and women interviewing at boarding schools. Make your first impression count with style and professionalism.
Navigating the Modern Maze: Emerging Challenges for Boarding Schools
Explore the pressing challenges facing boarding schools, from marketing difficulties and rising insurance costs to facility maintenance and recruitment of competent trustees and teachers. This article delves into these complex issues and proposes innovative strategies to overcome them.