Reflections and Advice:
1.) What do you think makes your school unique relative to other boarding schools?
Darlington school had high academic standards. The boarding aspect created a positive study environment. Sports activities were abundant when not studying. It was tough being away from home as a teenager but the experience was overall positive and worth it.
2.) What was the best thing that happened to you in boarding school?
Overall boarding school was a great experience. It brought on early maturity and a preparation for college that is unsurpassed anywhere. Boarding school also taught me a love for learning and reading that I maintain many years later.
3.) What might you have done differently during your boarding school experience?
Boarding school is difficult for new students because it is the first time away from home for an extended period of time. Visits home came on a limited number of weekends and major holidays. After you get used to the experience you begin to relish it and realize you have been given an extraordinary opportunity that relatively few people get. I didn't like the experience at first and was somewhat rebellious against my parents. My dad gave me the best advice that I still maintain today: "sometimes you have to do things you don't like in order to do whatever you damn please later". I immediately understood the lesson and look back on the boarding school experience today as one of the best things to happen to me. I wouldn't change a thing from those days but wish I had studied harder in chemistry and math classes.
4.) What did you like most about your school?
Darlington already already had a great history and great traditions that continue today. Today the school is culturally diverse has students from many different countries. The school's goal is to turn out young men and women who are educated and groomed to become productive members of society. The concept of "achievement" is strongly supported. I think they accomplish that goal many times over.
5.) Do you have any final words of wisdom for visiting or incoming students to your school?
I remember toasted honey buns and what was called a "toasted notice" sandwich at the school snack bar. I hope they still exist and highly recommend them. I don't have any recommendations for downtown Rome because it has all changed since my day.
Academics:
1.) Describe the academics at your school - what did you like most about it?
The academic expectations were high with many courses at a college level. Teachers were available around the clock and very eager to help struggling students
Athletics:
1.) Describe the athletics at your school - what did you like most about it?
Athletics were highly emphasized after academics. The athletic facilities have evolved to be first class. Athletic activities were mandatory for all students but students were not required to be on a varsity team.
Art, Music, and Theatre:
1.) Describe the arts program at your school - what did you like most about it?
The school had large and small theater productions throughout the year. The school currently has a very advanced theater and film program.
Extracurricular Opportunities:
1.) Describe the extracurriculars offered at your school - what did you like most about it?
Being a drummer in a band is an important memory of mine. Swimming in an indoor pool, playing pick up football games and other activities were all important. Many more activities are available today that didn't exist when I was a student.
Dorm Life:
1.) Describe the dorm life in your school - what did you like most about it?
Dorm life played a major part of the school experience. It was your home away from home. The camaraderie among the guys was high. The dorm was a place to study and a place to get involved in harmless mischief. It took some getting used to but I have good memories of dorm life. There was no late night food available after lights out. That may be different today. Your first year the School assigns your dorm and roommate. In subsequent years you could request your dorm and your roommate.
Dining:
1.) Describe the dining arrangements at your school.
Three meals a day were served in the school dining room. Attendance at meals was mandatory. I recall that the food was good and the menu was diverse from day to day. There was no assigned seating. Everyone was well fed.
Social and Town Life:
1.) Describe the school's town and surrounding area.
Darlington school is located in Rome, Georgia. Students were encouraged to go into town on Saturdays for movies, haircuts, shopping. Dorm students could visit the homes of local students and get rides if the local students had a car. Dorm students were not allowed to have cars. Most trips to town were accomplished by taxi. On Sunday mornings the School hired busses for all dorm students to get to town to attend the Church of their choice. Church attendance was mandatory during my time, but may not be today. Students with low grade points were required to attend Study Hall on Saturdays.
2.) Describe the social life at your school - what did you like most about it?
Darlington was an all male school when I attended so there wasn't much social life. We had dances in the gym and local students would introduce the dorm students to local girls. Darlington is now coed with girls and boys dorms. I imagine that social activities and opportunities are abundant. There is a built in camaraderie among dorm students because "we're all in this together". Overall it was a great experience that I look back on after many years.
Daily Schedule:
Weekday
8:30 AM
Dorm room inspection
Weekend
10:00 AM
Inspection of dorm rooms by faculty
12:00 AM
Lunch or visit to town
6:30 PM
Social time or study hall depending on your GPA
10:00 PM
Lights out in dorm
The campus is breathtakingly beautiful. Complete with its own lake and full brick buildings from the dorms to the classrooms. There was never a dull day on campus because just sitting out around with friends. . .
Walking onto the campus and seeing the beautiful architecture and landscape of Darlington is absolutely a highlight of the school. You feel like you've been transported somewhere incredibly quaint and special.One thing that I. . .
I thought it was very unique how my school would pair boarding students with families of day students who lived in the area and attended the school in order to give the boarding students opportunities. . .
Show more reviews (

8 reviews

)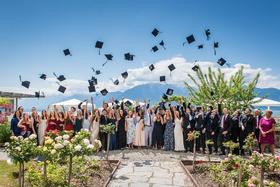 Nurturing Futures: A Journey through Boarding at Haut-Lac School in Switzerland
Nestled in the hills overlooking Lake Geneva in the French-speaking part of Switzerland lies an educational gem that embodies a unique blend of academic excellence, cultural richness and a profound sense of community. Founded over 30 years ago, Haut-Lac International Bilingual Day and Boarding School is now home to both 600 day students and a maximum of 30 boarders from around the world.
What To Wear at Your Job Interview
Navigating job interviews can be stressful, but knowing what to wear shouldn't be. Our comprehensive guide covers the essential dress code tips for men and women interviewing at boarding schools. Make your first impression count with style and professionalism.
Navigating the Modern Maze: Emerging Challenges for Boarding Schools
Explore the pressing challenges facing boarding schools, from marketing difficulties and rising insurance costs to facility maintenance and recruitment of competent trustees and teachers. This article delves into these complex issues and proposes innovative strategies to overcome them.