Hargrave Military Academy - Review #3
About the Author:

College Enrolled
Montgomery College
Home Town, State (Country)
Damascus, MD
Years Attended Boarding School
2
Activities During Boarding School
2nd Lt. Band Company Varsity Soccer Varsity Baseball Varsity Track Band Chorus Rock Band
Review

Description

Rensselaer Polytechic Institute

The military aspect of Hargrave and the institution of the military model for the organization and function of the student body does well to develop in the students qualities such as leadership, integrity, self-discipline, and. . .

RMCS

Hargrave is a private military boarding school and offers the tremendous benefits inherent therein including discipline, structure, attention to detail and earned rewards and authority. Hargrave also teaches at the level the student is. . .

Montgomery College

The military life made for complete academic success. Sports were encouraged and competitive playing at the college jv level. Music program was awesome with band, chorus and the rock band. . .
April 20, 2018
Actually, there is no secret to getting your child into boarding school. Just a lot of hard work and a heavy commitment of time.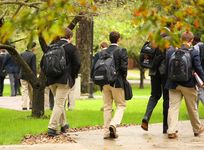 March 22, 2018
Some cynics think single-sex education is old-fashioned. The Kiski School shows how educating boys in a single-sex school is successful.
March 08, 2018
The wide range of fine academic, athletic, and other facilities found in boarding schools underscores the determination of schools to provide the very best for their students.