Reflections and Advice:
1.) What do you think makes your school unique relative to other boarding schools?
The military life made for complete academic success. Sports were encouraged and competitive playing at the college jv level. Music program was awesome with band, chorus and the rock band
2.) What was the best thing that happened to you in boarding school?
I attended after the football season and I lost interest in public academics. Loved the military life and was the first 1 1/2 year cadet to become an officer. My musical abilities were shared by my directors at home and I was welcomed with open arms ultimately resulting with the outstanding musician award senior year. HMA made me grow up and take control of my life.
3.) What might you have done differently during your boarding school experience?
Elected to attend OCS instead of playing football senior year. Looking back it was the right decision but was difficult at the time. I would have worked harder on academics. When you get there try to get along but let everyone know through your actions that you are not to be messed with.
4.) What did you like most about your school?
The athletics playing in an advanced competitive enviroment
5.) Do you have any final words of wisdom for visiting or incoming students to your school?
Cheeseburgers at the snack bar are delicious. When you visit make sure you talk to other cadets about their experience. The aquatic facility is first rate but wasn't there when I attended. The lounge is a perfect place to hang out. Finally participate in all of the activities but remember academics come first.
Academics:
1.) Describe the academics at your school - what did you like most about it?
Small class size that allowed plenty of one on one with the instructors Instructors were dedicated to each cadet and underpayed First course is "How to Study" which I didn't know how in the public schools. Special likes to English and political science
Athletics:
1.) Describe the athletics at your school - what did you like most about it?
Athletics consist of Varsity A which includes post grads, Varsity B juniors and seniors and jv for underclassmen. Playing with post grads against other military academies and colleges was extremely competitive and advanced my skill levels. Facilities were awesome with individual lockers, whirlpool etc. Participation was not mandantory. Encouraged me to become a high school varsity soccer coach
Art, Music, and Theatre:
1.) Describe the arts program at your school - what did you like most about it?
I participated in band, chorus and rock band. Played trombone in and was assistant conductor as well as the outstanding musician award Sang bass in chorus which performed at church services as well at the Va. Private School Honors Chorus. Played bass in rock band which performed at dances. Music program was very fulfilling and led me to begin college in this major.
Extracurricular Opportunities:
1.) Describe the extracurriculars offered at your school - what did you like most about it?
There are various clubs and organizations that my friends participated in. I was busy with music and athletics.
Dorm Life:
1.) Describe the dorm life in your school - what did you like most about it?
Had one roommate per year and was fortunate to remain friends with. Daily inspections and well as yearly IG inspection. Taught us to be organized, get along with others and clean up after ourselves.
Dining:
1.) Describe the dining arrangements at your school.
Dining was in a large cafeteria which made for fun conversation and good food. Table manners were enforced and carried through to adulthood.
Social and Town Life:
1.) Describe the school's town and surrounding area.
Small southern town with fountain/drug store, small friendly diners. Local townspeople would invite you to come sit on the front porch and enjoy a glass of southern sweet tea.
2.) Describe the social life at your school - what did you like most about it?
Dances with local girls as well as girlfriends of the local cadets culminating in the Military Ball in which we brought in our girlfriends from home for a long weekend.
Daily Schedule:
Weekday
Weekend
4:00 PM
Town leave or weekend at home
The school is unwavering when it comes to meeting their mission statement of Building Young Men into Leaders of Character Prepared for Lifelong Success. The faculty and staff are deeply invested and it is clear. . .
This school is huge in developing personal growth. The faculty and staff are all involved and together, make a positive impact on each you man. Through perseverance, focus, encouragement, guidance, leadership, humility and patience. . .
The military aspect of Hargrave and the institution of the military model for the organization and function of the student body does well to develop in the students qualities such as leadership, integrity, self-discipline, and. . .
Show more reviews (

3 reviews

)
Mastering the Boarding School Selection Process: A 5-Step Guide
Discover the ultimate 5-step guide to choosing the perfect boarding school for your child. Explore essential factors, such as academics, campus facilities, extracurricular activities, and more. Make an informed decision to provide your child with an enriching and transformative educational experience. Read now!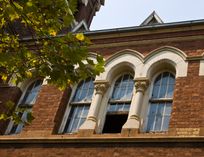 5 Founders and Their Boarding Schools
What prompts somebody to start a boarding school? The motives range from idealism to munificence right on through to capitalism. The common thread seems to be ample capital and a vision of what education can do.