Reflections and Advice:
1.) What do you think makes your school unique relative to other boarding schools?
The school is unwavering when it comes to meeting their mission statement of Building Young Men into Leaders of Character Prepared for Lifelong Success. The faculty and staff are deeply invested and it is clear that they care for all students and their overall success in life. All cadets who buy into the Hargrave program, and who embrace the four pillars of Athletics, Faith, Character Development, and Academics will leave as a holistic and stronger individual from when they first arrived on campus. Hargrave's success of its Alumni speaks to its' uniqueness as a school. It has been an amazing five year journey at Hargrave and I am indebted to this institution for what it has instilled in me.
2.) What was the best thing that happened to you in boarding school?
I am most honored to have spent my senior year as the Battalion Commander, the highest ranking cadet. Leadership is a gift given to you by those that you lead and I would like to extend my deepest gratitude towards my fellow cadets and mentors at the school. I will never forget my time spent here.
3.) What might you have done differently during your boarding school experience?
My advice: Hargrave is not easy. At times you will want to quit simply because it is challenging. If you chose to come to Hargrave….soak in everything. Seize every opportunity to engage in the ways of the Academy. Napoleon once said "Nothing is more difficult, and therefore more precious, than to be able to decide."So, If you must make a decision, decide to excel here. It will forever be worth it.
4.) What did you like most about your school?
I most enjoyed the brotherhood that I found, and the mentors that developed me into a man of great ambition.
5.) Do you have any final words of wisdom for visiting or incoming students to your school?
Delta Company will always be better than Alpha Company in drill, but Bravo Company better than both!
Academics:
1.) Describe the academics at your school - what did you like most about it?
What I enjoyed most about the academics were the small class sizes and the highly invested teaching staff. Having small class sizes, which normally were 10-15 students, made a comparable difference from what I experienced in public school. This led to a direct and very positive impact on my grades, and general GPA. The Classes were difficult but I felt prepared.
Athletics:
1.) Describe the athletics at your school - what did you like most about it?
There is nothing better than fun and positive competition with your fellow brothers. Athletics at Hargrave offered me many opportunities for this as well as to try out new sports alongside my peers. Hargrave athletics taught me the importance of keeping my body in peak physical shape and to maintain a 'winners' attitude in all that I do.
Art, Music, and Theatre:
1.) Describe the arts program at your school - what did you like most about it?
I was not directly involved in any of the Arts programs offered, However through my position as Battalion Commander I worked closely with the heads of the Arts Programs. Additionally, I also took part in the many parades and ceremonies which involved the marching band. They make up an entire Company in the Corps of Cadets. They are highly professional and very talented.
Extracurricular Opportunities:
1.) Describe the extracurriculars offered at your school - what did you like most about it?
Out of my 5 years here I never found myself at a lack of extracurricular activities to participate in. The most memorable ones were: Color Guard, Drill Team, Current Events Club, Beta Club, and Honor Council.
Dorm Life:
1.) Describe the dorm life in your school - what did you like most about it?
Dorm life took time getting used to, but as I progressed throughout my years I learned to love it. Dorm life is living with your best friends 24/7, yet still maintaining traditional military standards of room appearance and cleanliness. Secondly, if you show yourself as a leader in the corps…you will earn your own room.
Dining:
1.) Describe the dining arrangements at your school.
Hargrave offered many options of good, healthy, and hot foods. I was always grateful for the Mess Hall staff that took good care of us men. Not every dish was perfect but overall the food was good.
Social and Town Life:
1.) Describe the school's town and surrounding area.
The surrounding town of Chatham VA is a small, tight knit community. Hargrave is very well respected among the people and the Academy is an important part of the town's history. Chatham has a few restaurants and shops. I enjoy the simplicity of the town very much as it reminds me of my hometown.
2.) Describe the social life at your school - what did you like most about it?
The corps of cadets at Hargrave is a brotherhood unlike Anywhere else. It can not be explained, rather can only be experienced. The Students all respect each other, and through the shared rigor of the school year, all come to know each other exceedingly well. Hargrave is a family who looks out for the guys to their left and right,
Daily Schedule:
Weekday
6:30 AM
Room Prep/Inspection
1:00 PM
Classes or military time
Weekend
Hargrave is first and foremost, a military school. Cadets are taught military routines, discipline, and accountability. It is the cornerstone of the educational environment. Uniforms, room inspections, formations, and parades teach accountability. . .
The school is unwavering when it comes to meeting their mission statement of Building Young Men into Leaders of Character Prepared for Lifelong Success. The faculty and staff are deeply invested and it is clear. . .
This school is huge in developing personal growth. The faculty and staff are all involved and together, make a positive impact on each you man. Through perseverance, focus, encouragement, guidance, leadership, humility and patience. . .
Show more reviews (

3 reviews

)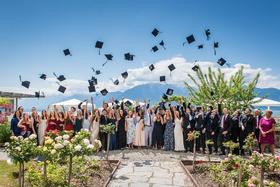 Nurturing Futures: A Journey through Boarding at Haut-Lac School in Switzerland
Nestled in the hills overlooking Lake Geneva in the French-speaking part of Switzerland lies an educational gem that embodies a unique blend of academic excellence, cultural richness and a profound sense of community. Founded over 30 years ago, Haut-Lac International Bilingual Day and Boarding School is now home to both 600 day students and a maximum of 30 boarders from around the world.
What To Wear at Your Job Interview
Navigating job interviews can be stressful, but knowing what to wear shouldn't be. Our comprehensive guide covers the essential dress code tips for men and women interviewing at boarding schools. Make your first impression count with style and professionalism.
Navigating the Modern Maze: Emerging Challenges for Boarding Schools
Explore the pressing challenges facing boarding schools, from marketing difficulties and rising insurance costs to facility maintenance and recruitment of competent trustees and teachers. This article delves into these complex issues and proposes innovative strategies to overcome them.