Reflections and Advice:
1.) What do you think makes your school unique relative to other boarding schools?
I think the school offers a healthy atmosphere and a good balance of academic rigor, sports, extra-curriculars, and other whole-person experience. When you have such a large and diverse student body (over six hundred students, more than 20% on financial aid, and a 65/35 mix of boarding and day) you have a lot of options open to you for things to be defined by: you can be an athlete, a theater person, an artist, a scholar, an organic farming enthusiast, or a combination.Also pretty cool is the fact that you go to a beautiful school campus 'the island' because in the spring because the surrounding fields flood every year, and you have the possibility of flood days in addition to snow days is pretty cool.
2.) What was the best thing that happened to you in boarding school?
I think it was the independence and confidence I achieved for living on my own. Being around so many people really enhanced my people-skills. I transformed from being a shy bookworm into an extroverted artist. I also got a good grounding in IT that led to a job in college and a career afterwards.
3.) What might you have done differently during your boarding school experience?
I think I would have spent my last semester on a Senior Project - you have the option to get out of exams and devote time to developing a senior project that you come up with in a different discipline: art, science, English, writing, history, environmentalism, etc. that you present on at the end of the year. I had a few ideas for a play - it could have been fun.
4.) What did you like most about your school?
The community - high school is hard no matter where you go (heck, the age of 14-18 are hard) but when you're surrounded by world-class students, faculty, and administration in such a beautiful campus you can't help but grow.
5.) Do you have any final words of wisdom for visiting or incoming students to your school?
Try a lot of different things - sign up for a club that you never thought you'd try. Be friendly to everyone. And keep a journal!As a last word, boarding school isn't for everyone. It was my idea to go to boarding school, and I think that's the major reason it worked out so well. I really wanted to do it. That's what I would suggest, do it if you want to. But don't if it's something that you're parents are forcing you to do.
Academics:
1.) Describe the academics at your school - what did you like most about it?
I loved how many options you had for classes and I loved how the school had a trimester system so you had three extra-curricular slots every school. There are multiple levels to choose from within the main subject areas: English, history, languages, math, sciences. You're also required to take a year of arts (music, fine, or performing), two semesters of psychology/religion, and a sophomore writing seminar- though many students do more than this.
Athletics:
1.) Describe the athletics at your school - what did you like most about it?
I was not at all an athlete, in a school where everyone was required to do a sport every trimester. And yet I was able to find a thing that I liked to do. I was able to try conditioning, yoga, aerobics, swimming, and even club softball. They had a good variety. Great facilities.
Art, Music, and Theatre:
1.) Describe the arts program at your school - what did you like most about it?
The visual arts offerings is world-class. The RAC has fantastic facilities and the faculty at the time I was there were the legendary Rabetzes (sadly, they've retired). I loved how they had enough options that I could have taken a different art class every trimester for the four years I was there including drawing I, II, Illustration, Painting, Pottery, Photography (traditional and digital), AP Art, and I even did an independent study in Painting.The school is likewise committed to it's performing and musical arts. The facilities, quite frankly, aren't as nice but many people participate and the theater is packed for every performance.
Extracurricular Opportunities:
1.) Describe the extracurriculars offered at your school - what did you like most about it?
You didn't have a ton of time after classes and sports and boarding commitments, but even school had a good commitment to extra curriculars including student clubs and committees, publications (three at last count), radio, television and especially volunteering. I liked that when I was a volunteer tutor to kids in central city I could use that to get out of sports up to two times a week.
Dorm Life:
1.) Describe the dorm life in your school - what did you like most about it?
I liked that they did a good job of matching students with roommates their first year and staggered the curfew up (enforced 10:30/11pm lights out your first two years, you were self-service after that). They also had a good variety of double and single bed options to choose from and dorms with different characters when you get into your upper classman years.
Dining:
1.) Describe the dining arrangements at your school.
There were two dining halls - one for freshman/sophomores and one for juniors/seniors. I liked it because it cut down on the social pressure of where to sit. That being said, the food was pretty blah. We had family style dinners twice a week in the fall and spring terms, which was fun to get dressed up for. Also there were kitchen facilities in each dormitory which was nice if you wanted to try your hand at cooking.
Social and Town Life:
1.) Describe the school's town and surrounding area.
The town of Windsor is pretty small but easy to walk to and bike around and was pretty standard fare: Grocery Store, CVS, nail/hair salon, town library, etc. There is a fair called the 'shad derby' every year in the spring so that's always fun to go to. Depending on your permission slip, you also have the options to go to the mall/movies, day student friend's houses, dances at other schools, and Boston/New York City on occasion - there's a Broadway trip every year.
2.) Describe the social life at your school - what did you like most about it?
Again, I think the large size (600+ students and a healthy mix of boarding and day) meant that you had a good options for friendships - both starting out and, inevitably, breaking it off and forming new friendships from the age of 14-18. I also liked that new students came in each year - there was a big influx in Sophomore year (i think 20% was added to our class) and in senior year (we get PGs), and a few junior year as well.
Approachable teachers and staff, overwhelming pride in the school from everyone on campus. Close relationship of day students and boarding students. Post graduate students integrated very well into the senior class. . .
The close-knit campus. The fact that the campus was small (or at least the buildings being so close together) made everyone close like a family. It made my transition from my class with a graduation. . .
The location of the school definitely shaped the school dynamic of Loomis. It isn't necessarily isolated but it's formed in a very large location of its own. As a result, Loomis is very secure for. . .
Show more reviews (

27 reviews

)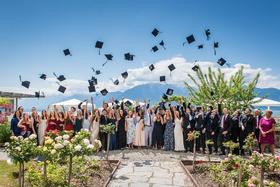 Nurturing Futures: A Journey through Boarding at Haut-Lac School in Switzerland
Nestled in the hills overlooking Lake Geneva in the French-speaking part of Switzerland lies an educational gem that embodies a unique blend of academic excellence, cultural richness and a profound sense of community. Founded over 30 years ago, Haut-Lac International Bilingual Day and Boarding School is now home to both 600 day students and a maximum of 30 boarders from around the world.
Navigating the Modern Maze: Emerging Challenges for Boarding Schools
Explore the pressing challenges facing boarding schools, from marketing difficulties and rising insurance costs to facility maintenance and recruitment of competent trustees and teachers. This article delves into these complex issues and proposes innovative strategies to overcome them.
What To Wear at Your Job Interview
Navigating job interviews can be stressful, but knowing what to wear shouldn't be. Our comprehensive guide covers the essential dress code tips for men and women interviewing at boarding schools. Make your first impression count with style and professionalism.