Reflections and Advice:
1.) What do you think makes your school unique relative to other boarding schools?
Discipline and a focus on critical thinking is taught at MMA. Esprit de Corps is high among the Corps of Cadets there and supports a group as well as an individual effort to succeed.
2.) What was the best thing that happened to you in boarding school?
The band at the school lives in the same barracks. That made life extra special for me, because we musicians understood and enjoyed each other more than those who weren't musically inclined. The music program was the best experience. I felt enormous pride in how we looked and how we sounded.What impacted me most was the sense of integrity and honor that I developed there. They stuck with me long after I left and to this day.
3.) What might you have done differently during your boarding school experience?
It can be disconcerting, and even frightening, when confronted with meeting a group of people you've never met before and don't know. It takes time for that to overcome. Be yourself, and take the time to get to know others, especially your barracks roommate. I've made lifelong friends from my days at MMA. Give it time to develop and you'll see what I mean.
4.) What did you like most about your school?
Honor, integrity, discipline, a beautiful campus, excellent facilities, good teachers and most of all esprit de corps!
5.) Do you have any final words of wisdom for visiting or incoming students to your school?
Band company! Learn an instrument and be part of the band. There is a sense of closer companionship among the musicians. There are some beautiful places on campus and nearby. Mismilaca is a lake close by owned by the school that is particularly nice. The chapel gave me a sense of peace when we would hold Vespers there. The admin building, though recently rebuilt, still carries a sense of the century and a quarter of the school's existence.
Academics:
1.) Describe the academics at your school - what did you like most about it?
Small classes allow instructors to give more intimate and detailed instruction to students. They taught us how to think, not what to think. My English teacher instilled in me a passion for literature and my history teacher set me on a lifelong enjoyment of the study of history, specifically military history. The study workload was never too heavy and there was always plenty of help. In the barracks we were given 2 hours a night for study during the weeknights.
Athletics:
1.) Describe the athletics at your school - what did you like most about it?
There is a diversity of sports programs at MMA. They've changed since I've been there to fit the needs of the students. For example soccer wasn't offered back when I attended but now is. All the sports programs you would expect to find at a typical high school you will find at MMA. Each day has a sports class segment with a variety of sports to choose during that time.
Art, Music, and Theatre:
1.) Describe the arts program at your school - what did you like most about it?
I was never involved in the arts there other than music, and we had the best band director at the time that was available. We constantly participated in state programs and parades, going to Columbia to compete in the Missouri State High School Activities Association program in District and State wide exams. Any musical instrument a student wants to learn and practice is offered. There is also an A/V club as well as theater offered.
Extracurricular Opportunities:
1.) Describe the extracurriculars offered at your school - what did you like most about it?
There are many activities offered but one I like the best is the Rail Splitters, a WW2 reenactment troupe. Along with that are other activities such as a Bicycle, Chess, Fishing, International Film, Photography, Trailblazing, and Sasquatch Research club. There is also a Boy Scouts of America group. Cadets who attend come from all around the world so the diversity of the corps is excellent.
Dorm Life:
1.) Describe the dorm life in your school - what did you like most about it?
Regimented and regulated. It's a military oriented school so discipline is of utmost importance. In spite of that cadet life can be a lot of fun. Wednesday afternoons, Friday night, Saturday most of the day and Sunday afternoons are "free time" where cadets can go into town and shop, see a movie, or eat. I loved the spirit of camaraderie that develops among you and your fellow cadets. You are assigned a room and you keep to your dorm unless on official business at night. No late night snacking.
Dining:
1.) Describe the dining arrangements at your school.
It's a cafeteria line with plenty of seating. Back in my day you marched to "mess" and marched out of it. It's not that way anymore. Very laid back. Good food though. I've eaten there for homecoming visits and found the food to be so much better than when I was there.
Social and Town Life:
1.) Describe the school's town and surrounding area.
Mexico Missouri is a small town with a small square and nice shops around it. Lots of fast food and restaurants to choose from. There is a movie theater in town. It's a charming small town with friendly townspeople who seem to appreciate the school being there for over 125 years now.
2.) Describe the social life at your school - what did you like most about it?
There are rather grand balls (dances) that are held several times a year. A speech contest, varsity football games when the team plays at home, Sunday Review, Debate teams, Vespers, even horseback riding.
Daily Schedule:
Weekday
Weekend
Goal orientation, and the self-discipline and cooperation necessary to achieve those goals may be unique to MMA, and other military schools like it. . .
What makes Missouri Military Academy unique is the brotherhood it forges with your mates, it also puts you in situations that in a "normal" privileged life you would never be, and that makes you mature. . .
Missouri Military focuses on the entire person as it teaches young men to take responsibility for their actions and to take pride in the skills they develop. I would not be the man I. . .
Show more reviews (

4 reviews

)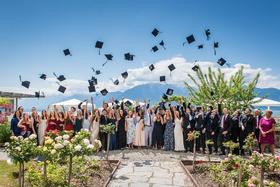 Nurturing Futures: A Journey through Boarding at Haut-Lac School in Switzerland
Nestled in the hills overlooking Lake Geneva in the French-speaking part of Switzerland lies an educational gem that embodies a unique blend of academic excellence, cultural richness and a profound sense of community. Founded over 30 years ago, Haut-Lac International Bilingual Day and Boarding School is now home to both 600 day students and a maximum of 30 boarders from around the world.
What To Wear at Your Job Interview
Navigating job interviews can be stressful, but knowing what to wear shouldn't be. Our comprehensive guide covers the essential dress code tips for men and women interviewing at boarding schools. Make your first impression count with style and professionalism.
Navigating the Modern Maze: Emerging Challenges for Boarding Schools
Explore the pressing challenges facing boarding schools, from marketing difficulties and rising insurance costs to facility maintenance and recruitment of competent trustees and teachers. This article delves into these complex issues and proposes innovative strategies to overcome them.