Reflections and Advice:
1.) What do you think makes your school unique relative to other boarding schools?
Andover is a place that has always felt like home to me. Coming from public schools in Brooklyn it was a very different environment but it's a school with a commitment to diversity and bringing together "youth from every quarter" so it was a place where I felt I belonged. There's a great love of learning and while the academics were rigourous I always felt that the emphasis was on loving to learn and not about just getting grades. It's also a beautiful campus and that had a big influence on my decision to attend Brown University which I think has an equally beautiful campus.
2.) What was the best thing that happened to you in boarding school?
Andover is the place where I got to engage in activities and really discover my passions. I did a lot of performing arts and writing and now I'm an arts educator and writer. Also, y living on campus you gain invaluable skills in how to interact with people of all backgrounds at an early age.
3.) What might you have done differently during your boarding school experience?
I think one piece of advice I can impart is to use your summers wisely. I made a lot of connections at Andover but I didn't capitalize on those connections to participate in internships or even interacting with people outside of campus. Getting to know the people you connect with outside of the school setting is important.
4.) What did you like most about your school?
I just really loved the people. I know everyone's experience will ultimately be different because you can't recreate who's there when you're there but the people I met at Andover (adults and peers) are still a major part of my life.
5.) Do you have any final words of wisdom for visiting or incoming students to your school?
If you're visiting Andover, take the time to check out the Addison Gallery of Art. It's not common to have a national art gallery on your high school campus and I wish I had visited it more as a student.
Academics:
1.) Describe the academics at your school - what did you like most about it?
The academics are excellent. There are some tracks and most freshman take biology and chemistry their sophomore year but I chose to take chemistry and physics instead. I think it's important to know the requirements and as much as possible pursue what interests you within those parameters. I think the triad system (three classes in your freshman year that you take with the same cohort of students) really helps you assimilate and gives you built in study partners and support.
Athletics:
1.) Describe the athletics at your school - what did you like most about it?
You have to participate in some sort of physical activity and there is a mandatory health and wellness requirement. I was on the step team (SLAM) all four years as well as the track team in the spring. There are options outside of traditional sports such as dance and I studied ballet and modern dance.
Art, Music, and Theatre:
1.) Describe the arts program at your school - what did you like most about it?
I mainly participated in theater, everything from staged readings to full-scale productions. I also danced ballet and every other year, we did a full production of The Nutcracker. I'm still amazed at the high quality productions we put out. And there was a lot of diversity in the types of production that were chosen from musicals to dramas to small two-person plays. I also took directing classes as well. You have to complete a music requirement so I learned the basics of piano and took African drumming as an elective.
Extracurricular Opportunities:
1.) Describe the extracurriculars offered at your school - what did you like most about it?
There are a lot of affinity groups. I was a part of the Afro-Latino-American Society and the Gay Straight Alliance. The affinity groups also plan special events and all-school meetings. There's a community service and volunteer office if you're interested in volunteer opportunities. There's choir, band, orchestra and clubs so there are a lot of extracurricular activities outside of sports.
Dorm Life:
1.) Describe the dorm life in your school - what did you like most about it?
The dorms are arranged in "clusters" and each cluster of dorms has its own vibe. The most coveted cluster is Flagstaff because its dorms are in the center of campus near the dining hall, the library and other class buildings. There are no freshman dorms in Flagstaff so everyone tries to get in their sophomore year. Beyond that, dorms are also highly influenced by the house counselors so sometimes it's better to be farther out if you have a relationship with the teacher who is a house counselor in your dorm.
Dining:
1.) Describe the dining arrangements at your school.
The dining hall had pretty good options when I was a student but they've gotten even more amazing. Since I've been back in recent years, they've renovated the dining hall and they have wood ovens for pizza, a coffee bar and an amazing salad bar. It's a great dining experience.
Social and Town Life:
1.) Describe the school's town and surrounding area.
The town of Andover is pretty small and quaint. We mostly ventured down the hill for drugstore runs or the occasional movie or meal out. You can also get to Boston pretty easily by commuter rail. I would sometimes go shopping in the city or hang out in Harvard Square.
2.) Describe the social life at your school - what did you like most about it?
There are lots of dances at Andover. When I was there we went to a lot of dances freshman year but around sophomore and junior year we would mostly hang out in our friend's common rooms or have game nights. Either way, the school provides lots of opportunities to be social, day trips, carnivals, etc.
As I look back on my life, I found the English Department profoundly brilliant. The level of reading (weekly) was extraordinary. The level of commitment of the faculty was genuine.. . .
Phillips Academy Andover has a nonsibi day in April. We don't have any classes but instead volunteer for special events and for each grade it is a different theme. One of the schools mottos is. . .
Andover has a need-blind admissions policy, which means that they don't take into account someone's ability to pay for the school when deciding whether or not to admit them. This makes the school much diverse. . .
Show more reviews (

13 reviews

)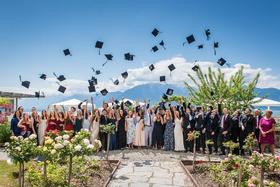 Nurturing Futures: A Journey through Boarding at Haut-Lac School in Switzerland
Nestled in the hills overlooking Lake Geneva in the French-speaking part of Switzerland lies an educational gem that embodies a unique blend of academic excellence, cultural richness and a profound sense of community. Founded over 30 years ago, Haut-Lac International Bilingual Day and Boarding School is now home to both 600 day students and a maximum of 30 boarders from around the world.
Navigating the Modern Maze: Emerging Challenges for Boarding Schools
Explore the pressing challenges facing boarding schools, from marketing difficulties and rising insurance costs to facility maintenance and recruitment of competent trustees and teachers. This article delves into these complex issues and proposes innovative strategies to overcome them.
What To Wear at Your Job Interview
Navigating job interviews can be stressful, but knowing what to wear shouldn't be. Our comprehensive guide covers the essential dress code tips for men and women interviewing at boarding schools. Make your first impression count with style and professionalism.