Reflections and Advice:
1.) What do you think makes your school unique relative to other boarding schools?
One of my school's unique difference from other schools is there are students from over 20 countries. We all live in different dormitories, and each students get their roomettes. Spending time with your roommates and other classmates, you learn a lot of things about various cultures. Another creative aspect of my school is that school has various art classes such as Photography, Clay, Wood making, Painting. Each lasses has great facilities which help students to have very sophisticated experience.
2.) What was the best thing that happened to you in boarding school?
Cultures, the importance of being open-minded, friendships with people from over the wold, great teachers, all of these things I had and learned in St. Johnsbury Academy were my important assets. And these experiences and knowledge always help me to move forward. One of the most important things I learned was that I always need to try or challenge myself and never be afraid of making mistakes.
3.) What might you have done differently during your boarding school experience?
I did not join any sport teams because I thought that I would have difficult time studying English and keeping up with classes. But, playing sport is one of the best opportunities to have a different valuable experience and make a lot of friends. I regret sometimes not having participated in any sport teams.
4.) What did you like most about your school?
Overall, I really enjoyed spending three years there in St. Jonhsbury. All the experiences including service trips, relationship with teachers and students, art classes, and sport events were amazing. I am sure that you are not able to have these valuable experiences in any other schools.
5.) Do you have any final words of wisdom for visiting or incoming students to your school?
The problem of a boarding school is always that the students only spend time with people from a same country. To get a different and valuable experience, you need to get out of your safety zone and challenge yourself even if your language skill is not enough to do that.
Academics:
1.) Describe the academics at your school - what did you like most about it?
There are a lot of classes offered by school such as business classes, economy, and AP classes. You are able to take different levels of classes, and the teachers help you to find the level that fits you. I really enjoyed microeconomics because we had a lot of practical discussions as well as the guest speakers. Now economy is my major in college.
Athletics:
1.) Describe the athletics at your school - what did you like most about it?
I did not participate in any teams. However, I enjoyed watching sport games on the weekends, and I was also part of different sports clubs. Playing sports is mandatory, but if you take P.E classes, you do not have to join any teams. Every weekends, a lot of students go to watch the sports games, and when a very important match is held away, we often have a bus to a match for not only dorm students but also every students in school. My school is always supportive to all types of sport teams, and you are able to enjoy the sport events even if you are not on any teams.
Art, Music, and Theatre:
1.) Describe the arts program at your school - what did you like most about it?
As I talked about above, one of my favorite classes I took was Photography. We had a great dark room in the classroom with a great professional teacher. We learned about the history of photography and skills of taking pictures with films, not digital cameras. The class taught me the very basic ideas of photography and skills of processing films and making prints with using negatives.
Extracurricular Opportunities:
1.) Describe the extracurriculars offered at your school - what did you like most about it?
As I talked about before, there were various trips available to students. I was able to join only one of the service trips which were offered by school. But, if I had chances, I would have participated in all of the service trips.
Dorm Life:
1.) Describe the dorm life in your school - what did you like most about it?
There are several dorms which you can choose from. First year, your room will be selected by school, but from the second year, you will get to choose your room and roommates. I lived in a small dorm of about 25 students because I wanted to know all of students in the same dorm. And, I had a great experience there in my dorm, and ended up living in the same dorm for 3 years of my school life. We always gathered in a common room on weekends, watching movies, just talking, and playing games. You can't experience these things at home.
Dining:
1.) Describe the dining arrangements at your school.
There are different kind of foods every day. Even if you are vegetarian or have allergies, the cafeteria usually prepares different meal for them.
Social and Town Life:
1.) Describe the school's town and surrounding area.
There are not many places to have fun with your friends in town. However, for all dorm students, school always had weekend trips to Burlington, closes medium town, hiking trip, shopping trips, and other various activities.
2.) Describe the social life at your school - what did you like most about it?
All the teachers were very friendly and kind. I always went to talk to them and got helps when needed -even some of the teachers live on campus. For example, when I was writing a lot of college essays, I always went to talked to my English and Writing teachers, and they were willing to give me feedback even when they were busy. The close relationship with teachers is one of the part which makes me love my school.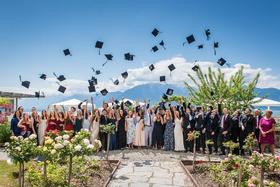 Nurturing Futures: A Journey through Boarding at Haut-Lac School in Switzerland
Nestled in the hills overlooking Lake Geneva in the French-speaking part of Switzerland lies an educational gem that embodies a unique blend of academic excellence, cultural richness and a profound sense of community. Founded over 30 years ago, Haut-Lac International Bilingual Day and Boarding School is now home to both 600 day students and a maximum of 30 boarders from around the world.
What To Wear at Your Job Interview
Navigating job interviews can be stressful, but knowing what to wear shouldn't be. Our comprehensive guide covers the essential dress code tips for men and women interviewing at boarding schools. Make your first impression count with style and professionalism.
Navigating the Modern Maze: Emerging Challenges for Boarding Schools
Explore the pressing challenges facing boarding schools, from marketing difficulties and rising insurance costs to facility maintenance and recruitment of competent trustees and teachers. This article delves into these complex issues and proposes innovative strategies to overcome them.