Reflections and Advice:
1.) What do you think makes your school unique relative to other boarding schools?
STJ has a beautiful campus, comparable to lots of colleges in the way that the buildings feel and are laid out. The facilities as a whole are really quite nice. There are also such a wide variety of classes and extra-curricular activities available. Whatever your interests are, there is something for you.
2.) What was the best thing that happened to you in boarding school?
I think being pushed academically, socially, and physically was really good. High school can be an emotional time. I had my bouts of depression and anxiety, but overall I felt really supported and I had a lot of friends, a select handful of people who I grew really close to. I also definitely learned how to find and pursue my own interests, which I think is important.
3.) What might you have done differently during your boarding school experience?
I would have been less of a person pleaser socially, I think. I'm a Christian and those are kinda rare to find in Vermont all-together. I didn't ever really discuss my faith at all because none of my friends shared my beliefs, but there definitely were others who I should have befriended who were more like me I just didn't realize it until later. I made my friends through my sport teams and classes, and my circles just didn't overlap with any other believers that I knew of. BUT it was good to be around people with a variety of perspectives because it helped solidify what I do and don't believe. Overall, the variety of people from different backgrounds and cultures really exposed me to lot and I'm really grateful for that experience.
4.) What did you like most about your school?
The community was something else. Truly a close-knit group of students. The pursuit of excellence and the qualities instilled into us as a class are things that still stick with me today. It's a high level institution for sure. 10/10 would recommend.
5.) Do you have any final words of wisdom for visiting or incoming students to your school?
Be yourself. You'll find your people. If you pursue your interests and not worry about what the "cool" people think, you'll find your like minded people and have a great time. Also, there were so many people in my class that wouldn't have been the stereotypical cool kid, but because they just owned their quarks, people loved them. So just be yourself, be open-minded, kind and compassionate and you'll be great.
Academics:
1.) Describe the academics at your school - what did you like most about it?
I loved the opportunity to enroll in different levels of classes at STJ - I took all honors classes but I was also able to take a couple duel enrollment classes as well, which I preferred over AP classes. The great thing about duel enrollment was I got transferable college credit without having to take an extra half semester of class; it worked better with my schedule and I was guaranteed college credit, whereas sometimes AP credits don't transfer depending on your college. Also, the teachers were just really great. They truly care about you as an individual and want to help you succeed. STJ is a school that pursues excellence, and it really shows in the best way. There's a lot of opportunity for growth.
Athletics:
1.) Describe the athletics at your school - what did you like most about it?
I loved participating in athletics in high school. It's a super formational time and your coaches can become some of your closest mentors. I was pushed a lot as an athlete and really appreciated it. Eventually I took some seasons off from sports teams to pursue lifting and training on my own, so having such great facilities was a major pro. As a female as well, I was one of the few girls at the time lifting in the weight room regularly, but I was so supported by the staff and coaches even though I wasn't on a sports team anymore. They care so much for you as a human even if you aren't on a team; I can't say it enough how great of an experience it was.
Art, Music, and Theatre:
1.) Describe the arts program at your school - what did you like most about it?
The art department at STJ is truly phenomenal. I'm an Interdisciplinary major now in college focusing on Studio Art, Graphic Design, and Business, and STJ really set me up for success. Clay and Photography were my favorite areas to study at STJ, but there are so many great options that it's hard to pick which classes to take. The facilities as a whole are exceptional, better than what I have access to now in college. The building is beautiful; the teachers are truly talented and push you to do your best, and the quality of the art that comes out of the students is so high. It's a great school for anyone interested in the arts.
Extracurricular Opportunities:
1.) Describe the extracurriculars offered at your school - what did you like most about it?
I didn't join any clubs that I can remember - I was so busy with sports - but I remember there being literally a club for everything.
Dorm Life:
1.) Describe the dorm life in your school - what did you like most about it?
I was a day student so I can't speak to dorm like, but from what I could see the facilities were pretty sweet and the dorm students always seemed close.
Dining:
1.) Describe the dining arrangements at your school.
The food is great, better than most schools for sure, and had lots of options. Also, having the cafe where you can go buy snacks and other things at any time was great.
Social and Town Life:
1.) Describe the school's town and surrounding area.
It's a small town, but its very charming.
2.) Describe the social life at your school - what did you like most about it?
It's small enough of a school that you will probably know most people in your class, but large enough that there is always a new face. Overall, people are really close though. I'd recommend joining a sports team though, it's the best way to meet people and develop close relationships.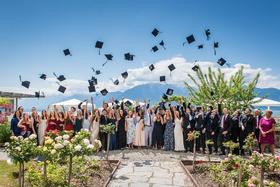 Nurturing Futures: A Journey through Boarding at Haut-Lac School in Switzerland
Nestled in the hills overlooking Lake Geneva in the French-speaking part of Switzerland lies an educational gem that embodies a unique blend of academic excellence, cultural richness and a profound sense of community. Founded over 30 years ago, Haut-Lac International Bilingual Day and Boarding School is now home to both 600 day students and a maximum of 30 boarders from around the world.
Navigating the Modern Maze: Emerging Challenges for Boarding Schools
Explore the pressing challenges facing boarding schools, from marketing difficulties and rising insurance costs to facility maintenance and recruitment of competent trustees and teachers. This article delves into these complex issues and proposes innovative strategies to overcome them.
What To Wear at Your Job Interview
Navigating job interviews can be stressful, but knowing what to wear shouldn't be. Our comprehensive guide covers the essential dress code tips for men and women interviewing at boarding schools. Make your first impression count with style and professionalism.