Reflections and Advice:
1.) What do you think makes your school unique relative to other boarding schools?
Cate is a special place because of its physical location — it is situated atop a mesa overlooking the Pacific Ocean. It feels idyllic and removed. It is definitely a place to extend childhood among the incredible outdoor offerings (like surfing and rock climbing) that compliment the surroundings. Cate, despite its beauty, is not pretentious and is grounded in students running around barefoot in the vast outdoor spaces.
2.) What was the best thing that happened to you in boarding school?
Cate helped me grow beyond my Arizona roots and expanded my horizons with so many different opportunities. It gave me lifelong interests and encouraged my passions. Most of all, it allowed me to continue being a kid alongside 60 other teenagers who I am still good friends with today. I would do anything for any of my classmates.
3.) What might you have done differently during your boarding school experience?
My advice for kids going to boarding school is to be open to new people and experiences. They will enrich your life!
4.) What did you like most about your school?
I loved the incredible setting, the outdoor living, and the array of experiences.
5.) Do you have any final words of wisdom for visiting or incoming students to your school?
Check out the views from Parsonage if you visit!
Academics:
1.) Describe the academics at your school - what did you like most about it?
I most liked the small discussion style of the classes. Deep thought and debate was encouraged. Teachers were mentors in and out of the classroom.I also appreciated the incredible language classes offered. I was able to take French, Spanish, and Chinese from native speakers who brought the culture into the classroom.
Athletics:
1.) Describe the athletics at your school - what did you like most about it?
Every student is required to participate in a sport or exercise program after school each season. This encouraged me to try sports I otherwise wouldn't have, like water polo. I also did sailing down in the Santa Barbara harbor as a sport, which was incredibly fun for an Arizona girl who had never been on a boat.
Art, Music, and Theatre:
1.) Describe the arts program at your school - what did you like most about it?
I was a cello player in the orchestra and had a wonderful experience as an intermediate player. I was also able to take private lessons at the school. In my senior year, I was in the play, despite no previous acting experience. Students were afforded the opportunity to try many different activities.
Extracurricular Opportunities:
1.) Describe the extracurriculars offered at your school - what did you like most about it?
I was a part of many service learning activities at Cate, and this is a strong part of the school's identity. This resonated with me and helped off-set the wealth found in many of the school families.
Dorm Life:
1.) Describe the dorm life in your school - what did you like most about it?
Dorm life is fantastic at Cate. Most freshmen have a roommate and the accommodations aren't fancy. But all dorm rooms have balconies or patios, which are in keeping with the emphasis on the outdoors.
Dining:
1.) Describe the dining arrangements at your school.
The dining hall at Cate is a highlight. The food is really good and there are always alternative options (salad bar, waffle bar) if the main entrees aren't to a student's liking. As an adult, I still try to recreate some of the special meals and desserts that we had at formal dinners.
Social and Town Life:
1.) Describe the school's town and surrounding area.
Carpenteria is a humble beach town with accessible grocery shopping. Santa Barbara is a bus ride away. Both of these provided more than enough social life for students. Visiting the Santa Barbara zoo, catching a bite to eat at the Santa Barbara pier, or spending the afternoon at the public beach in "Carp" were all popular activities on the weekend.
2.) Describe the social life at your school - what did you like most about it?
The social life was very open and fluid. I never felt that there were closed "cliques". Our class was very close and still is to this day (20 years later). We were like brothers and sisters at the end of our four years.
Cate is one of the unique places you could ever imagine. High up on a mesa with an ocean view surrounded by hundreds of acres of avocado trees, a utopian little community exists and thrives. . .
One aspect of Cate School that I think makes it unique is its campus. When I was doing my research for what kind of boarding school, I wanted to apply to, there were a few. . .
Cate is a smaller boarding school and has a very much community bubble. This is a west coast boarding school so people are more liberal and open to alternative teaching. They also emphasize outdoor learning. . .
Show more reviews (

16 reviews

)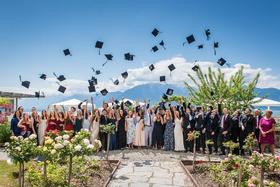 Nurturing Futures: A Journey through Boarding at Haut-Lac School in Switzerland
Nestled in the hills overlooking Lake Geneva in the French-speaking part of Switzerland lies an educational gem that embodies a unique blend of academic excellence, cultural richness and a profound sense of community. Founded over 30 years ago, Haut-Lac International Bilingual Day and Boarding School is now home to both 600 day students and a maximum of 30 boarders from around the world.
Navigating the Modern Maze: Emerging Challenges for Boarding Schools
Explore the pressing challenges facing boarding schools, from marketing difficulties and rising insurance costs to facility maintenance and recruitment of competent trustees and teachers. This article delves into these complex issues and proposes innovative strategies to overcome them.
What To Wear at Your Job Interview
Navigating job interviews can be stressful, but knowing what to wear shouldn't be. Our comprehensive guide covers the essential dress code tips for men and women interviewing at boarding schools. Make your first impression count with style and professionalism.