Reflections and Advice:
1.) What do you think makes your school unique relative to other boarding schools?
Like most New England boarding schools, Berkshire has a beautiful campus, incredible facilities, outstanding faculty and top-notch academics, arts and athletics. However, the yearly week long experience called Pro Vita is an aspect of Berkshire that is completely unique. During this week students get a break from traditional academic classes whether they stay on campus or choose to go on one of the many incredible trips that are offered each year. Students on campus take original and interesting workshop type classes taught by faculty they already know or fellow students with a burgeoning passion and alumni who have gone out into the world have something amazing to come back and offer those who are once where they were. Students off campus have traveled somewhere, perhaps where they have never been, or nevertheless where the place they are provides them with focused learning and exploratory opportunities. I have been fortunate enough to take Pro Vita courses on campus taught by my peers, go on a trip to the Island School in the Bahamas, and co-teach my own class with the Dean of Academics, and each Pro Vita experience has been incredible. Pro Vita is hands down one of the most amazing things about Berkshire!
2.) What was the best thing that happened to you in boarding school?
The best thing that happened to me at Berkshire was Berkshire itself. The incredibly dedicated and fun community of students and faculty, being surrounded by nature and the mountains, and living and learning in the same place all proved to be key ingredients in my success. I truly would not be the person I am today without having been a student at Berkshire and I would not have become a club leader or member of the Cum Laude Society in high school were it not for the community I was a part of.
3.) What might you have done differently during your boarding school experience?
It is difficult for me to give advice to kids about going to boarding school because everyone comes to boarding school for different reasons and with different emotions. I came because I really wasn't having a positive experience at my school and needed a big change and to feel more supported academically, and I absolutely wanted to come to boarding school. I woke up one morning in the 7th grade and literally said to my parents I am going to boarding school. I was so excited and so ready and that is exactly what I wanted. But for a lot of kids that is not how they end up at boarding school nor is it how they feel about going. What I have to say about that is that it is absolutely okay, and no matter how you feel at the beginning it is a roller coaster ride. I had an incredible overall experience but I would be lying if I said there weren't days when I called home twenty times because I missed my parents or something was really hard and I didn't want to deal with it. Boarding school is amazing because you get to live and learn in the same place but that is also exactly what makes it challenging--the lines between school and personal life are extremely blurred. But if you can embrace that, and realize that everyone else is in the same boat as you, whatever tough times you're going through will be that much easier.
4.) What did you like most about your school?
Overall, what I liked most about Berkshire was the students and faculty. Even though Berkshire itself is an amazing place, I feel that I could be anywhere in the world with the teachers and students I've become friends with and have a great time. Berkshire attracts such unique, kind, friendly and fun people that there is really never a dull moment.
5.) Do you have any final words of wisdom for visiting or incoming students to your school?
My final words of wisdom for anyone going to Berkshire is to get ready for some of the best moments of your life! High school, especially a boarding school, can be a really challenging environment but for the few tough moments there are every once in a while there will be so many amazing moments and memories. Also, Godman is the best girls dorm!!! I lived there freshman and senior year and loved it so much.
Academics:
1.) Describe the academics at your school - what did you like most about it?
What I liked most about my academic experience at Berkshire is what I think all Berkshire students really like about their academic experience, which is that you can make it as hard as you want it to be. As a really academic and intellectually driven person I was always pushing myself to take an overwhelmingly advanced and difficult course load. I was in so many advanced and AP classes from freshman year all the way to senior year. Some of my closest friends, though, found that they didn't excel as much in the classroom as they did perhaps on the stage or the field, and so taking just one or two advanced classes was enough for them and worked out great. And there were other kids, many of whom were also my friends, for whom taking all regular level classes was the right academic choice. There is such a depth and breadth of academic choices at Berkshire that there truly is something for everyone, and not only that but the Berkshire community makes room for every kind of student, and students are friends with all kinds of students. Not just the ones who are in all the same level classes as them.
Athletics:
1.) Describe the athletics at your school - what did you like most about it?
As I said before, I was not a jock at Berkshire and I certainly was not a multi-season varsity athlete. That being said, athletes at Berkshire are student athletes which means they have to be active participants in the classroom just like they are on the field. This makes it so the athletic student community within Berkshire is not at all exclusive, and totally embraces friendships with and support from students who are not as athletically inclined as they are. The majority of my friends were athletes, and one of the highlights of my time at Berkshire was cheering them on in their games, getting decked out in Green and Gray and screaming on the sidelines in support of them. What I love about athletics at Berkshire is that everyone is truly involved, even students who aren't on athletic teams or super involved varsity athletes. Those varsity teams and those varsity athletes would not be be as successful as they are without the support of the entire school community and at the end of the day, i think cheering on from the sidelines can be just as fun as actually playing in the game.
Art, Music, and Theatre:
1.) Describe the arts program at your school - what did you like most about it?
During my time at Berkshire I dabbled in the arts. At my prior school I had loved to sing and so I continued with that into my first year at Berkshire. I also tried out ceramics, and photography and although I found that the arts ultimately weren't for me, I had a lot of fun with everything I tried. What's great about the arts at Berkshire is that there are so many different ways to experience them, even if you discover you aren't a super artsy person, like me. There is an art requirement so you have to take some sort of art class at some point, but there is such a wide variety from studio to performing arts and anything in between. There is also the opportunity to participate in the arts as an afternoon activity in lieu of being on a sports team, and finally there are the seasonal musicals and plays which involve not only those interested in performing arts, but those who want to dance, or get involved in set design or the more behind the scenes aspects of the performing art world. The Berkshire community places such importance on every kind of art, and there is even a really strong relationship between the athletic and artistic community, so much so that during my time at Berkshire, the Director of Athletics played a role in the winter musical! It was incredible, and such a testament to the strong presence of the arts at Berkshire and its prominent place in the community.
Extracurricular Opportunities:
1.) Describe the extracurriculars offered at your school - what did you like most about it?
As I mentioned before, Berkshire has such a wide range of extracurricular activities that there is really something for everyone. I got most involved in the two clubs that I became really passionate about and that really complimented my aspirations not only as a student but also as a person. That being said there are so many students who use extracurricular clubs to try something out that is new to them and totally unrelated to interests they've already discovered. At Berkshire you are really encouraged to try anything and everything, and even go out of your way to create new opportunities for yourself. I am really interested in pursuing a career in education and i love kids, so my senior year I was able to spend a few mornings a week in the daycare on campus alongside my sophomore year Spanish teacher exposing the kids to Spanish! It was so much fun and such a treat but only happened because I went and made it happen.
Dorm Life:
1.) Describe the dorm life in your school - what did you like most about it?
My boarding school search took me to almost ten schools in New England where I learned about all different kinds of dorm life and activities. After all my visits I was most excited about the dorm life at Berkshire, and now as an alumna, dorm life was absolutely the highlight of my time at Berkshire. In coming to boarding school I wanted to constantly be surrounded by friends, to always have someone to go to the dining hall with, or to a sports game or theatre show. I wanted there to be random dance parties and late night pizza and Ben and Jerry's parties in the hallways and music going almost 24/7 and that is exactly what I got. I was so excited about living with my awesome teachers, and always having someone there if I needed them, including four legged friends, which there were plenty of. I didn't know at the time, but I came to realize that I also wanted lazy Sundays filled with quiet time, and naps, and just hanging out with my girlfriends and Berkshire gave me all of that and more. At Berkshire there are boys dorms and girls dorms and each dorm for each gender has its own personality which attracts different people with different interests. There are the louder and more boisterous dorms and there are the more quiet dorms. The dorms also vary by the type of room and bathroom setup, so there is really something for everyone and the process of choosing your room, called dorm pick makes it easy to choose.
Dining:
1.) Describe the dining arrangements at your school.
Most boarding school students complain about the dining options at their school but I was really happy with the options in our dining hall. I came from a home where both my parents were good cooks and I usually had great home cooked meals for dinner. I found that the quality of the food at Berkshire and the variety of the options was really similar to what I had at home. There was always fresh fruit out, and the bagel/bread bar, and the cereal bar, but there was also always something in the hot bar for breakfast, lunch and dinner in addition to the soup, salad and sandwich bar. They had avocado pretty regularly, and smoked salmon (!) and for a high school dining hall that is pretty impressive. Brunch was always the highlight of the week though because there were fresh doughnuts from the Great Barrington doughnut shop and other tasty treats we wouldn't get throughout the normal week. There were set hours for all the meals during the week, including community dinner in the fall and spring but the hours worked perfectly in conjunction with out academic and extracurricular commitments. There were a few restaurants and pizza shops that would also deliver almost every night to the dorms around study hall if you needed a late night snack or pick me up. Berkshire dining was great!
Social and Town Life:
1.) Describe the school's town and surrounding area.
Berkshire is in a town called Sheffield and Sheffield itself really doesn't have much to offer besides the Marketplace Cafe which has amazing food and is a short bike ride or car ride from campus. And they deliver! About 15-20 min away from Berkshire though is the town of Great Barrington which is pretty well known in the Berkshires and has amazing restaurants, really cute shops and a couple of movie theaters. Berkshire faculty bring students to town, and to a Kmart just outside of town, over the weekend on town trips during which students have two hours to roam and around, run errands, grab a bite and do whatever else they would like before they are picked up and brought back to campus. I took more advantage of these town trips my freshman year, and then after that I just got so busy on campus and was so happy hanging out there on the weekends that I didn't want to leave!
2.) Describe the social life at your school - what did you like most about it?
There are so many things I liked about my social life at Berkshire but the thing I liked most was probably how flexible and fluid it was. What I mean by that is I was able to meet almost everyone and become friendly with them because I was exposed to them through all the different facets of my life on campus. I met some girls by living in the dorm with them and some friends through sports teams or extracurriculars, as well as meeting even more boys and girls through my academic classes, advisory, community dinners and the big brother and sister program. Because life at Berkshire is so dynamic, students are always meeting other students and having the opportunity to get to know them better. Sports and art commitments change three times a year and academics may sometimes change with each semester and I found that being on the move was really valuable for my social life at Berkshire. Not only did it allow me to meet more people, but it allowed me to appreciate the friendships I already have and taught me how to nurture those while making new ones.
Daily Schedule:
Weekday
3:15 PM
Afternoon activites
Weekend
12:30 PM
Afternoon activities/commitments or time off!
During my three years at Berkshire, I was able to take advantage of many unique opportunities that other boarding schools just did not offer. For example, I was able to attend The Island School during. . .
Every year at Berkshire School, the school holds a Pro Vita week. During this week, students get to take classes that vary from their typical classes. These classes span from learning how to cook sustainability. . .
A unique aspect of Berkshire School is its Advanced Math and Science Research program. Students work with the head of the program in Berkshire's lab and are also often mentored by faculty of labs around. . .
Show more reviews (

14 reviews

)
Mastering the Boarding School Selection Process: A 5-Step Guide
Discover the ultimate 5-step guide to choosing the perfect boarding school for your child. Explore essential factors, such as academics, campus facilities, extracurricular activities, and more. Make an informed decision to provide your child with an enriching and transformative educational experience. Read now!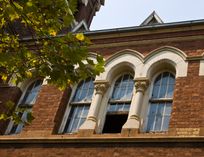 5 Founders and Their Boarding Schools
What prompts somebody to start a boarding school? The motives range from idealism to munificence right on through to capitalism. The common thread seems to be ample capital and a vision of what education can do.