Reflections and Advice:
1.) What do you think makes your school unique relative to other boarding schools?
Northfield Mount Hermon stands out from other prep schools in it's ability to truly celebrate diversity. There is not a "typical" Northfield Mount Hermon student, because NMH's environment allows students to grow and become their own person. There is not a certain mold that students have to fit in order to feel accepted. Students learn about other cultures, and lifestyles without even leaving the country. It talks in the dorm lounges, and discussions in class that open students eyes to other cultures. It is not unusual for a typical dorm floor to have the same number of American and international students. It is the valuable lesson of acceptance, that I feel is Northfield Mount Hermons most unique aspect.
2.) What was the best thing that happened to you in boarding school?
I entered NMH as a very unhappy, homesick fourteen year old. Four years later, I graduated feeling truly happy about every single moment I spent at NMH. I still consider the students and faculty who surrounded me during my four years, to be a part of my extended family. I came to NMH without a sense of who I was as a person, and graduated with a sense of inner peace. I will always consider Northfield Mount Hermon to be the best thing that ever happened to me.
3.) What might you have done differently during your boarding school experience?
If I could go back to freshman year at NMH, I would change the mindset I had when I arrived. I never thought I would love NMH. I was very unhappy freshman year, and it is because I didn't open my eyes to what was surrounding me. I focused soley on being homesick, and blamed it on the school. I took for granted the guidance I recieved from the faculty members with whom I was close. It wasn't until I went home for summer after freshman year, that I realized how much I loved NMH. That summer, I was homesick FOR NMH, and arrived on campus sophomore year with a positive mindset. If I could do it differently, I would arrive at NMH with an open mind and open heart. My advice for kids going to boarding school would be to truly appreciate the people who surround you. The friendships you will form during your years away from home will last a lifetime. The years you spend at boarding school will have an impact on your entire life, and I encourage you to arrive at boarding school ready to appreciate that.
4.) What did you like most about your school?
I loved every aspect of Northfield Mount Hermon. There is not one thing about NMH that I would change. Every aspect of my time at Northfield Mount Hermon impacted my life in a gigantic way, and I miss it dearly.
5.) Do you have any final words of wisdom for visiting or incoming students to your school?
My favorite thing to do at NMH when the weather was nice was to take walks with my friends around the entire loop of the Mount Hermon campus. The scenery is breathtaking.I lived in the same dorm for all four years at NMH. I lived in Wallace on the Mount Hermon campus. I was STRONGLY RECOMMEND it. The faculty associated with Wallace are amazing individuals, and really created a wonderful atmosphere to grow and learn.
Academics:
1.) Describe the academics at your school - what did you like most about it?
The teachers at Northfield Mount Hermon make class worthwhile. Teachers and students really form special bonds during the school year, and it is not unusual to see students and teachers sitting together in the dining halls. The teachers at NMH are highly respected by the students. There is a very enthusiastic feeling in the classrooms, because students come to class wanting to learn.
Athletics:
1.) Describe the athletics at your school - what did you like most about it?
Northfield Mount Hermon offers wide variety of sports. All sports teams have at least three levels - junior, junior varsity, and varsity. However, there are some sports (like men's basketball) that offer four levels. It is mandatory each term at NMH to participate in athletic program. If you do not play sports, you are required to participate in a P.E. class. The P.E. classes at NMH vary from Aerobics to Scuba Diving. Although NMH sports are competitive, non-athletes do not feel left out. What I liked the most about the athletics at NMH was that there was truly something for everyone.
Art, Music, and Theatre:
1.) Describe the arts program at your school - what did you like most about it?
The Visual Arts, Music, and Theatre programs are highly regarded at NMH. The instructors are very passionate about what they do. Instructors not only teach, but are actual musicians, dancers, actors, etc. NMH has a wide variety of artistic programs. The students within the programs are extremely passionate about what they do, and this shines through in performances.
Extracurricular Opportunities:
1.) Describe the extracurriculars offered at your school - what did you like most about it?
There is a great diversity of extracurricular oppurtunities available. The clubs at Northfield Mount Hermon are not popularity driven. The students who join them are very passionate about the specific topic, and don't just join because it's "popular" thing to do. The diversity of extracurricular oppurtunities allows students the oppurtunity to truly find the activity they are the most passionate about.
Dorm Life:
1.) Describe the dorm life in your school - what did you like most about it?
I loved the dorm life at NMH. The students and faculty in the dorm become your surrogate family while away from home. The faculty live in the dorm so they are easily accessible whenever you need an adult to talk to. Faculty who live in the dorm, want to be there so they provide a very home-like feeling within the dorm. Throughout the school year, dorms have special dinners and activities that I feel are bonding experiences for the students within the dorms. I still consider the girls, and faculty in my dorm a part of my larger extended family.
Dining:
1.) Describe the dining arrangements at your school.
The dining halls at NMH are absolutely phenomenal. There is a huge variety of choices. If you are a vegan or vegetarian this not a problem. There is always a vegan, and vegetarian menu. The quality of food is outstanding. There is no assigned seating, and the dining halls are set up to make you feel comfortable while eating your meals.
Social and Town Life:
1.) Describe the school's town and surrounding area.
Northfield, Massachusetts is a lovely, typical New England town. I fell in love with the architecture of the buildings around Northfield. They are absolutely gorgeous. The Connecticut River adds a wonderful aspect to life at NMH. The River is so beautiful, and students really take advantage of it. Greenfield, Mass was about 15 minutes away from NMH. Greenfield is the home of many small shops, the grocery stores, and the movie theaters. Students take cabs from NMH to Greenfield, and it's a nice mini-escape when school life becomes stressful.
2.) Describe the social life at your school - what did you like most about it?
Northfield Mount Hermon does not have typical "cliques". Students do not feel pressured to stay within a certain group. What I loved the most about the social life at NMH was that there was not a popular group. Students really respect one another, and this is evident when walking through student centers and dorms.
Daily Schedule:
Weekday
4:00 PM
JVA Boys Basketball practice
9:00 AM
Student Leader meeting
Weekend
11:00 AM
Brunch in the dining hall
1:00 PM
JVA Boys Basketball games
6:00 PM
Dinner with friends
One of the unique aspects of attending NMH is the Work Job Program. It is a true equalizer and ensures that every member of the community contributes to and appreciates the work involved in operating. . .
NMH allows students to dive into the community and passions. The college like scheduled of four classes allowed me to seamlessly transition into college academics. Also NMH has a four hour per week work program. . .
Northfield Mount Hermon School helped me become the man I am today.The best thing about NMH was its sense of community. I like to think that I knew almost everyone there, while everyone knew me. . .
Show more reviews (

12 reviews

)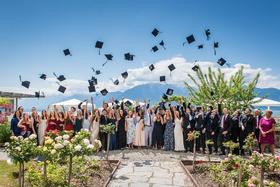 Nurturing Futures: A Journey through Boarding at Haut-Lac School in Switzerland
Nestled in the hills overlooking Lake Geneva in the French-speaking part of Switzerland lies an educational gem that embodies a unique blend of academic excellence, cultural richness and a profound sense of community. Founded over 30 years ago, Haut-Lac International Bilingual Day and Boarding School is now home to both 600 day students and a maximum of 30 boarders from around the world.
What To Wear at Your Job Interview
Navigating job interviews can be stressful, but knowing what to wear shouldn't be. Our comprehensive guide covers the essential dress code tips for men and women interviewing at boarding schools. Make your first impression count with style and professionalism.
Navigating the Modern Maze: Emerging Challenges for Boarding Schools
Explore the pressing challenges facing boarding schools, from marketing difficulties and rising insurance costs to facility maintenance and recruitment of competent trustees and teachers. This article delves into these complex issues and proposes innovative strategies to overcome them.