Reflections and Advice:
1.) What do you think makes your school unique relative to other boarding schools?
Although Andover has a large student body and large physical footprint, the "cluster system" breaks the school down into smaller living spaces and offers each student a community within a community so you never feel overwhelmed by size.
2.) What was the best thing that happened to you in boarding school?
I graduated from Andover completely confident that I would thrive at Dartmouth. I felt prepared for college in every possible way. I was confident in my writing and critical thinking skills and knew that I would be successful in the class room. I was comfortable in my ability to live independently in an on-campus dorm/dining hall setting. I was prepared for Division 1 sports and the expectations that would be placed on a college athlete because I had been juggling those things (with support) for two years and by the time I graduated I knew that I no longer needed the "training wheels" provided by Andover.
3.) What might you have done differently during your boarding school experience?
Meet as many people as you can meet and really get to know them. Celebrate their special talents, cheer them on at sporting events, watch their plays, listen to their concerts, see their art. Soak up all that you can from those faculty members with whom you "click". If you love an English teacher, take as many classes from that teacher as possible. Spend time with you teachers and house counselors outside of the classroom. Connect with students younger and older than you. You have much to teach and much to learn. Take advantage of the diversity to learn about different cultures by asking questions of your classmates about what life at home is like. Really dive in and be part of the community.
4.) What did you like most about your school?
The tradition, the feeling of pride to be part of a community of such exceptional students (past, present and future). The school is exceptionally generous to the students who cannot afford the hefty price at Andover. They make their mission of "Youth from Every Corner" more than a motto - they put their money where their mouth is and bring students from every back ground together in an inclusive and supportive environment.
5.) Do you have any final words of wisdom for visiting or incoming students to your school?
Don't be overwhelmed by the size of Andover. It can feel more like a college and less like a prep school the first time you visit, but it is much easier to digest when you are finally on campus and part of the cluster system. If you are living on campus and you can manage to land a "3-room double", do so!
Academics:
1.) Describe the academics at your school - what did you like most about it?
The academics were challenging in every way. Each course is offered at different levels so you are able to chose the level of challenge that fits your aptitude and interest. The teachers expect your best effort and work with you to achieve your best results. If you are "floating through" you will be asked to work harder and if you are struggling, you will be given the tools you need to find your way.Being in class with exceptionally gifted students at all times can be intimidating, but it always encouraged me to keep working to improve.
Athletics:
1.) Describe the athletics at your school - what did you like most about it?
Andover's "Big Blue" athletic program is exceptional. Winning is expected. Players from all varsity teams go on to become Division I standout athletes. That being said, younger athletes may start out on a jv2 team and work their way up to varsity later in their career and these will often become the captains who lead the team because they know the value of hard work and dedication.Andover has put an emphasis on developing world class facilities in recent years and today's athletes have the best coaches, trainers and equipment available to help them succeed.
Art, Music, and Theatre:
1.) Describe the arts program at your school - what did you like most about it?
It was always a pleasure to go see fellow class mates performing stunning musical and theatrical productions. I have some much respect for the vast talents of so many of Andover's students.
Extracurricular Opportunities:
1.) Describe the extracurriculars offered at your school - what did you like most about it?
As a three-term varsity athlete, I did not have much time for extracurricular activities.
Dorm Life:
1.) Describe the dorm life in your school - what did you like most about it?
Andover has a very diverse set of dorm possibilities. Everything from large dorms with 35-40 students each to small residential houses with as few as 5 students. This allows you as a student to determine what best fits your personality and decide if you'd like a roommate or a single. If you want a roommate, would you prefer to have one large room or a suite with two small bedrooms connected to a larger common room. There are so many possibilities.
Dining:
1.) Describe the dining arrangements at your school.
The dining hall serves really exceptional food with many different options.
Social and Town Life:
1.) Describe the school's town and surrounding area.
Town is an easy walk away with access to coffee shops, pizza and sub shops and a CVS with everything a dorm student might need. There is also a large Day Student population so as a boarder I benefited from those Day Students with cars to get off campus for errands, shopping and movies.
2.) Describe the social life at your school - what did you like most about it?
Because there was such a size-able student body, I always felt that I could find a group of people to be with in my free time. It was also acceptable to hunker down in my dorm room for some quiet time with one or two close friends - no judgments for missing out on large social gatherings.
Daily Schedule:
Weekday
7:30 AM
Wake up and go to breakfast
10:00 AM
Conference period
6:00 PM
homework/study sessions
9:00 PM
down time in the dorm
Weekend
8:00 AM
Wake up and go to breakfasat
6:00 PM
Saturday evening activities
As I look back on my life, I found the English Department profoundly brilliant. The level of reading (weekly) was extraordinary. The level of commitment of the faculty was genuine.. . .
Phillips Academy Andover has a nonsibi day in April. We don't have any classes but instead volunteer for special events and for each grade it is a different theme. One of the schools mottos is. . .
Andover has a need-blind admissions policy, which means that they don't take into account someone's ability to pay for the school when deciding whether or not to admit them. This makes the school much diverse. . .
Show more reviews (

13 reviews

)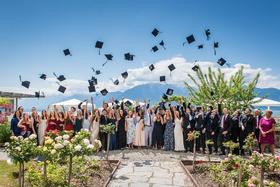 Nurturing Futures: A Journey through Boarding at Haut-Lac School in Switzerland
Nestled in the hills overlooking Lake Geneva in the French-speaking part of Switzerland lies an educational gem that embodies a unique blend of academic excellence, cultural richness and a profound sense of community. Founded over 30 years ago, Haut-Lac International Bilingual Day and Boarding School is now home to both 600 day students and a maximum of 30 boarders from around the world.
Navigating the Modern Maze: Emerging Challenges for Boarding Schools
Explore the pressing challenges facing boarding schools, from marketing difficulties and rising insurance costs to facility maintenance and recruitment of competent trustees and teachers. This article delves into these complex issues and proposes innovative strategies to overcome them.
What To Wear at Your Job Interview
Navigating job interviews can be stressful, but knowing what to wear shouldn't be. Our comprehensive guide covers the essential dress code tips for men and women interviewing at boarding schools. Make your first impression count with style and professionalism.