Reflections and Advice:
1.) What do you think makes your school unique relative to other boarding schools?
Middelsex has a beautiful campus. Perfectly manicured lawns, gorgeous chapel, amazing dorms, and lovely classrooms. It is very challenging academically and athletically, and the faculty pushes its students to be the best versions of themselves. The social life is very fun but can be intense and intimidating for those who are shy or reserved.
2.) What was the best thing that happened to you in boarding school?
My friends are the best thing to come from boarding school. I am still very close to my friends from middlesex because you bond so much.
3.) What might you have done differently during your boarding school experience?
I would have focused more on my studies from the start and taken advantage of office hours. Also, there are Saturday classes just FYI.
4.) What did you like most about your school?
The beautiful campus and the small community.
5.) Do you have any final words of wisdom for visiting or incoming students to your school?
Check out the new music building and walk up to the turf fields! Also check out the art department located in the theater,
Academics:
1.) Describe the academics at your school - what did you like most about it?
They were very challenging. I liked that all faculty was more than willing to help students after class hours.
Athletics:
1.) Describe the athletics at your school - what did you like most about it?
The athletics at middlesex are very good and very intense. Every student is required to participate in a sport every season. The facilities are beautiful and the coaches are very involved. There is not a ton of school spirit though.
Art, Music, and Theatre:
1.) Describe the arts program at your school - what did you like most about it?
They just built a new music building that is state of the art. The theater programs are also fabulous.
Extracurricular Opportunities:
1.) Describe the extracurriculars offered at your school - what did you like most about it?
There are endless clubs and activities at middlesex.
Dorm Life:
1.) Describe the dorm life in your school - what did you like most about it?
I loved dorm life. They have triples and quads that you can live in with friends and the dorm parents are always available if you need them.
Dining:
1.) Describe the dining arrangements at your school.
The food is ok. The dining hall has tons of options.
Social and Town Life:
1.) Describe the school's town and surrounding area.
Concord is adorable and very safe. Lots of families.
2.) Describe the social life at your school - what did you like most about it?
I loved the social life, however it was a little intense. People can be brutal but if you are confident and have a thick skin you will be fine!
Middlesex is probably the boarding school that is far ahead in terms of student body diversity, and I mean that in a very good way. Between geographical and socioeconomic diversity, you really learn a ton. . .
The community that is centered around the circle is welcoming, and the nice fall and spring days leave the students socializing on the circle during free blocks throughout the day and in their free time. . .
The entire experience was not only unique, it was life changing! It opened my eyes and mind up to world I wasn't familiar with. I was able to meet, connect and bond with students from. . .
Show more reviews (

26 reviews

)
Mastering the Boarding School Selection Process: A 5-Step Guide
Discover the ultimate 5-step guide to choosing the perfect boarding school for your child. Explore essential factors, such as academics, campus facilities, extracurricular activities, and more. Make an informed decision to provide your child with an enriching and transformative educational experience. Read now!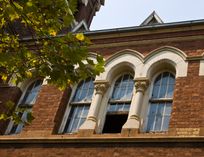 5 Founders and Their Boarding Schools
What prompts somebody to start a boarding school? The motives range from idealism to munificence right on through to capitalism. The common thread seems to be ample capital and a vision of what education can do.