Reflections and Advice:
1.) What do you think makes your school unique relative to other boarding schools?
All seniors have to develop and complete a capstone project that provides service for the community. Apart from that because of a strict honor code you can leave you most valuable possessions out in the open without worry of it going missing.
2.) What was the best thing that happened to you in boarding school?
I made my best friends here. I entered a new sport and became very good. I stunned my school and competing schools with displays of athleticism. I have influenced others to follow their dreams by relating to them. The best thing that happened to me was stepping out of my comfort zone when I went to Baylor. Best decision of my life
3.) What might you have done differently during your boarding school experience?
Tyree - If I could go back and change anything I would go to Baylor for 4 yours instead of the 2 that I actually went to. I can say without a doubt that it was the best two years of my life. I think back to my Baylor says at least once a day. So many memories with amazing people and amazing experiences. You just can't get those anywhere else. Even at Cornell University I find it hard to replicate those feelings.
4.) What did you like most about your school?
All of it, the memories I've made with people, teachers, coaches, and mentors I met at Baylor will be with me until the day I die.
5.) Do you have any final words of wisdom for visiting or incoming students to your school?
Respect Mrs. Kitty, she's a great chef and will help you out with Coach Clark if you're good friends with her
Academics:
1.) Describe the academics at your school - what did you like most about it?
With a wide variety of elective to choose from Baylor has the classes for you. Everything from computer programming to knitting to abstract math. If there is something that interests you burn isn't offered many people have started clubs around their interest. You would be surprised how many people also have similar interests once you start a club
Athletics:
1.) Describe the athletics at your school - what did you like most about it?
We are the best school in the southeast for sports and academics. I know when I was there we won over 100 state championships in the last decade compared to our rival school, Mc Callie, who barely won 100 in their existence.
Art, Music, and Theatre:
1.) Describe the arts program at your school - what did you like most about it?
I have friends who were really into art and productions. They speak very highly of our art electives and give credit to Baylor for their developed ability. Many of my personal friends have went on to pursue degrees in art and productions at some of the countries best fine art universities
Extracurricular Opportunities:
1.) Describe the extracurriculars offered at your school - what did you like most about it?
If you have an interest, it can be found at the club fair. Baylor has clubs for everything, literally. On the very slim chance that you don't find what you're looking for you can found a club.
Dorm Life:
1.) Describe the dorm life in your school - what did you like most about it?
We have very fine dorm halls that blow my college dorms out of the water. I lived in the biggest room on campus on Lupton's top floor. The room is the size of my college apartment! On top of that dorms constantly compete for "Best dorm on campus" through dorm competitions that happened every month. It's an environment like no other and you'll find lifelong friends here
Dining:
1.) Describe the dining arrangements at your school.
So Cornell is #3 in the country for best university food and it doesn't even come close to the dining halls at Baylor. I remember being fed steak and lobster more than once during my time there and it's absolutely mouthwatering. There's always a variety of food for vegans vegetarians and those with allergies. Sometimes you can sneak into the dining hall at night and get snacks like a pb&j and fruits. You can thank class of '17 for that. Me and some friends in Lupton formed an alliance with the dining staff and janitors to secure this.
Social and Town Life:
1.) Describe the school's town and surrounding area.
Chattanooga Tennessee is a breathtaking city centered between two mountains and a river. In Chattanooga you can find a variety of different activities to busy yourself with. Personally I chose rock climbing, hiking, and visiting day students friends at the top of Mount lookout. we even have a professional baseball and soccer team situated in the city as well as the Chattanooga Mocs, the hometown college football team.
2.) Describe the social life at your school - what did you like most about it?
Social life is very interesting at Baylor. I came as a Junior in high school. I was the big black guy that played football but I didn't have any friends when I came there. I expected to be the outlier that no one would go out of their way to talk to because I thought their friend groups would already be firmly cemented. To my surprise I quickly made a ton of friends and within my first semester the entire school knew who I was and my name. Even the faculty, staff and other coaches. Baylor is a very accepting and loving place and is Red Raiders know how to accept our own. I'm sure if you choose Baylor you'll have no trouble fitting in.
All seniors have to develop and complete a capstone project that provides service for the community. Apart from that because of a strict honor code you can leave you most valuable possessions out in the. . .
Walkabout is an experiential outdoors learning program open to all students that offers day, weekend, and break trips. It introduced me to things like kayaking, backpacking, and rock climbing without having to invest in gear. . .
Baylor has a unique camaraderie among its students. I have witnessed family relationships between faculty and friends that will last forever. These people keep in touch with me, and I feel like my connections opened. . .
Show more reviews (

1 review

)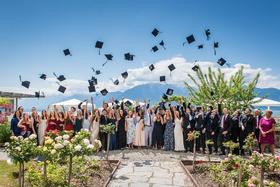 Nurturing Futures: A Journey through Boarding at Haut-Lac School in Switzerland
Nestled in the hills overlooking Lake Geneva in the French-speaking part of Switzerland lies an educational gem that embodies a unique blend of academic excellence, cultural richness and a profound sense of community. Founded over 30 years ago, Haut-Lac International Bilingual Day and Boarding School is now home to both 600 day students and a maximum of 30 boarders from around the world.
What To Wear at Your Job Interview
Navigating job interviews can be stressful, but knowing what to wear shouldn't be. Our comprehensive guide covers the essential dress code tips for men and women interviewing at boarding schools. Make your first impression count with style and professionalism.
Navigating the Modern Maze: Emerging Challenges for Boarding Schools
Explore the pressing challenges facing boarding schools, from marketing difficulties and rising insurance costs to facility maintenance and recruitment of competent trustees and teachers. This article delves into these complex issues and proposes innovative strategies to overcome them.