Reflections and Advice:
1.) What do you think makes your school unique relative to other boarding schools?
Walkabout is an experiential outdoors learning program open to all students that offers day, weekend, and break trips. It introduced me to things like kayaking, backpacking, and rock climbing without having to invest in gear or find instruction.Round Table is a faculty-chosen small group for literary discussion that is considered an honor for participants. It was my first experience with high level analysis and prepared me for my most challenging collegiate English seminars.
2.) What was the best thing that happened to you in boarding school?
The best thing I got out of boarding school was seeing what a real educational experience was like, before college. I'd been in a public school and while they tried, the resources just weren't there to make it any kind of a challenge. I was bored and coasting, and no one really cared. I had no academic interests and I didn't know what it was like to have to study. I would have gone to college unprepared.
3.) What might you have done differently during your boarding school experience?
I would have tried more of what was offered, academically, socially, and recreationally, from the very beginning. It took me a while to feel comfortable enough to explore the options.My advice would be to plunge right in. You can always back off if something isn't for you. Also, make relationships with the professors. At a boarding school, they generally really want to be there and they want to know about you. Being open to that gives you opportunities you might never have known about.
4.) What did you like most about your school?
I liked that it had the right idea about being a whole world of educational experiences in and out of class. It wasn't just a holding pen for teenagers until college.
5.) Do you have any final words of wisdom for visiting or incoming students to your school?
It has been so long that I'm sure a lot has changed. I liked studying on the library terraces, and lying in the sun on the crew docks. If you're a history person, the Civil War sights around the area are pretty good for hiking.
Academics:
1.) Describe the academics at your school - what did you like most about it?
Every professor was engaged and present. You couldn't slide by even if you were smart enough to do the work without putting extraordinary effort in. They asked for more than your minimum, and were paying enough attention to gauge what you were actually capable of.
Athletics:
1.) Describe the athletics at your school - what did you like most about it?
I liked that everyone had to do something active two seasons out of three. The varsity sports were highly competitive, but JV was open to everyone, and if you had no interest in sports at all, there were dance classes and weightlifting.
Art, Music, and Theatre:
1.) Describe the arts program at your school - what did you like most about it?
I really didn't do much in the music or theater areas, but there were numerous productions and my friends seemed to love the programs. I did take both AP Studio Art and AP Art History, as well as ceramics as my activity the term I had mono and had to be out of sports, and the instruction, freedom, and facilities were great.
Extracurricular Opportunities:
1.) Describe the extracurriculars offered at your school - what did you like most about it?
The school does a good job of offering enough to keep boarding students active on weekends and nights, even those who don't keep cars on campus. The recreational program director seemed to accurately assess what the students who used the rec programs were really into and offer activities accordingly.
Dorm Life:
1.) Describe the dorm life in your school - what did you like most about it?
I thought dorm life was pretty good. The dorms are big enough to feel like you aren't under a microscope, but not so big you're anonymous. We had a team of dorm parents that lived in attached apartments as well as faculty that took shifts during the week. They'd come hang out and watch movies, bake snacks, etc. I liked that almost all the dorm parents lived somewhere on campus and felt like part of the community.
Dining:
1.) Describe the dining arrangements at your school.
The dining hall was beautiful. River views, lots of glass. I appreciated that you had a lot of freedom in choosing when and what to eat, as well as not being overly supervised during meals. The food was pretty diverse and seasonal, with themed meals around both traditional American holidays and multicultural events.
Social and Town Life:
1.) Describe the school's town and surrounding area.
Chattanooga was in transition when I attended. The best thing about it was how fast it was growing. Every week there was a new coffee shop or boutique. The river runs between campus and downtown, and there were a lot of cool places to walk and hang out. The city is surrounded by mountains, and getting out to go hiking or kayaking is really easy.
2.) Describe the social life at your school - what did you like most about it?
There's a lot of interaction between boarders and day students, which isn't the case at every school. I never felt forgotten or socially isolated as a boarder.I also really liked how diverse the foreign student population was. Asia, Europe, the Middle East... having so many backgrounds and perspectives really added to both the social and academic environment.
Daily Schedule:
Weekday
8:00 AM
grab breakfast to go, class
10:00 AM
break, then chapel
10:00 PM
free hour, pickup soccer
Weekend
2:00 PM
maybe study, maybe shop with friends
12:15 PM
hang out, watch a movie in the dorm
All seniors have to develop and complete a capstone project that provides service for the community. Apart from that because of a strict honor code you can leave you most valuable possessions out in the. . .
Walkabout is an experiential outdoors learning program open to all students that offers day, weekend, and break trips. It introduced me to things like kayaking, backpacking, and rock climbing without having to invest in gear. . .
Baylor has a unique camaraderie among its students. I have witnessed family relationships between faculty and friends that will last forever. These people keep in touch with me, and I feel like my connections opened. . .
Show more reviews (

1 review

)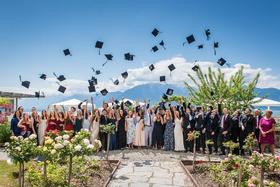 Nurturing Futures: A Journey through Boarding at Haut-Lac School in Switzerland
Nestled in the hills overlooking Lake Geneva in the French-speaking part of Switzerland lies an educational gem that embodies a unique blend of academic excellence, cultural richness and a profound sense of community. Founded over 30 years ago, Haut-Lac International Bilingual Day and Boarding School is now home to both 600 day students and a maximum of 30 boarders from around the world.
What To Wear at Your Job Interview
Navigating job interviews can be stressful, but knowing what to wear shouldn't be. Our comprehensive guide covers the essential dress code tips for men and women interviewing at boarding schools. Make your first impression count with style and professionalism.
Navigating the Modern Maze: Emerging Challenges for Boarding Schools
Explore the pressing challenges facing boarding schools, from marketing difficulties and rising insurance costs to facility maintenance and recruitment of competent trustees and teachers. This article delves into these complex issues and proposes innovative strategies to overcome them.