Reflections and Advice:
1.) What do you think makes your school unique relative to other boarding schools?
Mercersburg Academy has extremely small class sizes; usually no more than eleven students. Most classes in the humanities are conducted around seminar style tables, facilitating discussions and encouraging class participation. The campus is beautiful; over 300 acres of land. The Academy's Chapel is especially unique; a historic landmark filled with Tiffany windows, marble and detail.There is a large body of international students; over thirty countries are represented, and for each a flag is displayed in the Chapel. While religion classes are mandatory, the school encourages all types of faiths, and students have the option of choose which religion they would like to learn about, and most of the instruction is in theory, not practice. The school's Chapel program brings outside speakers to campus on a weekly basis, giving students the opportunity to reflect on what spirituality means to them and how it pertains to their everyday lives.
2.) What was the best thing that happened to you in boarding school?
Mercersburg taught me a lot of things, but above all else it made me a leader. It gave me the opportunity discover what responsibility and Independence are and how these attributes can make one a better person. For example, as captain of the swim team, I learned how to work with both my teammates and my coach to make us a better and more successful team. It is a difficult thing to leave home at the age of fifteen, but I feel this experience made me a more outgoing and approachable person, someone people look up to and admire. By the time I reached college I knew I was ready for anything; I knew who I was and what I wanted out of life. Mercersburg helped me discover the kind of person I wanted to be.
3.) What might you have done differently during your boarding school experience?
I had absolutely no idea what I was in for; Mercersburg was so much more academically challenging than my old school. I would recommend that students who are new to a boarding school get to know their teachers really well. They should not be afraid to come to them if they feel they are struggling academically. I think that I waited too long in some cases my first year at Mercersburg to ask for help. You have to learn to be proactive.
4.) What did you like most about your school?
Mercersburg is a beautiful place with caring faculty and teachers. It was and will always be my home. The library and the classrooms are state-of-the-art and class time was always enjoyable as a result.
5.) Do you have any final words of wisdom for visiting or incoming students to your school?
South Cottage is the best dorm and Romeo's in town is THE place for milkshakes and cheese fries.
Academics:
1.) Describe the academics at your school - what did you like most about it?
Academics at Mercersburg are very challenging; every teacher pushes you to be your best. My writing improved a great deal at the Academy; there is a great deal of emphasis on this area of expertise. When I got to college, I was able to hit the ground running. While many of my freshman hall mates struggled with writing, having never written anything longer than a couple of pages, I was able to produce quality papers efficiently.
Athletics:
1.) Describe the athletics at your school - what did you like most about it?
Because of the community environment at the Academy, everyone always turns out to support each other. Most swimmers in high school never have any of their classmates at meets, but at Mercersburg everyone made sure to come out to the games and meets and support each other. At the annual meet against our biggest rival, The Peddie School, practically the whole school attended.
Art, Music, and Theatre:
1.) Describe the arts program at your school - what did you like most about it?
Mercersburg put on amazing annual musicals, and the way in which our dance, theater, and music programs all came together every year to put together great Broadway productions like Grease, Pipin, and A Chorus Line demonstrates the dedication and talent of both the students and the faculty.
Extracurricular Opportunities:
1.) Describe the extracurriculars offered at your school - what did you like most about it?
Mercersburg had millions of clubs; everything from an International Club to a Bike Club. Also, if you wanted to start a new club built around a particular area of interest, it was always easy to find a faculty member to help you make your idea a reality. Even with such a tiny student body (only about 420 students) the Academy was able to create not only a lot of clubs, but also a high level of involvement and participation.
Dorm Life:
1.) Describe the dorm life in your school - what did you like most about it?
Dorm life is an extremely important component of campus life at Mercersburg. The Faculty and students that live with you become your family; they are the people you turn to for help and for guidance. Almost all students have a roommate and everyone has at least one prefect and faculty member living on the floor; in the larger dorms two. The faculty members and prefects work together to supervise students during study hall and lights out. Dorms participate in competitions; like the Alumni Weekend decorating contest, in which each dorm decorates it's exterior to welcome the Alumni back to campus. Dorms also do fun things with their residents like cook outs, pizza parties, and movie marathons.
Dining:
1.) Describe the dining arrangements at your school.
At Mercersburg, eight meals a week are eaten family style, which means each student is assigned a table with a faculty member, senior table proctor, and another 6-8 students chosen at random. The tables shift every two weeks, and as you eat with different people, you get to know almost every member of the community, even if your paths never crossed in class, on the field, or in the dorm. This leads to a greater sense of community. In addition, students take turns clearing the table and getting the food from the kitchen, creating a situation in which each student is periodically responsible for cleaning up after themselves and serving the table.
Social and Town Life:
1.) Describe the school's town and surrounding area.
Mercersburg's town is small and quaint; but there are many interesting places to go to eat and hangout on the weekends. It is a very rural area, but the countryside is beautiful especially as the seasons change. The small size also makes the town incredibly safe.
2.) Describe the social life at your school - what did you like most about it?
Because the school is so small, everyone knows and is friendly with everyone else. It is rare to pass someone walking across campus and not have them greet you with a hello and a smile at the very least. The school organized weekly DJ dances and other events on the weekends giving students the opportunity to enjoy each others company outside of the dorms, practice, and class.
Daily Schedule:
Weekday
12:30 AM
break/music period
3:30 PM
stretch period for fifth class if needed
Weekend
9:00 PM
athletics practice
Mercersburg has an incredibly beautiful campus. It is a place for reflection as much as anything else. The gothic chapel is designed by the architect who built Princeton University's chapel, and it carries a rich. . .
Mercersburg has a unique community in that everyone is so connected and there really is a sense of family among the students and teachers. Everyone is incredibly kind, welcoming, ambitious, and curious. the relationships I. . .
Opportunity and Community were the two buzzwords that largely encompass my Mercersburg experience. What lies between these two speaks just as loudly. There is a certain "presence of the present" that exists at Mercersburg that. . .
Show more reviews (

17 reviews

)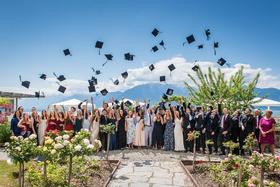 Nurturing Futures: A Journey through Boarding at Haut-Lac School in Switzerland
Nestled in the hills overlooking Lake Geneva in the French-speaking part of Switzerland lies an educational gem that embodies a unique blend of academic excellence, cultural richness and a profound sense of community. Founded over 30 years ago, Haut-Lac International Bilingual Day and Boarding School is now home to both 600 day students and a maximum of 30 boarders from around the world.
What To Wear at Your Job Interview
Navigating job interviews can be stressful, but knowing what to wear shouldn't be. Our comprehensive guide covers the essential dress code tips for men and women interviewing at boarding schools. Make your first impression count with style and professionalism.
Navigating the Modern Maze: Emerging Challenges for Boarding Schools
Explore the pressing challenges facing boarding schools, from marketing difficulties and rising insurance costs to facility maintenance and recruitment of competent trustees and teachers. This article delves into these complex issues and proposes innovative strategies to overcome them.