Reflections and Advice:
1.) What do you think makes your school unique relative to other boarding schools?
Lots of personal attention from faculty both during class and after class. Fantastic selection of competitive sports available.
2.) What was the best thing that happened to you in boarding school?
For me the structure was essential to my personal and academic success. I went on to complete a Masters in Business, Law, and Medical graduate degrees.
3.) What might you have done differently during your boarding school experience?
I would have made a greater effort to engage in sports early in my program
4.) What did you like most about your school?
The structure coupled with the personal attention was the best aspect of the T-P experience
5.) Do you have any final words of wisdom for visiting or incoming students to your school?
Take in the whole experience it is designed to make you s better person-and it does!
Academics:
1.) Describe the academics at your school - what did you like most about it?
The personalized attention from faculty really made a difference.
Athletics:
1.) Describe the athletics at your school - what did you like most about it?
Tremendous hockey program
Art, Music, and Theatre:
1.) Describe the arts program at your school - what did you like most about it?
T-P fostered appreciation of the arts especially through plays.Most of the extracurricular
Extracurricular Opportunities:
1.) Describe the extracurriculars offered at your school - what did you like most about it?
Most of the extracurricular activities centered on sports
Dorm Life:
1.) Describe the dorm life in your school - what did you like most about it?
Dorm life forced you to learn to share and appreciate other people's viewpoints
Dining:
1.) Describe the dining arrangements at your school.
Dong was communal most of the food was fine.
Social and Town Life:
1.) Describe the school's town and surrounding area.
My father worked in Pawling so I got to visit him on days we were allowed into town.
2.) Describe the social life at your school - what did you like most about it?
Social life with the opposite sex was limited due to the reality of a all boys boarding school. The school did offer some coed dances.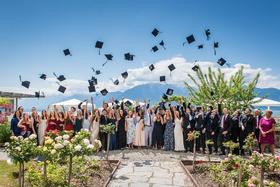 Nurturing Futures: A Journey through Boarding at Haut-Lac School in Switzerland
Nestled in the hills overlooking Lake Geneva in the French-speaking part of Switzerland lies an educational gem that embodies a unique blend of academic excellence, cultural richness and a profound sense of community. Founded over 30 years ago, Haut-Lac International Bilingual Day and Boarding School is now home to both 600 day students and a maximum of 30 boarders from around the world.
What To Wear at Your Job Interview
Navigating job interviews can be stressful, but knowing what to wear shouldn't be. Our comprehensive guide covers the essential dress code tips for men and women interviewing at boarding schools. Make your first impression count with style and professionalism.
Navigating the Modern Maze: Emerging Challenges for Boarding Schools
Explore the pressing challenges facing boarding schools, from marketing difficulties and rising insurance costs to facility maintenance and recruitment of competent trustees and teachers. This article delves into these complex issues and proposes innovative strategies to overcome them.