Reflections and Advice:
1.) What do you think makes your school unique relative to other boarding schools?
First of all, the campus is gorgeous and has a natural relaxed vibe. On my first visit, as soon as I stepped out of the car, I felt at ease. Second, the faculty is exceptional. Every teacher I had was passionate about their field, and that you were actually learning. The teachers were extremely supportive. Third, the music program is probably one of the best contemporary music programs in a liberal arts type boarding school around. The head of the department is a Berk lee grad and works her contacts to bring the students unique opportunities including, a Rock band class with featured local artists, recording studio trips, trips to Philly radio stations, all kinds of cool stuff!
2.) What was the best thing that happened to you in boarding school?
So many things, but the short version would be that Solebury helped me be more confident in myself. Every area that I showed a passion or interest in, I was taken seriously and encouraged. When I made mistakes, I was corrected but not rejected. When you get to be part of a community like that, surrounded by people who encourage you, and you have learned to encourage, you begin to believe in who you are.
3.) What might you have done differently during your boarding school experience?
Hit the books hard right away. I warmed up the idea of working hard in school after a while. Was a good lesson to learn, but if you can start off with good habits, it makes it that much easier to get through the tough times.
4.) What did you like most about your school?
The faculty. They believed in us, and did their best to lift us up to a higher level. Finding people like that in life is rare, especially a whole culture of it. Miss that for sure.
5.) Do you have any final words of wisdom for visiting or incoming students to your school?
Befriend the chefs quickly as you can! Get to know their names, get them to know yours. It all falls into place from there.
Academics:
1.) Describe the academics at your school - what did you like most about it?
As I mentioned before, the professors are wonderful. There's a great variety of classes. If there's something a student is interested in, like for me Music theory and Ear Training, as long as you can find a professor who is willing and a few other students, they will usually create the class for you.
Athletics:
1.) Describe the athletics at your school - what did you like most about it?
The athletics program has created some serious athletes, and does well in its league, but is on the whole not usually nationally competitive. Coaches are usually great, a nice variety of sports offered. An after school activity is required, but it does not need to be a sport.
Art, Music, and Theatre:
1.) Describe the arts program at your school - what did you like most about it?
The Arts program is awesome. Great faculty, cool facilities, and a surprising level of talent in every area. A lot of professional-level artists come out here, partially because a pretty professional work ethic is demanded of the arts program students. The school does a great supporting the arts with equipment and trip opportunities.
Extracurricular Opportunities:
1.) Describe the extracurriculars offered at your school - what did you like most about it?
There are some very cool trips that happen every year. Could be an overseas language trip or a volunteer trip, sometimes both. Solebury does these well, and safely. Many other extracurricular activities are student-driven. There's a lot of passionate students at Solebury, and the admission is great at encouraging and empowering them rather than restricting them. Students respond to that by being serious and thoughtful with what they do.
Dorm Life:
1.) Describe the dorm life in your school - what did you like most about it?
Living in the dorms was a blast. Many of the day students told me they were jealous of all the fun trips and community activities we do. Like most anything else at Solebury, if a student can get a couple of other students together and a free faculty member, they can usually put on any activity or go anywhere they wish. Faculty usually come with fun things of their own to do on weekends as well. The study hall program helped me a lot as a student too, and helped build good work habits that still serve me well.
Dining:
1.) Describe the dining arrangements at your school.
Solebury has three chefs that rotate. Each chef has their own style, and signature dishes. The chefs are fun to get to know. They're good people and make good food! For breakfast and dinner, there is a rotating group of students that help serve and clean up. It helps build some accountability, and provides lots of face time with the community.
Social and Town Life:
1.) Describe the school's town and surrounding area.
New Hope, PA is a very artsy, touristy kind of town. Lots of nature opportunities and a few neat shops around to poke around in. Has a very relaxed vibe, and provides a good escape from school. Also some great restaurants for epic nights out!
2.) Describe the social life at your school - what did you like most about it?
I only ever went to one high school, but from what I've heard from transfer students, students at Solebury are, on the whole, much nicer and more accepting than other high school students. There are always cliques, but the barriers between cliques are very thin and fluid. It's not odd for students that might be at odds in a typical high school social setting to be great friends at Solebury. There's a great amount of diversity and acceptance for sure.
Daily Schedule:
Weekday
Weekend
2:00 PM
Homework or a movie
9:30 PM
Hang out with friends
First of all, the campus is gorgeous and has a natural relaxed vibe. On my first visit, as soon as I stepped out of the car, I felt at ease. Second, the faculty is exceptional. . .
Solebury was one of the best things to happen to me. The education I received, the friendships I made, the relationships with many of my teachers are still in place today. I'll never forget my. . .
Solebury makes sure to keep all class sizes very small, which was new to me as a former public school student. All students address teachers by their first names, which really emphasizes the mutual respect. . .
Show more reviews (

1 review

)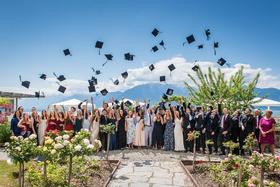 Nurturing Futures: A Journey through Boarding at Haut-Lac School in Switzerland
Nestled in the hills overlooking Lake Geneva in the French-speaking part of Switzerland lies an educational gem that embodies a unique blend of academic excellence, cultural richness and a profound sense of community. Founded over 30 years ago, Haut-Lac International Bilingual Day and Boarding School is now home to both 600 day students and a maximum of 30 boarders from around the world.
What To Wear at Your Job Interview
Navigating job interviews can be stressful, but knowing what to wear shouldn't be. Our comprehensive guide covers the essential dress code tips for men and women interviewing at boarding schools. Make your first impression count with style and professionalism.
Navigating the Modern Maze: Emerging Challenges for Boarding Schools
Explore the pressing challenges facing boarding schools, from marketing difficulties and rising insurance costs to facility maintenance and recruitment of competent trustees and teachers. This article delves into these complex issues and proposes innovative strategies to overcome them.