Solebury School - Review #1
About the Author:

College Enrolled
Loyola University Maryland
Home Town, State (Country)
Newark, NJ
Years Attended Boarding School
4
Activities During Boarding School
I participated in Soccer for 3 years and was captain my Senior year. Basketball for 4 years and was captain for 2 years, Softball for 4 years, and was captain for 2 years, and Cross Country for 1 year. I was also part of a few student organizations including the academic committee, and the judiciary committee. I was also in the Spanish Honors Society, and a few volunteer programs related to the World Food Program, and
Review

Description

Loyola University Maryland

Solebury was one of the best things to happen to me. The education I received, the friendships I made, the relationships with many of my teachers are still in place today. I'll never forget my. . .

Portland State University, The George Washington University

Solebury makes sure to keep all class sizes very small, which was new to me as a former public school student. All students address teachers by their first names, which really emphasizes the mutual respect. . .

University of Delaware

Solebury has a mandatory yet very manageable volunteer requirements. When I was a student, it was 5 hours a year for middle schoolers and 10 hours a year for high schoolers. I was part of. . .
April 20, 2018
Actually, there is no secret to getting your child into boarding school. Just a lot of hard work and a heavy commitment of time.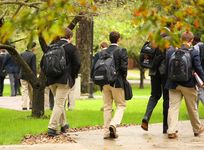 March 22, 2018
Some cynics think single-sex education is old-fashioned. The Kiski School shows how educating boys in a single-sex school is successful.
March 08, 2018
The wide range of fine academic, athletic, and other facilities found in boarding schools underscores the determination of schools to provide the very best for their students.