Reflections and Advice:
1.) What do you think makes your school unique relative to other boarding schools?
The close-knit campus. The fact that the campus was small (or at least the buildings being so close together) made everyone close like a family. It made my transition from my class with a graduation class of 18 kids a lot easier.
2.) What was the best thing that happened to you in boarding school?
I made some of best friends. People that I would of never met if I went to public school or private school near me. I also found my true passion for drawing at Loomis. I also got to find my personality if that makes sense? For example I am a goofy and joke-heavy person. I like making stupid and silly jokes and I found that out at Loomis.
3.) What might you have done differently during your boarding school experience?
Something I always regretted was 1) not fighting my freshman year advisor (also my Spanish teacher) to put me in the CORRECT Spanish level which was anything above level one. 2) not moving down or changing out of my Chemistry Advanced class. The teacher for that class was creepy and very bad at teaching.
4.) What did you like most about your school?
When I went to Loomis it truly gave me a sense of family and community. I will forever be grateful for the friendly faces ranging from students to teachers to dorm faculty.
5.) Do you have any final words of wisdom for visiting or incoming students to your school?
Welp when I went to Loomis we had the SNUG which had the BEST chocolate chip cookies ever. I'm not sure if they still make them at the new building.
Academics:
1.) Describe the academics at your school - what did you like most about it?
I was always anxious about dropping levels. I was someone who tried to stay in advanced or the highest level, even if that wasn't the right fit for me. But my teachers helped me understand that going down a level doesn't mean I was stupid or anything it just meant I needed to take more time on the subject.
Athletics:
1.) Describe the athletics at your school - what did you like most about it?
I enjoyed how they had a group or athletic group for everyone. Like I did not know how to skate yet I got to join JV hockey. And now I can skate and play hockey. I don't think mandatory athletics was an issue because I genuinely think that being active in any way, shape, or form is necessary.
Art, Music, and Theatre:
1.) Describe the arts program at your school - what did you like most about it?
I loved how Loomis would bring visiting artists all the time to the school. I loved seeing the art and sometimes becoming inspired by it.
Extracurricular Opportunities:
1.) Describe the extracurriculars offered at your school - what did you like most about it?
I actually was never involved in either of these types of activities. I will say I wish that volunteer stuff was more forced there because making a positive impact on ones community is important.
Dorm Life:
1.) Describe the dorm life in your school - what did you like most about it?
My freshman and sophomore year I lived in this one dorm that was basically like my family. Everyone got extremely close and the prefects were, both years, like older sisters that were always helpful.
Dining:
1.) Describe the dining arrangements at your school.
My senior year we did not have a dining hall. We had a make shift place to eat in the gym which was terrible. I did not enjoy my last year because I did not have a proper eating facility.
Social and Town Life:
1.) Describe the school's town and surrounding area.
I enjoyed that we had some local restaurants that we could walk to or order in from. Another thing was we had a grocery store and CVS walking distance which was perfect to get food or like little necessities.
2.) Describe the social life at your school - what did you like most about it?
I mean making friends was easy because there were so many groups and places to get involved and such. Like classes, after school activities, etc. And the school would throw events all the time that was a great way to bond with other students.
Loomis required all students to participate in a sport each trimester, which was a great way to get all students both involved and engaged with the school and the other students. It was a great. . .
Because we have a smaller campus than most prep schools in New England, we benefit from a strong sense of community. Everyone is a familiar face and in turn, Loomis feels more like "home". . .
Mandatory extra-curricular activities in each season, ranging from competitive athletics, theatre, bands, choirs, volunteer work, environmental clubs, etc appealing to a wide variety of interest.Dorms and academic buildings positioned around a main "quad" grass. . .
Show more reviews (

27 reviews

)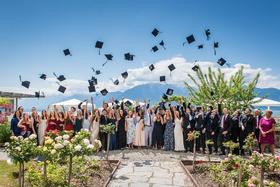 Nurturing Futures: A Journey through Boarding at Haut-Lac School in Switzerland
Nestled in the hills overlooking Lake Geneva in the French-speaking part of Switzerland lies an educational gem that embodies a unique blend of academic excellence, cultural richness and a profound sense of community. Founded over 30 years ago, Haut-Lac International Bilingual Day and Boarding School is now home to both 600 day students and a maximum of 30 boarders from around the world.
What To Wear at Your Job Interview
Navigating job interviews can be stressful, but knowing what to wear shouldn't be. Our comprehensive guide covers the essential dress code tips for men and women interviewing at boarding schools. Make your first impression count with style and professionalism.
Navigating the Modern Maze: Emerging Challenges for Boarding Schools
Explore the pressing challenges facing boarding schools, from marketing difficulties and rising insurance costs to facility maintenance and recruitment of competent trustees and teachers. This article delves into these complex issues and proposes innovative strategies to overcome them.