Reflections and Advice:
1.) What do you think makes your school unique relative to other boarding schools?
Living in the incredible town of Idyllwild is a really incredible setting for any aspiring artists around the high school age. It was inspiring to be living in nature while also being close enough to Los Angeles to take advantage of the thriving art scene there.I can speak to the classical Music Department, in that your private instructors are unrivaled for High School Aged Schools. Students in the Orchestra Program studied with musician from the LA Phil, LA opera, San Diego Symphony, and so much more. There is really now where else where you can get that kind of exposure to incredible faculty before college.
2.) What was the best thing that happened to you in boarding school?
The best thing about Idyllwild was having the oportunity to study with a musician in the LA Phil every week. We were driven down to Disney Hall and had our lessons there every single week.
3.) What might you have done differently during your boarding school experience?
Nothing! Just enjoy the opportunity and work really hard. At Idyllwild specifically, hard work is rewarded in more exciting opportunities in your given department and major. Teachers will notice if you are not giving your 100%>
4.) What did you like most about your school?
The location. Southern California is AMAZING! living in the mountains while having LA so close is extremely rare.
5.) Do you have any final words of wisdom for visiting or incoming students to your school?
Take advantage of the scenery. You will miss it alot when you move to a big city,
Academics:
1.) Describe the academics at your school - what did you like most about it?
The small class sizes were definitely the biggest advantage, the relationship you build with your teachers at Idyllwild is pretty amazing.
Athletics:
1.) Describe the athletics at your school - what did you like most about it?
N/A. The only athletics that I was aware of are tennis club, and P.E.Living in the mountains there are numerous hiking opportunities.
Art, Music, and Theatre:
1.) Describe the arts program at your school - what did you like most about it?
The music program was incredible. We had the opportunity to play in a high level orchestra and high level chamber music at the same time. There is also an awesome Collaboration where you are assigned a classical pianist who you play with for the year and are mentored periodically by the Academys incredible piano faculty.
Extracurricular Opportunities:
1.) Describe the extracurriculars offered at your school - what did you like most about it?
Because of the diversity at Idyllwild, there is a club or group for everyone.
Dorm Life:
1.) Describe the dorm life in your school - what did you like most about it?
Dorm life drastically depends on which dorm you end up living in. There are several Standard Dorms that the majority of students live in and also two unique dorm settings. Overall pretty okay. Not amazing though.
Dining:
1.) Describe the dining arrangements at your school.
The dining hall was good, they tried very hard to keep a variety of options available throughout the year. Definitely better than any college dining arrangements. The hours are frustrating because the Dining Hall was not always open (only open for certain breakfast, lunch, and Dinner hours.
Social and Town Life:
1.) Describe the school's town and surrounding area.
The town is one of the best parts about IAA. On the weekends students are provided transportation into town to do grocery shopping or eat at one of the towns many amazing dining options.
2.) Describe the social life at your school - what did you like most about it?
The small community feel at Idyllwild makes it a refreshing contrast to standard large public high schools. In general everyone respects everyone and gets along well.
Idyllwild Arts has an incredibly unique community of faculty and students. Since the campus and the town of Idyllwild is so isolated, those who live there become very close to each other.. . .
Comprehensive Arts Education: Idyllwild Arts Academy's dedication to providing a comprehensive arts education is one of its standout features. The academy offers a wide variety of artistic disciplines, including music, dance, visual arts, drama, film. . .
Idyllwild Arts Academy is renowned for its dedication to providing a comprehensive arts education. The school serves pupils in grades 9 through 12 and provides a wide variety of artistic disciplines, such as music, dance. . .
Show more reviews (

21 reviews

)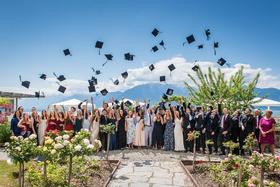 Nurturing Futures: A Journey through Boarding at Haut-Lac School in Switzerland
Nestled in the hills overlooking Lake Geneva in the French-speaking part of Switzerland lies an educational gem that embodies a unique blend of academic excellence, cultural richness and a profound sense of community. Founded over 30 years ago, Haut-Lac International Bilingual Day and Boarding School is now home to both 600 day students and a maximum of 30 boarders from around the world.
Navigating the Modern Maze: Emerging Challenges for Boarding Schools
Explore the pressing challenges facing boarding schools, from marketing difficulties and rising insurance costs to facility maintenance and recruitment of competent trustees and teachers. This article delves into these complex issues and proposes innovative strategies to overcome them.
What To Wear at Your Job Interview
Navigating job interviews can be stressful, but knowing what to wear shouldn't be. Our comprehensive guide covers the essential dress code tips for men and women interviewing at boarding schools. Make your first impression count with style and professionalism.