Reflections and Advice:
1.) What do you think makes your school unique relative to other boarding schools?
I think the most glaring unique aspect of this school was the campus and day-to-day activities. The entire campus was essentially a skate park, and at the time they were in the process of building a dry slope jump/airbag and a rail park. I honestly can't even imagine what that campus looks like today. Such an amazing campus for those athletes.
2.) What was the best thing that happened to you in boarding school?
I think the whole experience in general was one of the best things that could have happened to me. They really took me out of a not so great environment and helped coach and mentor me into the person I am today. I can specifically credit Mike, and Kerry for their dedication to the students. You could tell that the success of the students is what brought them joy and satisfaction.
3.) What might you have done differently during your boarding school experience?
I would have relished the experience more. I would tell anyone who is about to attend to soak up every single minute of their experience, utilize every tool that Wy 'east offers and take nothing for granted because it truly will be one of the best experiences they will ever have.
4.) What did you like most about your school?
Hands down, the best part about Wy'east was the culture. From a day on the entire staff was extremely welcoming and focused on the success of the students, academically and athletically. Every environment the staff created for the students was conducive to growth in that field, on and off the mountain.
5.) Do you have any final words of wisdom for visiting or incoming students to your school?
Again, I would say to take advantage of every opportunity that is available, whether that's learning a new sport, or learning how to build skate parks by helping the construction crews create new features.
Academics:
1.) Describe the academics at your school - what did you like most about it?
The thing I liked the most about the school aspect was that you could either use their recommended school program, or use whatever program you were already using. They also had great tutors come in to help out. Not only were the tutors great, but one of the owners, Mike Hanley, who was a part of almost every classroom session, was one of the most intelligent, well-rounded individuals I have met to this day. He was a great asset to have on the slopes and in the classroom.
Athletics:
1.) Describe the athletics at your school - what did you like most about it?
This is the place to go if you're serious about snow sports. Their track record speaks for itself with how many Olympians and X games medalist they have on their alumni list. The facilities they had off and on the snow are the best in the country. The coaches were extremely professional and knew exactly how to tailor their coaching to each individual. The coaches didn't stop being mentors when we came back from the mountain either. They also lived on campus and continued to help develop the students in all aspects of life.
Art, Music, and Theatre:
1.) Describe the arts program at your school - what did you like most about it?
To be honest, I don't remember there being any sort of visual arts, music, or theatre. However, things change. It was about 11 years ago that I was a student. With that being said, the students aren't going to this academy to play music or pursue careers in the visual arts.
Extracurricular Opportunities:
1.) Describe the extracurriculars offered at your school - what did you like most about it?
When I went to the Academy, my folks weren't super well off, it was my grandmother who financed this opportunity. One of the ways I was able to make a little money was a "can drive". One of the coaches, Kerry Miller really helped me out with it. Every week we collected cans and took them to the recycling center so I could have some walking around money.
Dorm Life:
1.) Describe the dorm life in your school - what did you like most about it?
Once again the facilities were outstanding. We stayed in cabins which housed about 4 people; it had a nice living space and little kitchenet. All were well furnished and well maintained.
Dining:
1.) Describe the dining arrangements at your school.
We had an on-site dining facility with cooks who really catered to the students. Every morning they would cook made-to-order omelets and always had a good selection of other food.
Social and Town Life:
1.) Describe the school's town and surrounding area.
Honestly, back then we really didn't hang out in town too much. We were too busy having the time of our lives on the campus. Occasionally we would go to Government camp, or down into the Portland area to go shopping or to a local skatepark, but other than that we had all we wanted at the Academy.
2.) Describe the social life at your school - what did you like most about it?
I think the best part about a school like this is the like-mindedness of the surrounding people. Everyone is there for a common goal, everyone has the same interest and same dreams. It was like having an extended family. Besides making great friends with the other students who were attending the academy, we were able to socialize with the locals as well. We made friends through different competition series, or through Open Skate night on the campus.
Daily Schedule:
Weekday
4:00 PM
head back to campus
Weekend
4:00 PM
head back to campus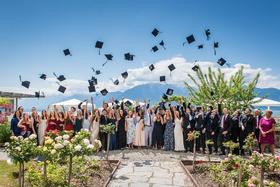 Nurturing Futures: A Journey through Boarding at Haut-Lac School in Switzerland
Nestled in the hills overlooking Lake Geneva in the French-speaking part of Switzerland lies an educational gem that embodies a unique blend of academic excellence, cultural richness and a profound sense of community. Founded over 30 years ago, Haut-Lac International Bilingual Day and Boarding School is now home to both 600 day students and a maximum of 30 boarders from around the world.
What To Wear at Your Job Interview
Navigating job interviews can be stressful, but knowing what to wear shouldn't be. Our comprehensive guide covers the essential dress code tips for men and women interviewing at boarding schools. Make your first impression count with style and professionalism.
Navigating the Modern Maze: Emerging Challenges for Boarding Schools
Explore the pressing challenges facing boarding schools, from marketing difficulties and rising insurance costs to facility maintenance and recruitment of competent trustees and teachers. This article delves into these complex issues and proposes innovative strategies to overcome them.