Reflections and Advice:
1.) What do you think makes your school unique relative to other boarding schools?
I would say that one of the unique aspect is to not have any teachers teaching you directly. Learning by yourself at your own rhythm helps build your sense of responsibility and help you prioritize your tasks in your own way. It helps you get ready for the real world.The other aspect that is truly unique is to live on a campus field with other sports passionate that want to succeed and have fun at the same time. Being surrounded by a skatepark, trampolines and an incredible mountain make the journey even more incredible.
2.) What was the best thing that happened to you in boarding school?
My favorite aspect of this school was to be able to practice my favorite sport every day. One thing I also really enjoyed was to make friends with students from all around the world. It helped me understand different cultures.
3.) What might you have done differently during your boarding school experience?
Don't be scared to go talk to people. Everyone is in the same situation as you. No one knows exactly what to expect and it can be scary not to know anyone when moving to a boarding school. But actually, getting out of your Confort zone is the best way to grow as a person. Going to a boarding school is one of the best thing you can do to become the best version of yourself.
4.) What did you like most about your school?
Practicing my favorite sport every day with incredible people!
5.) Do you have any final words of wisdom for visiting or incoming students to your school?
Have fun! This place is all about having fun so try to enjoy every moment of it because it will be over before you even realize it.
Academics:
1.) Describe the academics at your school - what did you like most about it?
The way of learning was unique as you go at your own speed with no physical teacher. You have lessons to follow online, some books to read and if you have questions, you can ask your online teacher or one of the class supervisor who is physically in the room for help.Learning this way helps develop new skills as you have more flexibility on what you decide to do and prioritize. The tasks that you had to do completely were challenging, but not to the point where I needed help for all of them. The supervisors were always kind and answered my questions clearly.I personally loved this kind of learning as this way of learning got me ready for my professional life.
Athletics:
1.) Describe the athletics at your school - what did you like most about it?
The athletic life was one of my favorite aspects of this school. Every morning, before eating breakfast, we would start with running for 10 minutes, then we would do a small workout of around 15 minutes.After breakfast, we would get ready and leave for the mountain and ski, snowboard or skate until 12-12:30. We would then have lunch and start school at 2pm.After school at 6pm, we would have dinner and after dinner we would go on the trampolines to jump around or skateboard in the indoor skatepark.This was a typical day for me. I can't imagine a better program than this. It was truly incredible to wake up every morning and go practice your favorite sport.
Extracurricular Opportunities:
1.) Describe the extracurriculars offered at your school - what did you like most about it?
We had 3 major trips during the year, and they were awesome. 1. We went to LA to go surf for one week. 2. We went to Breckenridge for 3 weeks to go ski/snowboard. 3. We went to Austria and France for 2 weeks to go compete in world cup competition.
Dorm Life:
1.) Describe the dorm life in your school - what did you like most about it?
Dorm life was great. We lived in small cabins. 3 to 4 person de per cabin. Each cabin was quite big, had a living room with a TV, a kitchen, a dining room and a shared bathroom. I shared my room with one other guy who become my good friend.You really have the feeling of living in your first apartment. It is a great feeling.
Dining:
1.) Describe the dining arrangements at your school.
The food in general was good. It is a buffet format.Morning: we had a choice between eggs, bacon, fruits and beans.Lunch: we would make your lunch in the cafeteria in the morning. You would make your own sandwich, pack fruits, a water bottle.Dinner: we had a different kind of food that changed every day. Sometimes we would have Italian, another time it would be Mexicans, etc.Overall, I enjoyed the quality of the food.
Social and Town Life:
1.) Describe the school's town and surrounding area.
Most of our time would be spent on the campus which is surrounded by forest. When we would go to town, which was quite small, it was to do our laundry and go to the market to buy snacks, for example.
2.) Describe the social life at your school - what did you like most about it?
We stayed on campus most of our time. Therefore, the social life was with the people from the same school. We were just 20 students in the whole school, we were basically like a family. Everyone knew each other and respected each other. We played games together, basically every night, either at the indoor skatepark or in one of our rooms to play PS4.
Mastering the Boarding School Selection Process: A 5-Step Guide
Discover the ultimate 5-step guide to choosing the perfect boarding school for your child. Explore essential factors, such as academics, campus facilities, extracurricular activities, and more. Make an informed decision to provide your child with an enriching and transformative educational experience. Read now!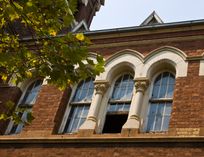 5 Founders and Their Boarding Schools
What prompts somebody to start a boarding school? The motives range from idealism to munificence right on through to capitalism. The common thread seems to be ample capital and a vision of what education can do.