Reflections and Advice:
1.) What do you think makes your school unique relative to other boarding schools?
One thing that stood out for me was the fact that we were all from different parts of the world. It was like all four corners of the Earth assembled at my school. The school also had Power school, an online system therefore it was a modernized school.
2.) What was the best thing that happened to you in boarding school?
The best thing was learning how to love and play Chess. I'm back in South Africa now and I have been winning tournaments and earning money because Oxford gave me the gift of Chess.
3.) What might you have done differently during your boarding school experience?
I miss that place. I would have spent more time outside, exploring the beautiful city that is Oxford. I would have spent more money. I wouldn't eat more food.My advice for kids is that they must enjoy themselves but they mustn't forget to work hard To study hard cause a lot of money will go towards paying school fees
4.) What did you like most about your school?
The school was very supportive. I love the teachers that got to teach me. There was always a Teacher you could talk to when feeling home sick.
5.) Do you have any final words of wisdom for visiting or incoming students to your school?
Don't be shy to eat a lot. The food is amazing, it's understandable if you want more. My one Yoga friend really enjoyed the yogurt, so you should try it out or try out the burgers. I would recommend visiting the Brooke's Library too?
Academics:
1.) Describe the academics at your school - what did you like most about it?
The teachers were the best. They were diligent and inspiring. As International student, moving to another country to study (mind the fact that UK has a different Education system from your country) they would really help you understand the schoolwork and they spent time on you. They would help when applying for University to even arrange a practice interview. They were the best.
Athletics:
1.) Describe the athletics at your school - what did you like most about it?
Everyone was encouraged to play, but it was a must for IB students. They had a lot of sports from Basketball, Volleyball, soccer. It's a long list. The sports department was actively interacting with the athletes and the best performance was brought out thereafter.
Art, Music, and Theatre:
1.) Describe the arts program at your school - what did you like most about it?
I remember there being an after-school Drama club and they used to perform for us too.There was a music club too, they made great music, and some teachers were part after-school.
Extracurricular Opportunities:
1.) Describe the extracurriculars offered at your school - what did you like most about it?
There was a lot you could choose from. If your talent, maybe skateboarding, was not offered then you could get friends and start your own skating team and the school was very supportive of these initiatives as they added a great deal to the school.
Dorm Life:
1.) Describe the dorm life in your school - what did you like most about it?
You actually get to share a room with someone you don't know. I loved that because we grew to become really close friends in the 2 years there. The rooms were beautifully furnished with a table, bookshelf, lamp, bed, etc. The bathrooms were well maintained with the staff cleaning every day.
Dining:
1.) Describe the dining arrangements at your school.
Being a South African, I loved the food they cooked. The sausages and hash browns were to die for. To me, it was like I was eating out every day.
Social and Town Life:
1.) Describe the school's town and surrounding area.
Oxford is a Beautiful City. I personally called it the City of students. There were shops that catered for all your needs. My friends and I loved going to chill at the ice cream shop. We also enjoyed spending our time at the library.
2.) Describe the social life at your school - what did you like most about it?
Every day of school was just enjoyable. We were a small bunch (just 2 grades) compared to South African schools. Almost everyone knew each other. I loved learning a few words from the different languages that were spoken by my peers.
100% International students from around the world, professional university guidance counsellors to help with university application, Powerschool, which is an online system, allows parents to access for student's attendance, comments from teachers and grades. . .
I would say that the uniqueness of Oxford EF Academy is in its location because it is really not far away from the City Centre (20 min walk or 5-10 mins by bus), its also. . .
EF Academy is the only international boarding school which has many cultural diversities with students from 72 different countries that has given the student a lot of opportunities not only studying in the UK either. . .
Show more reviews (

1 review

)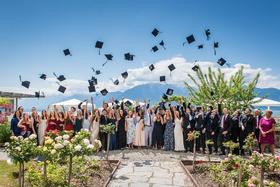 Nurturing Futures: A Journey through Boarding at Haut-Lac School in Switzerland
Nestled in the hills overlooking Lake Geneva in the French-speaking part of Switzerland lies an educational gem that embodies a unique blend of academic excellence, cultural richness and a profound sense of community. Founded over 30 years ago, Haut-Lac International Bilingual Day and Boarding School is now home to both 600 day students and a maximum of 30 boarders from around the world.
Navigating the Modern Maze: Emerging Challenges for Boarding Schools
Explore the pressing challenges facing boarding schools, from marketing difficulties and rising insurance costs to facility maintenance and recruitment of competent trustees and teachers. This article delves into these complex issues and proposes innovative strategies to overcome them.
What To Wear at Your Job Interview
Navigating job interviews can be stressful, but knowing what to wear shouldn't be. Our comprehensive guide covers the essential dress code tips for men and women interviewing at boarding schools. Make your first impression count with style and professionalism.