Reflections and Advice:
1.) What do you think makes your school unique relative to other boarding schools?
One unique aspect of Miss Hall's is the horizons program. Freshman year, students stay on campus to participate in class bonding activities and learn interpersonal skills and social awareness. By senior year, students participate in off-campus internships that are tailored to their specific interests. This is a great opportunity for high schoolers to take advantage of opportunities outside of the classroom. Another unique aspect of MHS is the support system. I love talking about my advisor because I absolutely adore her. I go to her for anything and everything. Whether I need to laugh, cry, or just need to rant, I know she'll stick by my side through it all.
2.) What was the best thing that happened to you in boarding school?
I have become more outgoing, and more confident in myself at Miss Hall's. I was overwhelmingly supported to pursue my own interests and take my own path. This year, my Horizons advisor helped me to set up an interview and ultimately get an internship with a local state representative. I owe my personal team at MHS so much and am forever grateful for their support.
3.) What might you have done differently during your boarding school experience?
I would have gotten involved with more clubs and extracurriculars during my freshman year. It took me some time to warm up to the idea of becoming so involved with the community, but there is no reason not to! Becoming connected with the community is so easy, so get involved!
4.) What did you like most about your school?
The sense of community is one aspect of MHS that sets it apart from other schools. There are many opportunities for community bonding and students come to find a sense of home and comfort. The environment is warm and welcoming, and all community members want to get to know eachother.
5.) Do you have any final words of wisdom for visiting or incoming students to your school?
Don't be afraid to step outside your comfort zone and try something new. MHS gives you so many opportunities to try a foreign food, a new sport, or a new club, so take advantage of that!
Academics:
1.) Describe the academics at your school - what did you like most about it?
At Miss Hall's, academics are challenging, but never too much. All teachers are willing to speak to their students about a path that might work better for them and never come on too harsh. Personally, I have found that all of my teachers want to support me in any way they can, and want to make sure my mental health comes first. Faculty is understanding of personal barriers students may face and genuinely want their students to succeed.
Athletics:
1.) Describe the athletics at your school - what did you like most about it?
When I first came to MHS as a freshman, I was terrified on the first day of practice. I quickly came to realize that there was nothing to be nervous about. All the coaches push students to become better versions of themselves and want to see them succeed. Teammates never judge each other on skill or performance and want to work together as a team, and as a family. There are a variety of sports offered, including soccer, softball, tennis, volleyball, golf, dance, lacrosse, skiing, cross-country, and so many more.
Art, Music, and Theatre:
1.) Describe the arts program at your school - what did you like most about it?
There is a large art studio that all students have access to and are more than welcome to use, and a lot of students take advantage of this. Art classes are open to all students, and classes have various levels to ensure that all students are able to push themselves in the correct environment. There are many music ensembles and our acappella group, the Grace Notes. All students have access to music lessons and can choose if this is something they wish to pursue. The theater program is incredible, and students are encouraged to take part in musicals and plays, whether they are in the show or doing background work.
Extracurricular Opportunities:
1.) Describe the extracurriculars offered at your school - what did you like most about it?
There are lots of clubs that students can join for many topics and conversations. If a student wants to create a club that does not already exist, they are encouraged to do so. Last year I decided to join Space Club just for fun with a friend and had so much fun! Even though astrology was not one of my interests, I learned so much and found myself doing more research at home!
Dorm Life:
1.) Describe the dorm life in your school - what did you like most about it?
Though I am a day student, I have spent a lot of time in the dorms at Miss Hall's. Day students are allowed to hang out in boarder's rooms and be in any dorm common room. The new dorms at Miss Hall's are beautiful, and almost all the bathrooms are updated. Day students are also allowed to sleepover on weekends in their friend's rooms, which I found myself doing quite often!
Dining:
1.) Describe the dining arrangements at your school.
Food at MHS is served in a buffet style, with options for everyone. There is always a salad bar in addition to the meal of the day, and toast/bagels are available throughout the day for students to grab between classes. Meals are diverse and healthy, and there are options for all dietary restrictions. In the case that a student is not able to find something they want to eat, any kitchen staff member is happy to help out.
Social and Town Life:
1.) Describe the school's town and surrounding area.
Growing up in Pittsfield, I have always thought there is nothing to do. MHS does an incredible job of finding events and places for students to go on the weekends. In addition, there are trips to restaurants and ice cream shops every weekend. Students are able to go to the movies, concerts, Target, the grocery store, and other surrounding businesses.
2.) Describe the social life at your school - what did you like most about it?
There are tons of opportunities to make friends at MHS. Between sports, clubs, committees, and classes, no student should be worried about making friends. I have found my core group of friends at Miss Hall's, and I know these people will be my biggest supporters even after we graduate.
Hallmark courses are pretty unique. They were created in my senior year and are meant to be a sort of intellectual substitute for AP courses. I say intellectual because I don't think they give college. . .
Miss Hall's offers a liberal-minded curriculum with incredible teachers. Many of the course offerings deviate from a traditional high school curriculum and focus on more abstract concepts. The horizons program is vital in both the. . .
One unique aspect of Miss Hall's is the horizons program. Freshman year, students stay on campus to participate in class bonding activities and learn interpersonal skills and social awareness. By senior year, students participate in. . .
Show more reviews (

3 reviews

)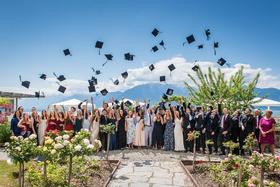 Nurturing Futures: A Journey through Boarding at Haut-Lac School in Switzerland
Nestled in the hills overlooking Lake Geneva in the French-speaking part of Switzerland lies an educational gem that embodies a unique blend of academic excellence, cultural richness and a profound sense of community. Founded over 30 years ago, Haut-Lac International Bilingual Day and Boarding School is now home to both 600 day students and a maximum of 30 boarders from around the world.
What To Wear at Your Job Interview
Navigating job interviews can be stressful, but knowing what to wear shouldn't be. Our comprehensive guide covers the essential dress code tips for men and women interviewing at boarding schools. Make your first impression count with style and professionalism.
Navigating the Modern Maze: Emerging Challenges for Boarding Schools
Explore the pressing challenges facing boarding schools, from marketing difficulties and rising insurance costs to facility maintenance and recruitment of competent trustees and teachers. This article delves into these complex issues and proposes innovative strategies to overcome them.