Reflections and Advice:
1.) What do you think makes your school unique relative to other boarding schools?
The diversity represented in our school is much more than the many others we have looked at and experienced. The boarding and local communities are very linked in the sense that any boarding student that tries to reach out will not find any racial discrimination or other resistance in making friends with locals. The day students are also highly interested in learning about the different boarding students and their backgrounds.
2.) What was the best thing that happened to you in boarding school?
The best thing that happened to me in boarding school was finding a group of like-minded friends who have supported me and loved me as a person. My best friend is currently my roommate, and although we argue a lot and have a lot of differences, we also have so many similarities and shared interests, and learned to tolerate each other and then grow to love each other. Without a boarding experience like this, there is no way our bond could have grown so much, and we would not understand each other like we do now. An achievement I would say has been most meaningful would be learning to cook for myself. With friends who love cooking and myself as an avid food-lover, I found myself in many situations where I needed to learn to cook, and I have really become much more independent and learned a lot more about this much-needed skill. As a person, I think I also found motivation to do well through competitiveness with my friends, as well as realized my passions and future interests. My friendly competition with my friends gave me the encouragement to bring out the best in me and actually put in the effort into my work. I learned to enjoy the process together, and not just suffer by myself silently, or just give up. In this competitive environment, my friends encouraged me and pushed me further, and I have come much further than I thought I could have.
3.) What might you have done differently during your boarding school experience?
When I first arrived, I wasted a lot of time in my own room doing my own thing. I was too shy to go out and socialize, so I missed out on a lot of fun activities and wasted a lot of time that could have been spent with my friends. For kids going to boarding school, I would advice you guys to try and participate, get involved in more things that can let you interact with others. This way, you can find like-minded people who will highly likely become your closest friends in the future.
4.) What did you like most about your school?
Overall, my school has been a great place of development for me. I love the staff and students who have been so welcoming and invested into my life. Since the school is small, you can easily get to know everyone in your own grade, and even those in other grades, and this sense of interconnectedness really makes the experience very personal. You really get to know many amazing people and form relationships with them, and that makes it a much better experience than an impersonal school and staff.
5.) Do you have any final words of wisdom for visiting or incoming students to your school?
One thing about food- breakfast is normally not the best, and is the same almost everyday, so you should get your own cereal or something if you need food for breakfast. The school cafe also has pretty good breakfast options. But Wednesday breakfast, since it is Chapel day, is normally really good, so this is one day you should try to come early and eat.
Academics:
1.) Describe the academics at your school - what did you like most about it?
I loved the teachers here at Brook Hill. All of them are ready and willing to converse with and create a relationship with their students. They are all prepared for classes and enthusiastic in their field of studies, with a depth of knowledge that they love to share during classes beyond classroom material. Outside of classes, they are always free to help you if you are struggling, and put extra time and effort into making classes enjoyable. The school also offers a variety of classes, and are very open to introducing additional classes. For example, a few students have proposed to create an AP Statistics class (where before there was only Statistics Dual Credit) and managed to gather enough interested students. They thus managed to get the approval of academic counsellors, the head of the math department, and the principal. Brook Hill's flexibility and ability to listen to feedback is another plus point for me.
Athletics:
1.) Describe the athletics at your school - what did you like most about it?
I liked that the school gives much support to the various athletics programs. They have many developed facilities that can give students an edge in training, and has much funding for even further development and in creating opportunities like skirmishes and friendly matches with other schools. Also, the coaches often are teaches as well, so they are involved in both the academic and athletic aspects of our school experience. This often promotes a greater bond with coaches and their players, and the greater interaction in and out of school gives both parties a better understanding of each other that would definitely aid in the program.
Art, Music, and Theatre:
1.) Describe the arts program at your school - what did you like most about it?
Our school has a very good theatre program headed by a talented teacher. He is very invested in each student's personal development, and tries to involve the most students in the pieces he picks. The school often holds many theatre productions directed by this teacher, and boarding students are always welcome in it. Boarding students also have great opportunities for service hours during these performances by ushering or setting up, and are usually allowed to stay and watch the show for free. The program I was most involved in was drum line, and it is still a small and less developed program. It is headed by volunteers, and they are incredibly talented and great teachers. Drum line plays for football games, competes in competitions, and plays in parades in town. However, due to the lack of funding, there are usually no transportation available to go to away games for football. Since it is an elective, attendance can also be a problem. If the school would invest money into this program, I think it could grow to become a very strong class. Overall, the fine arts teachers are very great, but the lack of funding for the fine arts department is often a problem for not just drum line, but others like orchestra. The facilities are not the best, but the school plans to build a fine arts building soon to make up for this. The school focuses more on the athletics department than fine arts.
Extracurricular Opportunities:
1.) Describe the extracurriculars offered at your school - what did you like most about it?
In terms of leadership opportunities, there are a lot of programs for students in general to be involved in, for example the two I had the opportunity to join were the Chick-fil-A Leadership Academy, and another was the Texas Bank and Trust Student Board of Directors. The school places special emphasis on character and leadership, so students have a lot of space for being involved there. In the boarding community, there is also the Residential Life Council, who are the liaison between the boarding community and the boarding parents, where they plan activities and execute events. There are quite a few volunteer opportunities as well, which are also linked to the leadership opportunities available. The school often calls for boarding students to help with various setting ups for events, and there are a few clubs that relate to volunteering. For example, there is one that allows students to interact with people in the nursing home. Peer tutoring is another way for students to receive volunteer hours. The school also has SPARC week, where there is a volunteering option, or OASIS week, where every student is involved in a service project. However, in terms of clubs, there are not many that have been created and maintained. It is not too complicated to set up a club, but maintaining attendance and interest has been a problem for many since students in this school are often involved in many sports and other extracurriculars.
Dorm Life:
1.) Describe the dorm life in your school - what did you like most about it?
I love the boarding community in my school. I managed to make some very deep friendships and find a place to call home. The close proximity of the boarding houses to each other make it easy to set up a hang-out date with friends, and seeing each other everyday merely increases the strength of our friendships. The school is also very close to the boarding dorms, making it easier to be involved in more things at the school. The boarding parents are also very great and supportive, and work very hard to keep the dorms a safe and comfortable place for us to live in. They don't mind taking us out to run errands, or baking dessert for us every week. They also set up many activities and events for the boarding students so that life in the dorms are always interesting and fun. One of the things that we loved a lot was hanging out together at the fire pit in the middle of the circle of dorm houses. We had s'mores and sang songs together and had an overall amazing time, which I doubt you can find at many other boarding houses.
Dining:
1.) Describe the dining arrangements at your school.
The dining usually takes place in the dining commons in the school campus. It is not very near to the houses, which makes it a hassle to get there especially in cold or rainy weather. But it also forces us to get out of our houses sometimes when we are feeling lazy, and get some social interaction. Walking together with friends to the commons are usually where we are able to catch up with each other about the day's events and chat about anything else. The commons are only open for a certain period of time though, so if we oversleep dinner or brunch, then there is no food for us. We can usually ask our house parents to save us a plate of food if we have anything going on for example a basketball game, so we will still have food even if we are not able to make it. The food quality really depends on the chef. Sometimes, good chefs come and we have amazing food and great diversity. At one period of time the food repeated every week and was not the best. But they are very receptive to feedback and have been working hard at changing up the menu and giving us better food. The recent chefs have introduced many new dishes to the menu and we are very appreciative of it. They also try to update the food on an online menu, so we can check the menu for the day way ahead of time. Normally, we buy food to cook whenever there is a dish we do not enjoy as much. The kitchen in the boarding houses are superb, so we often cook for ourselves and for a group on weekends.
Social and Town Life:
1.) Describe the school's town and surrounding area.
The boarding parents often find opportunities to bring the students out to the town area to shop or eat, which we love. There is a place called Cumberland Village in town, which is a big favourite for our students, since it has a lot of good, cheap food options and also shopping places, and also a Starbucks and some other dessert options, making for an all around great place for a dinner trip. It also has quite a few entertainment options, like movies, a trampoline park, and an escape room place. It is only about twenty to thirty minutes away from the school, so it is pretty convenient as well. The school also takes errand runs in the afternoon after school, so students can go to the bank, mobile store, or even the Asian market for whatever they need. There are good food places with higher price ranges as well around the area.
2.) Describe the social life at your school - what did you like most about it?
The school does try to have a lot of social activities for the students. I enjoyed the homecoming week that the school planned, which is a whole week of dress-up days and other activities, and finally a fun homecoming dance. The dress-up days are always fun for us, and has quite high participation levels as well. The success of these events usually depend on the student council who are in charge of planning it, and good councils would have many events planned throughout the school year.
Daily Schedule:
Weekday
1:00 AM
Tutoring before school
1:00 AM
Work at the school cafe
1:30 PM
Drum line practice
1:00 PM
House meeting with house parent to discuss important events
Weekend
2:00 AM
Church (includes travelling time)
3:00 AM
Lunch with local family (that brought me to church)
4:00 PM
Homework and prepare for school
2:00 PM
Hang out with friends, play board games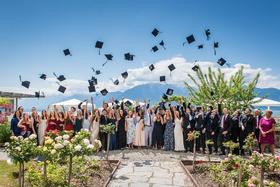 Nurturing Futures: A Journey through Boarding at Haut-Lac School in Switzerland
Nestled in the hills overlooking Lake Geneva in the French-speaking part of Switzerland lies an educational gem that embodies a unique blend of academic excellence, cultural richness and a profound sense of community. Founded over 30 years ago, Haut-Lac International Bilingual Day and Boarding School is now home to both 600 day students and a maximum of 30 boarders from around the world.
What To Wear at Your Job Interview
Navigating job interviews can be stressful, but knowing what to wear shouldn't be. Our comprehensive guide covers the essential dress code tips for men and women interviewing at boarding schools. Make your first impression count with style and professionalism.
Navigating the Modern Maze: Emerging Challenges for Boarding Schools
Explore the pressing challenges facing boarding schools, from marketing difficulties and rising insurance costs to facility maintenance and recruitment of competent trustees and teachers. This article delves into these complex issues and proposes innovative strategies to overcome them.