Reflections and Advice:
1.) What do you think makes your school unique relative to other boarding schools?
I think the Brook Hill School is truly unique in its location. Even though it is an international boarding school it is located in east Texas. The hospitality and friendly nature of the local culture is a great advantage to the boarding students attending.
2.) What was the best thing that happened to you in boarding school?
Brook Hill taught me to be a hard working self sufficient individual. It also helped me expand my cultural acceptance of others and learn about acceptance. If you let the faculty invest in you as a student, you will learn SOO much, and become a better person for it.
3.) What might you have done differently during your boarding school experience?
Cherish your time... Its a truly unique place and a unique time in your life that you will look back on fondly.
4.) What did you like most about your school?
I loved the people I met. Brook Hill is a wonderful place
5.) Do you have any final words of wisdom for visiting or incoming students to your school?
Spend time with your boarding parents. They all have a lot of great stories.
Academics:
1.) Describe the academics at your school - what did you like most about it?
Brook Hill fosters a positive atmosphere of friendly academic competition. The expectations from the faculty are very high and as a result students rise to the challenges laid in front of them. The humanities and history departments are especially strong, and faculty help students prepare very well for college entrance essays and AP tests
Athletics:
1.) Describe the athletics at your school - what did you like most about it?
The athletics at Brook Hill were very rigorous, and not for the faint of heart. The coaches truly care about the students and try to help build their character as well as their physical strength. They expect students to always give their best effort and be teachable at all times If you aren't a 'coachable' player, you don't belong on a Brook Hill team no matter how talented you are
Art, Music, and Theatre:
1.) Describe the arts program at your school - what did you like most about it?
In all honesty the fine arts programs at Brook Hill aren't the strongest. The orchestra is quite unremarkable in terms of student efforts. There are very few students who take the arts seriously at this school. The theater department is good and provides opportunities for aspiring thespians.
Extracurricular Opportunities:
1.) Describe the extracurriculars offered at your school - what did you like most about it?
Brook Hill has teams for academic competitions, and they have a drum line, but outside of that there aren't that many non-sport extracurricular activities that I am aware of.
Dorm Life:
1.) Describe the dorm life in your school - what did you like most about it?
Dorm life is like having a second family made up of (typically) 20 boys (or girls) from around the globe. The school works hard to make the rooms compatable culturally and the boarding families are the most wonderful people you will ever meet. I still keep in touch with my boarding parents. The living experience is awesome and I couldn't recommend it enough.
Dining:
1.) Describe the dining arrangements at your school.
All meals are at the school cafeteria at set times. Dinner is mandatory. The food is as to be expected from a cafeteria.
Social and Town Life:
1.) Describe the school's town and surrounding area.
The school is fairly remote but they hold weekly trips to Walmart, the mall, the movie theater and other places. There are plenty of opportunities to get off campus and Tyler is a very nice city to spend time in.
2.) Describe the social life at your school - what did you like most about it?
The social life at Brook Hill is very diverse. There are people from all walks of life, and there's garenteed to be people you will like. Generally the culture is not cliquey and everyone is comfortable interacting with one another.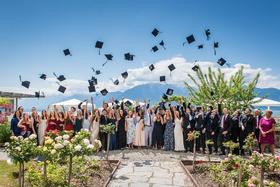 Nurturing Futures: A Journey through Boarding at Haut-Lac School in Switzerland
Nestled in the hills overlooking Lake Geneva in the French-speaking part of Switzerland lies an educational gem that embodies a unique blend of academic excellence, cultural richness and a profound sense of community. Founded over 30 years ago, Haut-Lac International Bilingual Day and Boarding School is now home to both 600 day students and a maximum of 30 boarders from around the world.
What To Wear at Your Job Interview
Navigating job interviews can be stressful, but knowing what to wear shouldn't be. Our comprehensive guide covers the essential dress code tips for men and women interviewing at boarding schools. Make your first impression count with style and professionalism.
Navigating the Modern Maze: Emerging Challenges for Boarding Schools
Explore the pressing challenges facing boarding schools, from marketing difficulties and rising insurance costs to facility maintenance and recruitment of competent trustees and teachers. This article delves into these complex issues and proposes innovative strategies to overcome them.