Reflections and Advice:
1.) What do you think makes your school unique relative to other boarding schools?
Brook Hill is a boarding school that truly lives up to the standards of what a boarding school should be with respect to students feeling at home in a place far away from home. The sense of belonging and community that each student experiences is fervent and further empowered by a spectacular combination of the genuine efforts Brook Hill Boarding Staff, Day Staff, and other boarding students. The Brook Hill School stands out in that not only is it academically solid, but the boarding student at Brook Hill can truly feel at home among their peers in residential life.
2.) What was the best thing that happened to you in boarding school?
The best thing that happened to me at Brook Hill was the sense of home and belonging I found. Brook Hill was a place that has been like no other for me. At Brook Hill, I made friends that I am 200% sure will be my friends for life - among students and staff alike. Maybe it was just me, but the combination of the arts and academics and sports and extracurricular activities I chose to involve myself in gave birth to an atmosphere filled with irreplaceable relationships. I picked up wisdom and values that I know will help me throughout the rest of my life, and will be applicable through the rest of it. With the directors and actors in the arts, I felt like I had been one of them from the start even though Cinderella, during the sophomore year, was the first musical I had ever done in my life. On the football field, I looked around and knew the young men around me were my brothers and that the sport of American football was one that I would miss playing forever, even though freshman year, when I was first asked by one of the coaches to play, I wanted nothing to do with a bunch of angry men hitting each other with metal helmets. In class, I was so comfortable with my teachers knowing they wanted the best for me inside and outside of academics; even senior year I would talk to my freshman year teachers like I left their class yesterday. And in the boarding house, I just found a home. Of course, my experience could just be an anomaly, but I believe that with their steps ordered aright, anyone could love Brook Hill as much as I did.
3.) What might you have done differently during your boarding school experience?
The only thing I would have done differently would have been to engage in all the activities that I hesitated about at first. As a student, books can become boring and overwhelming. It is best for you to look outside of studying towards activities that can give you a break, and impact your life.
4.) What did you like most about your school?
The genuine effort that everyone put into doing what they were called to do with care and effort at the school whether as a teacher or principal or coach or boarding parent or director. And also the fact that you will find people that actually care about you.
5.) Do you have any final words of wisdom for visiting or incoming students to your school?
Be respectful - to your elders and to your peers. It goes a long way.
Academics:
1.) Describe the academics at your school - what did you like most about it?
What I like most about the academics at Brook Hill is that it is structured to ensure that students put effort into their work and learn efficaciously, but it is not a 'weed-out' system. Academics at Brook Hill is focused on effort and the actual gaining of essential skills by students. The grading system is not built in a way to target students that may not necessarily be as capable initially; it is a healthy system in which students are rewarded, not necessarily just for correctness, but also for effort. Across the board, many teachers are kind enough to award credit for perceived effort, which further motivates students to take their focus off from the numbers to the actual learning. Additionally, when it comes to academics teachers are usually very flexible. They consult and work with one another - without stubbornness - to work around conflicting events with sports, arts, and other classes. Overall, it is a healthy system.
Athletics:
1.) Describe the athletics at your school - what did you like most about it?
What I like about athletics at Brook Hill is how they try to apply good values from what they believe in as a school (Christian Values) to sports. The coaches are virtuous across the board, and the athletes are encouraged to constantly show good sportsmanship and conduct as well. Additionally, each coach cares genuinely about their students. Coaches form relationships with students to keep up with and support them in their personal lives outside of sports, some tutor athletes to provide academic support, and many just form good friendly relationships with their athletes. To the coaches at Brook Hill, winning is important, but the athletes' state is also paramount.
Art, Music, and Theatre:
1.) Describe the arts program at your school - what did you like most about it?
The arts program at Brook Hill is extremely extensive, There are several opportunities for all sorts of performing and visual arts, and each is of very good quality. The facilities are decent, and there are several classes available for students to take if they would rather not pursue the competition aspects of the arts. Brook Hill is very committed to its arts program; year after year Brook Hill takes home many championship titles across all levels of competition. This is made possible by talented students brought up by devoted coaches,
Extracurricular Opportunities:
1.) Describe the extracurriculars offered at your school - what did you like most about it?
At Brook Hill, extracurriculars revolve mainly around arts and sports, but there are also a few external programs that students can participate in. The good thing about these are that they give students a taste of activities that can sometimes be more applicable to life outside of high school and the real world. Some examples include Texas Bank and Trust - one where students are educated on, and simulate financial management during and after college - and RYLA - a youth leadership camp done by Rotary International (https://www.rotary.org/en) that teaches students key real-world leadership values. There are many other opportunities such as these.
Dorm Life:
1.) Describe the dorm life in your school - what did you like most about it?
Dorm life in Brook Hill was structured very well. Students were given a decent amount of freedom (within the constraints of a Christian environment), and effort was put into giving students good entertainment every week (such as movie trips, skating trips, trips to six-flags) and also in on-campus festive events (Octoberfest, Christmas, Thanksgiving, Valentines). There were several moderators on duty to watch over students, and take students wherever they needed to go, and many boarding parents sought good personal relationships with all of their students.
Dining:
1.) Describe the dining arrangements at your school.
For boarding students, it was three meals a day except for Saturdays (Brunch and dinner), and occasionally they had guest Chefs come and prepare meals from different places around the world. This was one aspect I really enjoyed because it was a nice break from the food they normally served. To say it was very redundant, but after 4 years in one place, one cannot help but get bored or tired of some of the foods served in the dining halls.
Social and Town Life:
1.) Describe the school's town and surrounding area.
Many would say they liked the peace and tranquility of Bullard, Texas. For the most part, it is a small town and that comes with its advantages and disadvantages. It's a nice peaceful neighborhood, but sometimes you wish there was more to do. Having to drive 2 hours to Dallas for go-karting or six-flags or good malls, gets old. But again, that's not on Brook Hill.
2.) Describe the social life at your school - what did you like most about it?
Social life at Brook Hill was good in the sense that you did not get bored and you could always find community. There were always things to do with different people, and through the many extracurriculars and arts and sports activities you could make several close connections with even day school parents, and people you never imagined you would be close with. Personally, I formed several of these sorts of relationships via my involvement in the fine arts.
Daily Schedule:
Weekday
Weekend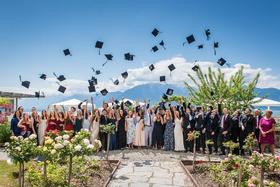 Nurturing Futures: A Journey through Boarding at Haut-Lac School in Switzerland
Nestled in the hills overlooking Lake Geneva in the French-speaking part of Switzerland lies an educational gem that embodies a unique blend of academic excellence, cultural richness and a profound sense of community. Founded over 30 years ago, Haut-Lac International Bilingual Day and Boarding School is now home to both 600 day students and a maximum of 30 boarders from around the world.
What To Wear at Your Job Interview
Navigating job interviews can be stressful, but knowing what to wear shouldn't be. Our comprehensive guide covers the essential dress code tips for men and women interviewing at boarding schools. Make your first impression count with style and professionalism.
Navigating the Modern Maze: Emerging Challenges for Boarding Schools
Explore the pressing challenges facing boarding schools, from marketing difficulties and rising insurance costs to facility maintenance and recruitment of competent trustees and teachers. This article delves into these complex issues and proposes innovative strategies to overcome them.