Reflections and Advice:
1.) What do you think makes your school unique relative to other boarding schools?
Merrick is unique because of the quality of education given to children, I came from a fully French school and was worried about how i would be able to switch, my parents kept asking everyday how it was; my re assurance and consistency and hard work showed in my grades. Am grateful for my teachers, counsellors,and the entire Merrick Prep team, We applaud them for the amazing job.Merrick Prep is a family in a whole; children from all over the world come there; so students get to mingle with different people, cultures and this itself is just amazing. They get to know how to deal with the outside world even before they get there, thank you.
2.) What was the best thing that happened to you in boarding school?
Since joining merrick I read a lot, am interested in knowing more about other cultures. The quality of education is Epic and unique. Recently i asked my parents about Gic, my mom asked me how i knew about that, she was amazed.
3.) What might you have done differently during your boarding school experience?
Be open, Interact more with others.
4.) What did you like most about your school?
LOVE THE ACTIVITIES.
5.) Do you have any final words of wisdom for visiting or incoming students to your school?
MY FAVOURITE SNACK IS HOT CHOCOLATE WITH MARSH MALLOWS. A MUST PLACE TO VISIT IS OUR BACKYARD. OF COURSE THE GIRLS DORM IS THE BEST.
Academics:
1.) Describe the academics at your school - what did you like most about it?
Enriched Education & ample resources plus many extracurriculars which helps stimulate the students. Dedicated teachers-they are passionate, professional act as role models for the students too.Open communication between Parents and administration Smaller class sizes-This enables the teachers identify students weak areas and advance their strength.
Athletics:
1.) Describe the athletics at your school - what did you like most about it?
Sports so far-Soccer, of course students are encouraged to actively participate; very essential in keeping fit.From the Headmaster to the students admission coordinator; all are involved in coaching and mentoring ,cheering etc.
Art, Music, and Theatre:
1.) Describe the arts program at your school - what did you like most about it?
We are just finishing our first semester, now i will get to see more about the above.
Extracurricular Opportunities:
1.) Describe the extracurriculars offered at your school - what did you like most about it?
Book clubs-This is my favourite. I read 15 books in 2 months; and now I had to get membership at indigo.fitness board games sports theatre
Dorm Life:
1.) Describe the dorm life in your school - what did you like most about it?
Every student has their room, food is not allowed in the dorm, There's a desk and chair (Study corner for each child) Its the student's responsibility to make sure their rooms remain clean and neat.
Dining:
1.) Describe the dining arrangements at your school.
THE DINING ROOM IS WARM AND COZY. SPACIOUS AND MEALS ARE ALWAYS SERVED BUFFET STYLE.OUR COOKS DO THEIR BEST TO MAKE SURE WE HAVE ALL KINDS OF FOODS, A VARIETY , BIRTHDAYS ARE CELEBRATED,THEY ALSO CELEBRATE INDEPEDENCE DAYS FOR DIFFERENT COUNTRIES REPRESENTED PLUS A DELICACY FROM THAT PARTICULAR COUNTRY.BREAKFAST 8,10-8.35 AM, LUNCH 12.20 PM-1PM, 3.45PM-4PM AFTERNOON SNACK.ADMINISTRATORS, TEACHERS AND STUDENTS ALL EAT TOGETHER. GREAT IDEA.
Social and Town Life:
1.) Describe the school's town and surrounding area.
MERRICKVILLE IS A SMALL BEAUTIFUL CITY .OUR SCHOOL STANDS OUT AND BRINGS A BEUTIFUL HERITAGE TO THE CITY BECAUSE THE BUILDING USED TO BE A BEUTIFUL HOTEL.IT'S NEAR RIDEAU CANAL.I LIKE THE BEAUTIFUL BOUTIQUES AND RESTAURANTS. AM ALWAYS TAKING PICTURES
2.) Describe the social life at your school - what did you like most about it?
EVERYBODY KNOWS EVERYBODY. EASY TO GET ACCESS TO ANYONE, IT'S A CLOSE COMMUNITY.
The location of Merrick Preparatory School is part of its unique features because it is located in a beautiful town that is quite safe and charming. The campus has space to play soccer, basketball, badminton. . .
Our school is located in a small city and is a small school but the school still organizes trips and outings for us. They have transportation and prepare anything we need. We have a say. . .
Merrick is a home to students from all over the world. This makes it unique because students with different cultures and backgrounds work together during the academic year and learn new things whilst working. . .
Show more reviews (

6 reviews

)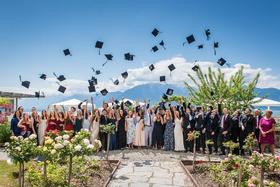 Nurturing Futures: A Journey through Boarding at Haut-Lac School in Switzerland
Nestled in the hills overlooking Lake Geneva in the French-speaking part of Switzerland lies an educational gem that embodies a unique blend of academic excellence, cultural richness and a profound sense of community. Founded over 30 years ago, Haut-Lac International Bilingual Day and Boarding School is now home to both 600 day students and a maximum of 30 boarders from around the world.
What To Wear at Your Job Interview
Navigating job interviews can be stressful, but knowing what to wear shouldn't be. Our comprehensive guide covers the essential dress code tips for men and women interviewing at boarding schools. Make your first impression count with style and professionalism.
Navigating the Modern Maze: Emerging Challenges for Boarding Schools
Explore the pressing challenges facing boarding schools, from marketing difficulties and rising insurance costs to facility maintenance and recruitment of competent trustees and teachers. This article delves into these complex issues and proposes innovative strategies to overcome them.