Reflections and Advice:
1.) What do you think makes your school unique relative to other boarding schools?
School is your world when you are a kid, so when you are not good at school, it is like not being good at life. At least, that is how I felt, but Landmark changed that for me. I went from a third to a twelfth-grade reading level in the first year. The one-to-one tutorial program was instrumental in that achievement The teachers and the curriculum set you up for success, and a successful student becomes a confident person. Landmark set me up for success in college as well. I was able to advocate for my needs and use the coping mechanisms they taught, and their 2-column note system is so good that professors would ask for copies of my notes. I am incredibly grateful for the education I received at Landmark. They didn't just teach me to cope with my learning disability; they gave me the gift of self-confidence and self-worth.
2.) What was the best thing that happened to you in boarding school?
Landmark gave me academic success, which in turn gave me confidence. One of my friends ended up becoming a Landmark teacher, and she said she made the decision when she saw what a vast difference Landmark made in my life. She said she wanted to make a difference like that in kids' lives. So much so that my friend back home noticed.
3.) What might you have done differently during your boarding school experience?
Don't worry about the level system. It seems like a lot, but it's easy to move up.
4.) What did you like most about your school?
I like all that Landmark helped me achieve.
5.) Do you have any final words of wisdom for visiting or incoming students to your school?
Enjoy the view. Most of us will never be able to see the ocean every morning as we eat breakfast.
Academics:
1.) Describe the academics at your school - what did you like most about it?
Landmark offers a one-to-one tutorial. As a child, I not so affectionately called it. "Forty-five minutes a day to devoted to what you stink at." Honestly, it was the best thing for me. Going from a third-grade reading level to a twelfth in a year was huge. For the first time, I liked reading. The school also offers a study skills class. As a business owner now, I often teach some of my staff the skills I learned while at Landmark. I will always have a learning disability, but now people don't know it because I implement the Landmark coping mechanisms.
Athletics:
1.) Describe the athletics at your school - what did you like most about it?
There are more sports now than when I attended, and as I stated earlier, I was allowed to bring my horse with me; the school had solid soccer, wrestling, and ski team. I enjoyed being on the tennis team.
Art, Music, and Theatre:
1.) Describe the arts program at your school - what did you like most about it?
The arts program at Landmark is powerful. Due to high attendance, the annual play has moved off campus to a local theater. The chorus program was also top-notch, and as alumni who returns for events, it seems like the kids get better each year. I was very involved in the photography department. I loved developing the black and white film so much that I had a darkroom installed in my home. I was not much of an artist, but my fellow students were very talented.
Extracurricular Opportunities:
1.) Describe the extracurriculars offered at your school - what did you like most about it?
As a student, we could volunteer at a local homeless shelter and make meals. Additionally, we always participated in Ox Fam America, and many adopted a highway program. As for student life, I enjoyed three years of being on the student council.
Dorm Life:
1.) Describe the dorm life in your school - what did you like most about it?
I enjoyed dorm life. Everyone has the same rules. I am still friends with my roommate from Landmark and still talk to many of the girls in the dorm. The best part is when you are doing homework at night and have a question; there is a teacher on duty t help you.
Dining:
1.) Describe the dining arrangements at your school.
The school food is delicious. They have various options to choose from, and they cater to many dietary needs. The dining room has absolutely the best views of the ocean. I would kill to have that view again.
Social and Town Life:
1.) Describe the school's town and surrounding area.
Beverly and Beverly farms are charming. It's a safe, clean area with incredible views of the ocean, and it seems like every 10 miles, there is a beach or an ocean-side park to walk. I will still pop into my favorite cafes when driving to and from Boston.
2.) Describe the social life at your school - what did you like most about it?
I still talk regularly and go on vacation with the friends I made at a Landmark. I think living with all of your friends during high school is ideal. Everyone has the same rules to follow. It's effortless to fit in. I am still friendly with the house parent and, from time to time, will have dinner with her and her family.
When it comes to educating students with language-based learning disabilities, Landmark's curriculum, staffing approach, and teaching methodology is second to none. Landmark provides 1:1 tutorials to all students and tailors a unique learning plan for. . .
School is your world when you are a kid, so when you are not good at school, it is like not being good at life. At least, that is how I felt, but Landmark changed. . .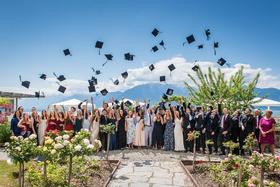 Nurturing Futures: A Journey through Boarding at Haut-Lac School in Switzerland
Nestled in the hills overlooking Lake Geneva in the French-speaking part of Switzerland lies an educational gem that embodies a unique blend of academic excellence, cultural richness and a profound sense of community. Founded over 30 years ago, Haut-Lac International Bilingual Day and Boarding School is now home to both 600 day students and a maximum of 30 boarders from around the world.
What To Wear at Your Job Interview
Navigating job interviews can be stressful, but knowing what to wear shouldn't be. Our comprehensive guide covers the essential dress code tips for men and women interviewing at boarding schools. Make your first impression count with style and professionalism.
Navigating the Modern Maze: Emerging Challenges for Boarding Schools
Explore the pressing challenges facing boarding schools, from marketing difficulties and rising insurance costs to facility maintenance and recruitment of competent trustees and teachers. This article delves into these complex issues and proposes innovative strategies to overcome them.