Reflections and Advice:
1.) What do you think makes your school unique relative to other boarding schools?
The Delphian campus is roughly 700 acres of woods and farmland. It's located near the Oregon coast and is roughly an hour Southwest of Portland. The campus is beautiful and is constantly being updated and improved. Just this past year we got a new space for student's to work on music and a couple years ago all bathrooms were renovated. Before that a new gym was made for us.
2.) What was the best thing that happened to you in boarding school?
Delphian school has become a second home. It's cheesy and clique but it's true. The staff are caring and supportive. They want to see you do well and they work towards that daily. The student body emanates this as well. They like helping each other and I could rely on my friends, when I needed help.The Alumni and the community of them is great. I just started being apart of them, but they are willing to help with connections and help you get into your careers. Job offers are even posted in the alumni group chat.
3.) What might you have done differently during your boarding school experience?
Hindsight is 20/20 and it's true. Yes, there's things that I wish I did differently, but I wouldn't have changed it, because it made me into who I am.
4.) What did you like most about your school?
Two things stood out and that's the education and the people. When I got here the people welcomed me, and now that I'm leaving the people are welcoming me into the Alumni group and are supporting me on my endeavors. They offer connections, friendships, internships, jobs, etc. It's a big family that just keeps growing and growing.The education prepared me to be the best student I could. I can now study and learn subjects on my own. I am a skilled reader and I'm able to take on large projects. This education made me into who I am and I know that I'll have an impact wherever I go.
5.) Do you have any final words of wisdom for visiting or incoming students to your school?
Anyone wanting or looking at Delphian should just come and get a tour. If you've heard rumors, are concerned/doubting or even scared, just come and check it out. I wouldn't want someone to miss the best school, just because of being afraid or there friend said something about it. Come and look and make the decision for yourself.
Academics:
1.) Describe the academics at your school - what did you like most about it?
The educational program is different from everywhere else. It doesn't teach you to just ace a test, it teaches you to apply and use what you know. It teaches you how to study any subject and how important it is to constantly be learning.I hated reading when I came here. You couldn't have paid me to read a book, but going through the program I have now read roughly 70 books. I've read classics and books I'd have never thought I could have. I read Democracy in America, Dr. Zhivago, Plato, Antigone, etc., but those are just a few of what I've read.
Athletics:
1.) Describe the athletics at your school - what did you like most about it?
Delphian doesn't have the best sports teams in the world, but we are pretty dang good. We had 15 participants go to states in track and field. The soccer team has gone to states consecutively for a while now and I went to states both years when I was on varsity soccer. The volleyball team goes to districts and states often.I like the memories you make with the team. Going out after the games to eat with your friends, the energy in the bus before and after games, particularly once we won, the cheering from the fans as you're battling for your spot in states. These memories will stick with me for my life and I cherish all of them.
Art, Music, and Theatre:
1.) Describe the arts program at your school - what did you like most about it?
The Theatre program was something I really enjoyed. I had done acting before and I had gotten bored of it. I wanted to do something new, but still help out. It was suggested that I try crew, so I did. It turned out that I really enjoyed it. From there I went on to stage manage plays. I did Mama Mia, which was my favorite to stage manage. I also helped build the sets and paint them. Delphian exposed me to more then just what the average person sees and really let me dive into making and creating a performance.
Extracurricular Opportunities:
1.) Describe the extracurriculars offered at your school - what did you like most about it?
Delphian encourages and requires students to do projects. These allow students to explore, get out of there comfort zone, challenge themselves and do something new or of their interests. Projects can range from something small to super big. Student's run fundraiser, help plan the school's business trip, run community service, explore career interests, do apprenticeships and much more. It pushes students out of there comfort zone and allowed me to work on my leadership and my responsibility. This allowed me to learn and find out my career and learn fun skills.
Dorm Life:
1.) Describe the dorm life in your school - what did you like most about it?
The dorms are fun and a great way to bond with friends. Everyone has roommates, except for the seniors. They have some single rooms for themselves, but they are just as close as any other dorm. Students bond and spend a lot of time in here with each other. One of the dorms has a kitchen and fridge for students to cook and store food. Most people have fridges so they store food in their rooms.I made great memories here. The students really get to be themselves and be in there own skin. You can kick back with your friends and other students and get to know one another. Having late night conversations with my friends was always fun and would constantly make my day or turn a bad one around.
Dining:
1.) Describe the dining arrangements at your school.
The food overall is good, with a wide variety, but there are improvements that can be made. If you are gluten free, vegetarian, etc., they do have food to accommodate those individuals. There's a salad bar, sandwich bar and the normal buffet line, so there should always be something for everyone.
Social and Town Life:
1.) Describe the school's town and surrounding area.
The town Delphian is located in is Sheridan. It's a small town and we don't normally hang out in it. The two bigger towns around are McMinnville and Salem. We will hangout in these towns and there's a lot to do. We will do shopping trips their or sometimes even to Portland or Tigard. Fast food, shopping and restaurants are abundant in all these locations.What I do like about our small town is the nature around us. There's beautiful views and place to go hiking on campus. Walking through the woods or going to the pond with friends was always fun.
2.) Describe the social life at your school - what did you like most about it?
When I first got to Delphian, on my very first day, students were introducing themselves to me. I hadn't been to a school where the environment was so welcoming. There were shy students that took longer to get to know, but overall everyone welcome and wanted to get to know you.I've made friends here that I know I will have for life. I also have friends around the world, so when I do travelling they will help me out and take me around their cities and countries. I didn't think my friends could span the globe but they easily do now.
Daily Schedule:
Weekday
Weekend
What made my school different from other boarding schools was that I was able to move through my program at my own pace. I didn't have to worry about catching up with my class because. . .
The fact that we study for real world application rather than just trying to spit things back out on an exam. This makes the education 10 times more valuable than any other school I have. . .
Here at the Delphian School, all the exams are done one-on-one, where the examiner will ensure that all the student's questions regarding the subject they just studied are solved and answered to satisfaction.The Delphian. . .
Show more reviews (

21 reviews

)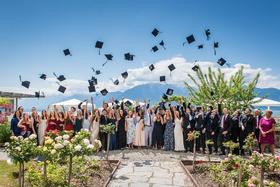 Nurturing Futures: A Journey through Boarding at Haut-Lac School in Switzerland
Nestled in the hills overlooking Lake Geneva in the French-speaking part of Switzerland lies an educational gem that embodies a unique blend of academic excellence, cultural richness and a profound sense of community. Founded over 30 years ago, Haut-Lac International Bilingual Day and Boarding School is now home to both 600 day students and a maximum of 30 boarders from around the world.
What To Wear at Your Job Interview
Navigating job interviews can be stressful, but knowing what to wear shouldn't be. Our comprehensive guide covers the essential dress code tips for men and women interviewing at boarding schools. Make your first impression count with style and professionalism.
Navigating the Modern Maze: Emerging Challenges for Boarding Schools
Explore the pressing challenges facing boarding schools, from marketing difficulties and rising insurance costs to facility maintenance and recruitment of competent trustees and teachers. This article delves into these complex issues and proposes innovative strategies to overcome them.