Reflections and Advice:
1.) What do you think makes your school unique relative to other boarding schools?
Milton Hershey School or MHS (or The Milt to many alumni) is a private boarding school in Central Pennsylvania for socially disadvantaged children. There is no cost to attend MHS. However, during the admission process financial records of the parent/guardian will be required in order to ascertain the need of the student. It has one of the largest campuses of any K-12 school in America. the school comprised of three divisions: Elementary (grade K-4), Intermediate (grades 5-8), and senior (grades 9-12). Each Division has a set of student homes, about 10 children per home overseen by full time houseparents.
2.) What was the best thing that happened to you in boarding school?
The most impactful thing about MHS, is the closeness of the students. As an alumni, I still feel a bond and responsibility to the current student body. Alums are accepted by all, even if they did not graduate from the school. You lived with these people, you shared almost everything from joys to heartbreaks. It is hard not to feel a kindred spirit to all current and former "Milts" no matter the graduating year.
3.) What might you have done differently during your boarding school experience?
My biggest advice would be to join in. Go out for a sport, learn an instrument, try your hand at acting, it is all available and waiting for the students who seek it out. It hard for any child to be separated from parents/family. But MHS goes above and beyond to guide students into finding their skills and passions. If the school doesn't offer want you want as far as non-academics, just ask a teacher or admin to find out if you can start a club or sport not offered. This was one of the best things, the school really tried to support children to find positive and creative ways to enjoy themselves.
4.) What did you like most about your school?
The thing I like the most is probably pretty obvious, but it was friendships formed. However, if you did find yourself bored, there was always 4 or 5 other kids around to have a pick-up game of basketball or to play a board game with. You didn't have to be best friends to enjoy a group activity, but it didn't hurt.
5.) Do you have any final words of wisdom for visiting or incoming students to your school?
The friendships and bonds you form with other student will be forever. Once a Milt, Always a Milt; is the unofficial motto of the students and alumni. you could have attended the school for one month, or 13 years (we call the people who attended from kindergarten to 12th grade "lifers") Homecoming is the biggest weekend of year because the alumni really are coming home in a certain sense. Students like the sories told by those who have gone before, and always eager to hear some good advice. Alumni like to hear from the students, how they are, their hopes and dreams, and sometimes meeting a potential upcomer for networking in the future.
Academics:
1.) Describe the academics at your school - what did you like most about it?
The academics are some of the best in the country. Most of the teaching staff has experience in their field, and all have degrees and state certifications for teaching. For example, we had 3 former NFL players who taught classes in health, science and math, not only were they excellent teachers, but they also taught student the importance of fair play and working hard to attain their goals. Imagine being taught history by a lieutenant general who actually served in a war that he is teaching about. This is just one example of the quality of staff at Milton Hershey. many teachers have advanced degrees and coach/teach various sports and activities. (it should be mentioned that the former NFL players were not the head football coach, that was the gym teacher who had his degree in sports medicine and kinesiology in addition to a teaching degree) All teachers are mentors, even if a student is not in extracurricular activities.
Athletics:
1.) Describe the athletics at your school - what did you like most about it?
While I only participated in a few sports, the overall comradery of like minded students was always there. There was no cliques because the captain of the basketball team could also be the Valedictorian. The student body president may be a soloist in the school orchestra. It was inclusive because the was no boundaries to participation or achievement.
Art, Music, and Theatre:
1.) Describe the arts program at your school - what did you like most about it?
I was not very artistic. But I can tell you if you were interested in band, chorus, theater, or fine arts, it was available to all.
Extracurricular Opportunities:
1.) Describe the extracurriculars offered at your school - what did you like most about it?
Too much to describe. I wouldn't know where to begin.
Dorm Life:
1.) Describe the dorm life in your school - what did you like most about it?
So this is the tricky part. As I mentioned earlier, the students live in Student Homes, overseen 24 hours a day by houseparents. There is an aspect to group living at the school that is hard to duplicate anywhere else. While the School is Coed, the student homes are not. The day to day feel of each student home is unique because of the diverisity of students and the skill of the houseparents. most bedrooms are shared by 2 students and bathrooms are communal. The chores are done everyday by the students that live in that house, including the preparing and clean up of all meals. Most students cohabitating find a way to get along, if not become life long friends. However, if a student is have a hard time at one house, it is possible to get a transfer to a different house. The well bieng of the children is always the top priority of the staff.
Dining:
1.) Describe the dining arrangements at your school.
Breakfast and dinner are preparared and served by the students in the student home, weekends lunch is also served. On school days the lunchtime meal is served by foodservice staff in a dining hall. All meals are planned by staff who are experts at diets and nutritional needs of students in various stages of development. The quaility of the meals were excellent, and the food was plentiful, especially for a hungry teenager. Some dishes were better that others in my opinion, but that is a matter of taste.
Social and Town Life:
1.) Describe the school's town and surrounding area.
I didnt experience much of townlife. Students get free admission to Hershey Park during the summer, but there was enough on campus activities to keep anyone busy all year round.
2.) Describe the social life at your school - what did you like most about it?
Normal social life, except there is no way to avoid disagreements. You all live at the school. You burn the eggs in the morning, the kids from different student homes find out about it. You date/break up with someone, everyone knows. Victories are lauded, mistakes are remembered. But through it all, you got each other to depend on.
Daily Schedule:
Weekday
7:00 AM
breakfast/ prep for school
3:00 PM
practice for sports or activities
1:00 AM
Do not get caught awake at one AM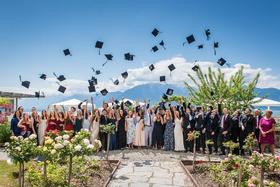 Nurturing Futures: A Journey through Boarding at Haut-Lac School in Switzerland
Nestled in the hills overlooking Lake Geneva in the French-speaking part of Switzerland lies an educational gem that embodies a unique blend of academic excellence, cultural richness and a profound sense of community. Founded over 30 years ago, Haut-Lac International Bilingual Day and Boarding School is now home to both 600 day students and a maximum of 30 boarders from around the world.
What To Wear at Your Job Interview
Navigating job interviews can be stressful, but knowing what to wear shouldn't be. Our comprehensive guide covers the essential dress code tips for men and women interviewing at boarding schools. Make your first impression count with style and professionalism.
Navigating the Modern Maze: Emerging Challenges for Boarding Schools
Explore the pressing challenges facing boarding schools, from marketing difficulties and rising insurance costs to facility maintenance and recruitment of competent trustees and teachers. This article delves into these complex issues and proposes innovative strategies to overcome them.