Reflections and Advice:
1.) What do you think makes your school unique relative to other boarding schools?
I would say that Caravan is a really unique experience at our school, that other schools usually don't participate in. Students get put into groups depending on your likes, and with at least two teachers, you all go on a mini camping trip with no phones. You get to learn a lot of cool things that can help in the classroom too, plus it's a really fun experience to spend time with people you wouldn't normally talk to.
2.) What was the best thing that happened to you in boarding school?
The best thing that happened to me a boy in school was being the people that I consider my best friends now. Though it may be silly or basic, i know that those friendships will last a lifetime and that is a really important thing to realize.
3.) What might you have done differently during your boarding school experience?
Looking back at myself now, I'm very happy with the decisions that I made when I was a freshman because I was very open to meeting people and creating new friendships with people that I didn't know that weren't my age or in my comfort zone. So I was very happy to be that kind of person for my first year. My advice for others is to just be yourself! Because people will judge no matter what, but it shouldn't matter what they think of yo. You should just want to have fun and enjoy your experiences, and you're the only one that can do that for yourself.
4.) What did you like most about your school?
The family that we create as a community. Everybody can be there for everyone, and having that type of relationships with you friends and peers is special because you have people to count on.
5.) Do you have any final words of wisdom for visiting or incoming students to your school?
Like I said before, you're creating your own experiences, so you want to try your hardest to turn those into memories that you can look back on and smile. Ask a lot of questions, everyone loves questions! Two snacks that I can say are my favorites is the ice cream in our candy store, and the gummies that they sell! I highly suggest for Commons to be one of the first buildings you enter. Most of our gatherings are in there and people just like to have fun. You can watch TV on some couches, play table tennis, throw some balls in mini baskets, and hit the cue on a pool table. It's a time and place to socialize and talk to your friends, to invite the new people over, and to have fun. Our candy store is also located inside of Commons, along with a mini thrift store. Regarding dorms, our best one is called Stirrup Dot because it was renovated only a few years ago so it's in top condition. But each dorm has something unique that makes them all special.
Academics:
1.) Describe the academics at your school - what did you like most about it?
I believe that the academics at my school are really good for a college preparatory high school. You got a lot of options on AP classes like math, science, history, and literature, and each class has a significant way of teaching, which can include going outside and experimenting with plants, animals, and just nature in general. Our campus is a very beautiful campus and there are many chances and opportunities to go outside to be able to learn something with your class. Something that I like the most about my classes was being able to have one on one learning with your teachers. Their student to teacher ratio aren't high numbers, so you get the have more individual time with the teacher in case you didn't understand the material properly so they can explain it to you on your own schedules. With having the advantage of living on campus all year around, you get to work around JUST class times, and have the opportunity to be helped during open library, or other slots of free time.
Athletics:
1.) Describe the athletics at your school - what did you like most about it?
We have a great Athletics Director that organizes all of our sports and events and games. Some sports that we have on campus include basketball, cross country, swimming, dance, soccer, volleyball and horsemanship along with others. One specific thing that I really like about the activities at my school is that everybody gets the option to be on a sports team. No matter what grade you're in, your experience level or how many years you've been at that school, everybody can be on a team.
Art, Music, and Theatre:
1.) Describe the arts program at your school - what did you like most about it?
We have many options for arts! We offer a theater class and they perform one-acts (short, 2-4 people plays) and full size plays for the entire school. When it comes to art we have multiple different art classes, including dance. We even have a few students who have gotten there art placed in the gallery which is really cool. Something I really like about this factor of my school is that everybody encourages you to try your best at art. We have a Fine Arts Festival for one week during our school year and it's just multiple variations of art that you get to do with a new group of people for one week straight. Then we have a big presentation by the end of the week and it's a lot of fun to showcase it.
Extracurricular Opportunities:
1.) Describe the extracurriculars offered at your school - what did you like most about it?
Besides sports and arts, some other extracurricular activities, we have are music and PE. We also offer several clubs, we have a Spanish club, and an International club, which help our school organize some fun events for the students there.
Dorm Life:
1.) Describe the dorm life in your school - what did you like most about it?
I think dorming is the absolute best part about going to boarding school! If you're a new student, you have typically an older roommate, so they can teach you how life is there. Another option that you get to have is to choose your own roommate, my roommate is my best friend. And being able to decorate your dorm however you want and make it like home is such a fun experience. People get to visit and see or get inspiration for their room, so it's always nice having company around.
Dining:
1.) Describe the dining arrangements at your school.
We have a big dining hall full of tables and chairs. We also have an outside patio-like seating to be in nature but without any bugs bothering you. You have the option to sit with whoever you want but usually people sit with their friend groups, but everyone is always so nice about joining tables. The food there is absolutely wonderful, so much better than any other public school that you encounter, and the chef is very friendly and social so if you have any critique, questions or suggestions about the food, he will gladly take them in and make you happy.
Social and Town Life:
1.) Describe the school's town and surrounding area.
We have a fairly small population of students at our school, so our town life is pretty calm most nights. We have the gym and commons (a gaming/relaxing area for everyone) open after dinner to distress, then you go back to your room to study for the next school day. On Fridays and Saturdays our campus is open until 10pm, and depending on the time of the year, we do pool parties, s'mores, water balloon fights/watersides, fires, and game nights to entertain the students that stay on campus for the weekend.
2.) Describe the social life at your school - what did you like most about it?
So easy to talk to everyone at school you can easily make friends with both the students and teachers, no matter what grade they're in or how old they are. Everyone is so friendly.
Daily Schedule:
Weekday
Weekend
5:00 PM
Usually get back to campus
One aspect that stands out about The Orme School is its unique approach to learning. Unlike traditional schools, here you are not confined to a single classroom. Instead, you have the freedom to explore and. . .
The Orme School does a unique way of teaching kids that are struggling with their schoolwork. For instance, if a student Is having a hard time keeping their grades up the school with put them. . .
Well to start off the Orme school is so much different then normal boarding school. I have went to about 4 different boarding schools. When I found Orme, I knew it was going to be. . .
Show more reviews (

4 reviews

)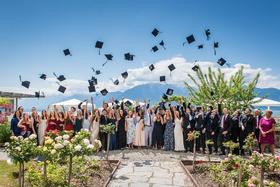 Nurturing Futures: A Journey through Boarding at Haut-Lac School in Switzerland
Nestled in the hills overlooking Lake Geneva in the French-speaking part of Switzerland lies an educational gem that embodies a unique blend of academic excellence, cultural richness and a profound sense of community. Founded over 30 years ago, Haut-Lac International Bilingual Day and Boarding School is now home to both 600 day students and a maximum of 30 boarders from around the world.
Navigating the Modern Maze: Emerging Challenges for Boarding Schools
Explore the pressing challenges facing boarding schools, from marketing difficulties and rising insurance costs to facility maintenance and recruitment of competent trustees and teachers. This article delves into these complex issues and proposes innovative strategies to overcome them.
What To Wear at Your Job Interview
Navigating job interviews can be stressful, but knowing what to wear shouldn't be. Our comprehensive guide covers the essential dress code tips for men and women interviewing at boarding schools. Make your first impression count with style and professionalism.