Reflections and Advice:
1.) What do you think makes your school unique relative to other boarding schools?
The campus is beautiful, small and accessible, and ideally located. It is surrounded by forest, golf courses, sand dunes and beaches, and has a wide variety of activities in the surrounding areas to satisfy a student who craves exploration. You can go shopping, eat at wonderful restaurants, go to the beach, the aquarium, play golf, take hikes, play sports, and many other things. The school also provides many things itself for the students to do. They take care of their students, offering special breakfasts, weekend activities, movie nights in dorms, dances, campfires, and they require that every student participate in a sport (be it three times a week in intra-murals or competitive interscholastics). They offer opportunities for theater, dance, art, language, and other not-so-typical academic pursuits for students who want to learn in detail about more specialized subjects, like playwriting and computer skills. The teachers are always available, in small classes, at night during study hall in the dorms they are always in the lounges offering help, on weekends, as coaches of athletic teams, and for advice on aspects other than school. The courses are demanding and challenging, but worth it for all of the knowledge that these professors pass down to you. They are all experts in their field, and their love for their subject makes classes enjoyable and rewarding.
2.) What was the best thing that happened to you in boarding school?
I enjoyed everything in high school, my friends, my activities and the academics. I liked being really involved in what the school had to offer and the smaller, more intimate atmosphere made for a place where you either knew everyone, knew of them, or recognized them, making you feel at home. Being a boarding student gave me a better sense of independence and allowed me to grow up into a person who can make my own decisions about my future, and not require the help of others all the time.
3.) What might you have done differently during your boarding school experience?
Branch out and make friends in different social networks. High school can be a confusing time and because you are still young, people are still learning how to behave. If you don't judge people and make different kinds of friends, you'll be able to find the support you need in people who are like you, different from you, but most importantly, care about you and support you. You will also learn about others and yourself this way, rather than sticking too closely to certain people who might not be there in uncertain times. And get involved in different things, even if you are afraid to try them. All experiences can change your life.
4.) What did you like most about your school?
I liked the friends I made and I loved being on sports teams. You meet so many people that way, get exercise, and build close relationships while improving your athletic skills and having fun doing something you love. I also loved my classes.
5.) Do you have any final words of wisdom for visiting or incoming students to your school?
Don't eat the cheesecake. Try to live in Day Hall or Atwood Hall, and go to the Lodge for the best cheddar that ever was made. Also go to Pacific Grove to get good sushi, and to the Carmel Beach cafe for gelato.
Academics:
1.) Describe the academics at your school - what did you like most about it?
The classes were the perfect size. Small enough that you got individual attention from your teachers and large enough to have many different opinions to add spice to discussions. The professors are all experts in their field and truly love their jobs, thus making classes more rewarding and interesting. They also tend to "mix it up" and use several different teaching styles and techniques to cater to different learning styles and find new and fun ways of teaching. Professors are always available for help, in the classroom, outside of it, in the dorms and on weekends. The workload is demanding but the professors are encouraging, and while the environment is competitive, it is by no means unhealthy competition. Everyone tends to find areas in which they feel capable and strong, and they are always given positive support and encouragement. Many students who go on to get teaching degrees in universities return to work at Stevenson. There are heavy course loads. Required classes include English, one foreign language, mathematics, science, history, visual or performing arts, and their is also a wide range of more diverse classes. Within the required curriculum are a range of courses from introductory to advanced placement and honors. The elective courses offer many diverse options from the arts (theater, dance, visual and technical) to nature to choir to computer skills and more specialized and specific sub groups of the required courses. You can choose many of your own courses, the higher ones requiring certain prerequisites or recommendations from current professors who teach you. The workload, while demanding, is bearable, and if you work hard there is still time to have fun.
Athletics:
1.) Describe the athletics at your school - what did you like most about it?
The athletics program is excellent. All students are required to be involved in the athletic program, but they may choose the extent to which they are involved. The school offers many competitive and winning interscholastic sports for both men and women. Football, volleyball, swimming, water polo, tennis, field hockey, lacrosse, soccer, cross country, track and field, baseball, softball and and basketball are offered on both the interscholastic and intramural levels. For those students who don't wish to compete but still enjoy enjoy exercise, there is jogging, weight lifting, dancing and several other non-competitive options. If a student actively participates in a sports team or dance company outside of school, this may count as their athletic requirement. The teachers are all coaches, and they offer the same degree of encouragement, advice, motivation and support on the athletic field or court as they do in class. They are not only coaches of technical skills (about which they are all knowledgeable), but emotional support, advisers, and even friends, but they still push hard and teach not only the sport, but the mental strategies of competition, teamwork, positive attitudes and determination to push team members to do their very best technically but also as team players. While they support individual talents, they encourage first and foremost that as members of a team, it is what everyone can do together that counts, and the strive to incorporate everyone's different talents into the best strategies that can be applied together as a team.
Art, Music, and Theatre:
1.) Describe the arts program at your school - what did you like most about it?
This program is excellent. There are many more options for the Arts at this high school than there are at most others, and even at some universities. They offer voice lessons, instrument lessons (private and group), orchestra, jazz band, chorus and chamber singers (a cappella), theater and dance on different levels, studio art, ceramics, playwriting and more. The teachers are very talented and motivating. The chorus and chamber singers compete in competitions and perform not only in school, but also in charity organizations and other events. The chorus is open to all interested and the chamber singers is audition only. Every spring there is a musical and every three years the musical travels to Europe during the summer and performs in different areas in the United Kingdom. In exchange theater groups from Europe come to perform at Stevenson. There are art gallery exhibits, the dance studio is spacious and has mirrors and a barre. Many students are involved in the arts program, which is largely supported by the school.
Extracurricular Opportunities:
1.) Describe the extracurriculars offered at your school - what did you like most about it?
As far as school activities, there are several clubs and organizations through the school. Volunteer opportunities are always available through many different student-run organizations with a faculty adviser. There are philanthropic clubs, dance and aerobic clubs, sports clubs, language and academic clubs, outdoor activities clubs, yearbook, student government, environmental clubs, groups such as prefects, community forum leaders, and wilderness expedition co-leaders. There is student tutoring available, and several other clubs that involve a wide range of activities, from academic to social to athletic and even career. If a student wishes to start a new club, he or she simply needs to find a faculty adviser to support it and recruit members, with the school's approval of the purpose of the club.
Dorm Life:
1.) Describe the dorm life in your school - what did you like most about it?
Dorm life is wonderful. The dorms are large and nicer than most college dorms. Most freshmen are put in freshmen dorms to encourage them to get to know each other as they begin life in high school. As a freshman you will have a roommate, and if there are ever problems, they can always help you switch rooms. There are always faculty members living in apartments attached to the dorms. They live there with their families, eat with students, monitor study hall and assist with homework, and are always available in emergencies or to assist with problems. They also create fun activities for members of the dorm, like Pizza dinners, bagel breakfasts, movie nights, and other gatherings that promote social networking within the dorm. As sophomores, you will most likely have a roommate (and you can choose your own) and you will live in the mixed dorms with people of all ages (minus freshmen). As a junior, you can usually choose to have a single room if you want, and as a Senior you can always get a single room because the seniors have the first pick. You can be in the dorms whenever you want, during your free periods, and at night. You have to go to dinner and sign in, but after that is study hall. For the first part of study hall you must be in your room alone but after that you can go to the common room and work with other students and teachers, or go to other dorms and work with teachers and students there should you need to. After study hall there is some free time and you can hang out in other people's rooms and chat or have them in yours. You can watch television or do more homework. After that it's lights out. On weekends there is no study hall and you can choose to be wherever you want on campus. The dorms are separated into girl's sides and boy sides, and girls are not allowed on the boys sides or in their rooms ever, and vice versa. They can meet in the common room.
Dining:
1.) Describe the dining arrangements at your school.
There is one main cafeteria that offers breakfast, lunch and dinner. Breakfast is optional, but there is a main line that serves hot meals. They usually have two options for main dishes and one vegetarian alternative in addition. They have hot side dishes and cold desserts, and some usual options are jello, pudding, and cookies. For breakfast there are only hot meals, but there is also a toaster with bagels, break, and toppings, and a cereal bar. There are three lunch periods, and they offer the same alternatives of hot meals in the main line and regular side dishes. The toasted options are also out, and there is a salad bar and a pasta bar with pasta, rice, tofu and baked potatoes. There is also a frozen yogurt machine. You can get as many helpings of everything that you want. There is a juice bar with coffee, hot chocolate, water, several different juices, and milk and tea. They do not serve soda in the cafeteria, but there is a soda machine in the back outside. For dinner, the options are the same, but boarding students are required to go to dinner and sign in. The food is generally good and their is a wide variety. There are no snacking hours, and there are no assigned seats except for Monday night dinner, which is more formal. Students must dress nicely, sit at assigned seats and get served a very nice meal, and then attend Monday night Vespers. The school is non denominational and recited prayers from many different religions.
Social and Town Life:
1.) Describe the school's town and surrounding area.
The school always has a bus running on the weekends to take boarding students to Monterrey, Carmel, and the mall. From these places they can go to the beach, go shopping, go to Fisherman's wharf or the aquarium, or eat at one of many restaurants. The forest and golf courses are a walk away from the school, as is another beach, and Highway 1 on the coast is perfect drive or walk. The area around the school is diverse and beautiful, very clean and attractive. There are many different options, and if you have day student friends with cars, even more options.
2.) Describe the social life at your school - what did you like most about it?
The social life is good. The school is small, with about 115 students in each class, half day students and half boarding students, and everyone usually finds their niche. People are friendly, but it's high school and the typical high school atmosphere usually ensues, minus the crime and gangs. There is a lot to do, and if you have day student friends and want to get away for the weekend, you must get on pass and then you can go anything you want on weekends without curfew. Curfew is different for different grades, but as a Senior, you must be signed into your dorm by midnight on weekends.
Daily Schedule:
Weekday
Weekend
1:00 PM
hang out with friends somewhere
Every teacher is always accessible and they are always friendly. I felt so at home there. They also have a counseling center where they take ideas from students about how to improve the school psychologically. . .
Stevenson is a stunning atmosphere both beauty and quality of life. The school is situated in Pebble Beach, on the beautiful Monterey Peninsula. However, the scenery is not the most beautiful part about Stevenson. The. . .
The most striking thing about Stevenson School is the immense support system at so many different levels. No matter what issues you may face, there is the exact person you need to help you there. . .
Show more reviews (

8 reviews

)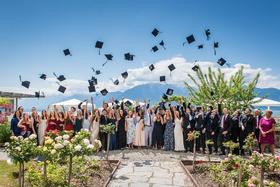 Nurturing Futures: A Journey through Boarding at Haut-Lac School in Switzerland
Nestled in the hills overlooking Lake Geneva in the French-speaking part of Switzerland lies an educational gem that embodies a unique blend of academic excellence, cultural richness and a profound sense of community. Founded over 30 years ago, Haut-Lac International Bilingual Day and Boarding School is now home to both 600 day students and a maximum of 30 boarders from around the world.
What To Wear at Your Job Interview
Navigating job interviews can be stressful, but knowing what to wear shouldn't be. Our comprehensive guide covers the essential dress code tips for men and women interviewing at boarding schools. Make your first impression count with style and professionalism.
Navigating the Modern Maze: Emerging Challenges for Boarding Schools
Explore the pressing challenges facing boarding schools, from marketing difficulties and rising insurance costs to facility maintenance and recruitment of competent trustees and teachers. This article delves into these complex issues and proposes innovative strategies to overcome them.