Reflections and Advice:
1.) What do you think makes your school unique relative to other boarding schools?
What obviously distinguished Stevenson from other boarding schools is the amazing environment that students are situated in. I would wake up in the mornings to the sounds of sea lions and gulls, and in my sophomore year, looked out the window of my Day Hall dorm room to catch a glimpse of Clint Eastwood and Tiger Woods on the 17th hole of Spyglass golf course. The standard of life is incomparable - where else can a young student enjoy the scenic beauty of Big Sur, Pebble Beach, and Carmel all in one afternoon? Because I attend such a large university now, where lectures are often impersonal and discussion scant, I have come to deeply appreciate the sense of community and support that Stevenson provided its students. The most memorable would be my senior German class - I was one of the two students in that class who enjoyed the personal tutelage of one of Stevenson's best instructors every day.I will always remember that.
2.) What was the best thing that happened to you in boarding school?
To be honest, I struggled a lot during my first year at Stevenson, academically and personally. My first year I ended up with a 3.2 GPA and unhappy parents to boot! During the end of my second year I found my niche in art, writing, and radio at Stevenson. Most importantly, however, was that I learned *how* to study, and *how* to efficiently manage my time; I was learning how to juggle extracurricular activities along with a social life and academics, a feat that would have been impossible a year earlier. I feel like I changed from a shy person, to a person who is willing to take the initiative and get what she wants. I ended my senior year as a member of the Cum Laude Society at Stevenson, with numerous other accolades, and most notably, with a sense of accomplishment and possibility that will always stay with me.
3.) What might you have done differently during your boarding school experience?
Be open to new possibilities. For freshman, it is easy to start letting others influence you. Being at a boarding school at a young age is a difficult time, but will allow you, if you want, to explore your interests. Don't be afraid - Stevenson is a rich opportunity, but will only be so if you take the initiative and make what you will of it. Also, be open with your teachers and your peers - you can learn a lot from them.
4.) What did you like most about your school?
What I liked most was the incredible environment and the small, intimate feel of the classrooms.
5.) Do you have any final words of wisdom for visiting or incoming students to your school?
The best dorm is Day Hall - everything else is too far away or a little older. Try something different - an art class, an elective, radio, even start your own club! Learn when to study and when to enjoy yourself. Get to know your prefects and your advisor/counselor (they will probably end up writing a college recommendation for you!) Above all else - enjoy the opportunity that you have been given.
Academics:
1.) Describe the academics at your school - what did you like most about it?
As I noted earlier, it is the invaluable private attention and support that instructors provide to Stevenson students that makes Stevenson such an unique experience. Teachers will often congratulate students for achievements outside of their classroom and advisors and counselors are always available for outside in and outside of school. Because of its small classes, teachers are keenly aware of each students' abilities and will do their best to foster them. As a junior, I had the privilege of being one of Stevenson's best English teachers. I will always remember him as warm, funny, and most of all, as providing daily lessons and stories about life outside of school. Because of his support, I was able to nurture my writing and reading skills, and eventually was nominated for - and later, won - the NCTE Writing Award. It is also easy to say that most of my experiences with other teachers were as amazing. For such a small school, the diversity of classes available - and the quality of those classes - is astounding. Though I struggled my freshman year with the Stevenson workload (having graduated from a public middle school), I learned how to effectively manage my time, an invaluable skill even in college! I loved the fact that though students at Stevenson are very bright, they are not very competitive - my peers seemed always ready to help proofread a paper or critique a piece of artwork. Scheduling for classes is also incredibly flexible at Stevenson, displaying the fact that the school really wants their students to do well, each their potential, and even exceed it.
Athletics:
1.) Describe the athletics at your school - what did you like most about it?
Though sports is mandatory for everyone at Stevenson - though the amount of time for each class varies - there are activities that will please everyone. There are sports ranging from water polo to yoga, from ballroom dancing to varsity football. The sports department also offers the possibility of activities outside of the school, which makes options and experiences endless! During my junior year, my friends and I obtained permission to attend a martial arts school in nearby Monterey. My sophomore year was spent with private instructors on the lush driving range of Pebble Beach three times a week. Needless to say, there is something for everyone!
Art, Music, and Theatre:
1.) Describe the arts program at your school - what did you like most about it?
One word - amazing! Stevenson is incredibly committed to the arts. My room mate of two years was an amazing soprano who dazzled not only in school musicals but in outside gigs, and would sing jazz, country, and pop tunes regularly in the morning. Students could also yearly enjoy the Monterey Jazz Festival, as well as various other music festivals in the area. Being ensconced in Pebble Beach, Stevenson is in close proximity with dozens of art galleries, not only those in beautiful Carmel, but in Monterey and other cities as well. I have had work in the Monterey Museum, in Seaside, in the Carl Cherry Art Center in Carmel, and in the Carmel Youth Art Show - all in one year! Taking an art class is required to graduate, and the art teachers at Stevenson are inspiring and well-loved. In my freshman year, my art class would regularly go to the teacher's house and drink espresso with biscotti while watching art videos. I took two AP art classes, both under the same, critical eye of a very passionate and demanding teacher who brought out the best in her students. The classes are extremely small - about ten people in the entire school were in AP Art - and the materials provided were of the best quality and given freely. If given a chance, I suggest to potential students at Stevenson to visit the art studio - it is one of my favorite places, sunlit and cozy. Another program I would like to mention is the Radio program. It is the most powerful student run station west of the Mississippi. As a rather quiet, shy person who loved music, I was intrigued. I participated in radio instruction in my sophomore year, and by my junior year, was given my own radio show which would run two years. How many students have that opportunity? Amazing.
Extracurricular Opportunities:
1.) Describe the extracurriculars offered at your school - what did you like most about it?
What I liked most about extracurricular activities at Stevenson was the sheer number of them - there was something for everyone, and if there wasn't, all one has to do is find a teacher sponsor and create their own program and club! Stevenson is very supportive in allowing Stevenson students to make the most of their education and time. Along with a friend, I created the Umbrella Club for those who loved films, music, and books as much as I did - and it became rather popular! :) During the bustle and chaos of club sign-up day, one can catch glimpses of fliers for everything from the Knitting Club to Green Key. Very often these clubs will also donate money to charities through activities, and are very visible throughout campus!
Dorm Life:
1.) Describe the dorm life in your school - what did you like most about it?
As a freshman, your choice of dorm and room mate is pretty random. However, upperclassmen always gets dibs on the best rooms on campus. I spent my freshman year in Silverado, and the subsequent three years in Day Hall. Day Hall is one of the newer dorms - bright, sunny, with rooms ranging from decent-sized to large. You and your room mate have to decide together how to arrange the room, including bed, wardrobe, and other necessities (like water coolers) that you might want to have. I was fortunate enough to have wonderful room mates for my first three years - both of them are among my closest friends still. The people I know who have transferred rooms and changed room mates have done so with relative ease. Every hall (about ten people) is assigned a prefect and a teacher who acts as a counselor. Every month or so (or even more) there are wonderful, cozy hall dinners provided by the school, and occasionally, a movie night where the entire dorm gathers in the common room, eats popcorn and watches a film. Being a senior is the most comfortable - unless you specifically request to have a room mate, seniors will all have singles.
Dining:
1.) Describe the dining arrangements at your school.
The food at Stevenson is pretty good for school food - meaning there are bad days (King Louis Casserole) and very good days (grilled salmon and vegetables). However, there is usually always a good variety for carnivores and herbivores alike. Salad bar, cereal, pasta, soup, and various entrees are available for breakfast, lunch, and dinner. Monday night dinners are a time for the entire boarding community to dress up and enjoy meals together. Unfortunately, Cafe Louis Louis is NOT open 24 hours day - thankfully, there is the new snack bar, replete with everything from mochas to Odwalla bars - for the hungry student. If all else fails, take out and nearby restaurants are also handy!
Social and Town Life:
1.) Describe the school's town and surrounding area.
Everything! The town life surrounding Stevenson was markedly different from Eastern boarding schools that were smack dab in the middle of nowhere. Stevenson is located in Pebble Beach, with Spyglass golf course as its "backyard" and a five-minute walk from the ocean. (Where else can the biology class trek down to the beach in one class period?) Carmel is a ten minute drive out of Stevenson. It is a very charming seaside town replete with art galleries, amazing restaurants, numerous boutiques, quaint hotels, and coffee shops. Life is very good there. The town of Monterey also offers movie theaters, a decent shopping mall, Fisherman's Wharf, restaurants, and the jazz festival. Big Sur provides stunning natural beauty with its camp sites and scenic driving.
2.) Describe the social life at your school - what did you like most about it?
What I enjoyed most about social life at Stevenson are the few, extremely close friends you meet. These are friends that I will be able to count on through college and beyond, and provided much support and advice through teen years that are mostly without the presence of parents. I appreciate Stevenson for allowing me to know those people.
Daily Schedule:
Weekday
6:45 AM
Wake up! Shower. Eat some breakfast at Cafe Louie Louie.
8:00 AM
First class of the day. (50 Minutes each)
9:30 AM
Assembly. The entire school gathers in the auditorium for news, announcements, etc.,
10:15 AM
Second class of the day.
12:30 AM
Third class of the day
1:15 PM
Fourth class of the day.
2:00 PM
Break time. (Can run back to room for a quick nap or work on homework)
2:45 PM
Last class of the day! Then head to sports at 3:30 pm!
Weekend
10:00 AM
Wake up, shower, drive with friends for breakfast in Carmel.
12:00 AM
Scenic drive around Big Sur.
1:00 PM
Grab an amazing lunch at Taboulih's in Monterey
2:00 PM
Window shopping around Carmel.
4:00 PM
Beach time at Carmel!
6:00 PM
Dinner with room mate at Cafe Napoli in Carmel.
7:00 PM
Catch a movie at the Osio in Monterey.
10:00 PM
Go back to the dorms and grab a late night snack with room mate.
11:00 PM
Call the parents and friends
Every teacher is always accessible and they are always friendly. I felt so at home there. They also have a counseling center where they take ideas from students about how to improve the school psychologically. . .
Stevenson is a stunning atmosphere both beauty and quality of life. The school is situated in Pebble Beach, on the beautiful Monterey Peninsula. However, the scenery is not the most beautiful part about Stevenson. The. . .
The most striking thing about Stevenson School is the immense support system at so many different levels. No matter what issues you may face, there is the exact person you need to help you there. . .
Show more reviews (

8 reviews

)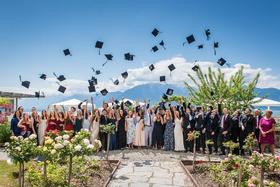 Nurturing Futures: A Journey through Boarding at Haut-Lac School in Switzerland
Nestled in the hills overlooking Lake Geneva in the French-speaking part of Switzerland lies an educational gem that embodies a unique blend of academic excellence, cultural richness and a profound sense of community. Founded over 30 years ago, Haut-Lac International Bilingual Day and Boarding School is now home to both 600 day students and a maximum of 30 boarders from around the world.
What To Wear at Your Job Interview
Navigating job interviews can be stressful, but knowing what to wear shouldn't be. Our comprehensive guide covers the essential dress code tips for men and women interviewing at boarding schools. Make your first impression count with style and professionalism.
Navigating the Modern Maze: Emerging Challenges for Boarding Schools
Explore the pressing challenges facing boarding schools, from marketing difficulties and rising insurance costs to facility maintenance and recruitment of competent trustees and teachers. This article delves into these complex issues and proposes innovative strategies to overcome them.