Reflections and Advice:
1.) What do you think makes your school unique relative to other boarding schools?
St. Andrew's in unique in that it focuses on creating a community- of trust, compassion, encouragement, support, friendship, scholarship, and challenge. The faculty and staff work really hard every day to encourage and support students as they learn about themselves and the subjects they are studying. Boarding school makes school about so much more than the classroom- and St. Andrew's makes sure that each student has the opportunity to learn something new every day. Being in such close contact with all of the faculty also adds a new level. I still talk to my faculty advisor, and to the headmaster. It truly is a unique experience. The classes are hard but fun, the dorm life is good for work and play, and the athletics help to promote a healthy lifestyle. St. Andrew's goal to create citizens are well equipped to face life's challenges and become effectors of change in the world.
2.) What was the best thing that happened to you in boarding school?
St. Andrew's has taught me so much about the world and myself. It has taught me how to be an involved person- in all areas of life. It has encouraged me to get to know people from very diverse backgrounds and to develop my own interests- whatever they might be. I came from a small rural town and St. Andrew's opened my eyes to the multitude of different people, views, and opportunities there are in the world. It encouraged me to travel, volunteer, be academically challenged, and understand the news and world around me. St. Andrew's made me into a much better person.
3.) What might you have done differently during your boarding school experience?
I would have gotten involved earlier, taking full advantage of all the opportunities that boarding school provides. Get to know everyone you can, learning from their experiences. I would also have spent more time developing meaningful relationships with faculty, a lifelong bond that will influence me forever.
4.) What did you like most about your school?
I liked the atmosphere that you can go out and do anything. People were working every day to develop some new part of their lives- working in the student government, honor council, getting involved in politics, studying abroad, making amazing friends, researching something discussed in class, or just eating dinner with a teacher. It was so motivating, and something that has impacted me for life.
5.) Do you have any final words of wisdom for visiting or incoming students to your school?
Visit on a Wednesday if you can! The best meals are on Wednesdays! Also, the long cafeteria style lunch lets you meet more students. Spend the night on dorm to get a feel for the way the school really works behind the scenes. And really ask your tour guide questions. They get tired of trying to think of stuff to say the whole time, and would welcome your questions- you will also learn so much more about the school that way!
Academics:
1.) Describe the academics at your school - what did you like most about it?
I liked that the classes were challenging. I was rarely bored in class, and while I did a lot of work, it was really interesting and worthwhile. It has prepared me so incredibly well for college, and I still use the skills I learned there every day. Teachers are always willing to help you in any way you need, including creating classes you think would be interesting. My senior spring, my teachers helped us to make a class on Music and Social History, and what I learned in that class has been so applicable to every day life. It is also a class that I would not have had the opportunity to take anywhere else.
Athletics:
1.) Describe the athletics at your school - what did you like most about it?
I liked the positive reinforcement so prevalent in the athletics program. The coaches and players really wanted every single athlete to succeed- in their own way. There are also so many different options for ways to be active, including several atypical sports alternatives, such as dance, yoga, or weightlifting. You can also create your own program for the afternoons so that you can pursue individual interests such as drama, art, fashion design, or biology. St. Andrew's also has some of the best sports facilities not only in Delaware, but in the whole country. The pool is the best in Delaware and Noxontown Pond is one of the most sought after crew racing locations in the country- even the Navy comes to practice there! With less practice time than most other teams, St. Andrew's still manages to not only be competitive, but be the best in many different sports. All in all, it is a very successful program that creates healthy students.
Art, Music, and Theatre:
1.) Describe the arts program at your school - what did you like most about it?
Each student is required to be involved in the arts programs at least once during their time at St. Andrew's. It opens your eyes to a whole world of opportunity. The faculty is always willing to adapt the program to your individual interests, creating advanced photography classes when requested, and providing space for art endeavors. The new arts building will increase the school's capacity for student accommodation even more. The school also provides musical instruments and lessons for anyone who wants to learn, voice lessons, and three different theater endeavors a year- a comedy, a drama, and a musical. The school is recommitting itself to the arts and arts program development with the building of the Arts facility.
Extracurricular Opportunities:
1.) Describe the extracurriculars offered at your school - what did you like most about it?
There are so many different clubs to join and activities to get involved in- way more than you can ever do! Teachers are always looking for someone to join them in one of their favorite activities or to help you enjoy one of yours. I was able to start a Gay/Straight Alliance with the help of the headmaster and faculty, there were multiple volunteer opportunities every day, and even clubs to foster your unusual interests. Two of my friends started a Cheese Club, others started a Disney Movie Lover's Club, and there were countless other ones. You were able to do anything you wanted!
Dorm Life:
1.) Describe the dorm life in your school - what did you like most about it?
After your first year, you were able to select your roommate and most of your dorm companions. This made for great bonding opportunities and great friendships. The dorm life was amazing, fostered by the senior class residential advisors and leaders that lived on every dorm. Seniors also got the opportunity to live with and get to know the underclassmen and also gain valuable experience for life in how to help others help themselves. The kitchens in each of the girls dorms allows for late night cooking sessions that are amazing opportunities to make friends, as are the dinner parties thrown for the guys who don't have kitchens. Wednesday night milk and cookies is another great tradition that really encourages dorm bonding. The people you live with become your best friends for life.
Dining:
1.) Describe the dining arrangements at your school.
The food was really good at St. Andrew's as far as school cafeteria's go. The family style meals every school day were also a great method for creating a community- you ate your meals with 7 other students and two faculty members for one meal a day. I got to know so many people I would have never otherwise spent time with. It is a great system that really fosters the school's goals of discussion and family.
Social and Town Life:
1.) Describe the school's town and surrounding area.
Middletown isn't a big town, so there aren't many opportunities for entertainment, but there is a mall and movie theater within 30 miles. It is also near enough to take day trips to Philadelphia, New York City, and Washington, DC, something that occurs pretty regularly. St. Andrew's has bought up all the land surrounding the school so that it can remain in a rural location, but Middletown is constantly growing, so there will be increasing amounts of things to do in town.
2.) Describe the social life at your school - what did you like most about it?
The social life is very good, there are multiple opportunities to get to know people from all walks of life in many different spheres. You get to know people as athletes, students, roommates, and friends. It is a truly unique experience.
Daily Schedule:
Weekday
12:00 AM
Family Style Lunch with students and faculty
4:00 PM
Sports/ theater practice
6:00 PM
Dinner with your friends
10:00 PM
Hanging out with your friends on dorm
Weekend
12:00 AM
Sports practice or game
3:00 PM
Hanging out with friends, watching movies
11:00 PM
back on dorm for the night
St. Andrews not only has the most incredible ethos but uses that ethos among the student body to do good. The small student population allows no one to slip under the cracks, and it's the. . .
I think that the small student body and close knit community of St. Andrew's makes it very unique. With a student body of only about 300 students, you know everyone's name and they know yours. . .
St. Andrew's feels like a second home to me. The teachers are not only dedicated to education and fostering critical thinking in all disciplines, but also in making the school a comfortable and friendly environment. . .
Show more reviews (

10 reviews

)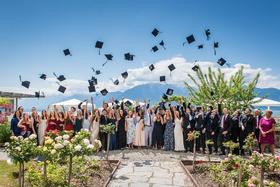 Nurturing Futures: A Journey through Boarding at Haut-Lac School in Switzerland
Nestled in the hills overlooking Lake Geneva in the French-speaking part of Switzerland lies an educational gem that embodies a unique blend of academic excellence, cultural richness and a profound sense of community. Founded over 30 years ago, Haut-Lac International Bilingual Day and Boarding School is now home to both 600 day students and a maximum of 30 boarders from around the world.
What To Wear at Your Job Interview
Navigating job interviews can be stressful, but knowing what to wear shouldn't be. Our comprehensive guide covers the essential dress code tips for men and women interviewing at boarding schools. Make your first impression count with style and professionalism.
Navigating the Modern Maze: Emerging Challenges for Boarding Schools
Explore the pressing challenges facing boarding schools, from marketing difficulties and rising insurance costs to facility maintenance and recruitment of competent trustees and teachers. This article delves into these complex issues and proposes innovative strategies to overcome them.