Reflections and Advice:
1.) What do you think makes your school unique relative to other boarding schools?
Having an all-girls education changed the way I study, live, and generally interact with the world. I originally decided to go to EWS because I was tired of the co-ed private school I went to for middle school. I was tired of school that revolved around boys, make-up, and who was 'cool' instead of academics. Not only were classes at EWS smaller, more intense, but learning didn't end at 3:30. We had our teachers in the dorms with us (or living nearby on campus) and our classmates to study with on our halls. One of the best things about EWS is the traditions that come with it being an older school. So many things we did were steeped in tradition and the knowledge that every girl to go through that school had done the same things.
2.) What was the best thing that happened to you in boarding school?
I definitely became more sure of myself as a person and more confidant in my opinions and knowledge. I learned how to talk with adults and make a good argument. My skills in writing, language, speaking, photography and art were so fine tuned that I got college grad jobs right out of high school. In college my teachers were impressed at my writing skills (in analytical and creative writing- don't take this review at face value!). I also got to go on a study abroad trip to Greece with two of my teachers during my junior year. They were so knowledgeable about the area and it was a great experience.
3.) What might you have done differently during your boarding school experience?
I think I would have tried to do more extra curriculars and go to more cultural events. But at the same time I got quite a lot out of going to school there. You have to do as much as you can without locking yourself in your room with all your books. The social aspects of the school are just as important learning spheres as the academic.
4.) What did you like most about your school?
It was a beautiful campus, my mother had gone there so I felt like I was part of a tradition (on top of all the school traditions). I love the feeling of community and that I can go back four years later and end up in conversation with my old teachers. I am having my wedding there this summer, two of my teachers are invited, a few of my classmates, my photo teacher is my photographer. It is like a big extended family.
5.) Do you have any final words of wisdom for visiting or incoming students to your school?
Check out the tunnels and the older, unused parts of the school. There is so much to explore. Cover every part of campus if you can!
Academics:
1.) Describe the academics at your school - what did you like most about it?
Like I mentioned above, academics were interwoven through the whole day. My houseparents were my English teacher and my chemistry teacher. My other teachers were in their offices (some of which were in the dorms) late into the day and I could always go and talk to them about anything. I feel like I not only made friends with my classmates but also my teachers. When I go back to visit, they're the people I seek out. Because the teacher student relationship is much more comfortable, I think the academics were not so intimidating. At a school where I would have been calling them "Prof ---" I don't think I would have been able to rise to their level as much. We also had some amazing classes, SAT prep was fun (!), our electives were varied (literature and environment, Dante'sdivine comedies), and the workload prepared me for college.
Athletics:
1.) Describe the athletics at your school - what did you like most about it?
Gym was mandatory but you could opt out to play a sport. Sports and pre-season were the most grueling experience I had ever had. I loved it! I really learned to push myself since I had never been very competitive before. We had rivalries with a few other schools with brought us together for a school spirit I had never experienced before. The new aquatic facility got me into swimming, life-guarding and teaching swim lessons after graduation.
Art, Music, and Theatre:
1.) Describe the arts program at your school - what did you like most about it?
I was very involved with the art program (visual). They have great studios and some interesting classes most schools don't offer such as; weaving, ceramics, photography, AP studio art, digital media. While I wasn't too involved with the performing arts, there is a "mandatory" play that the seniors do at Christmas, which is a 80 year old tradition. I also took Oral Interpretation to fulfill my performing arts credits which taught public speaking and has been a very helpful asset.
Extracurricular Opportunities:
1.) Describe the extracurriculars offered at your school - what did you like most about it?
I wasn't terribly involved with clubs, mostly sports. I was on the Art Board of the art/literary magazine. That was a fun and fulfilling experience to critique and decide on art to include. My senior year I had an internship at the NY State Museum in Albany in their anthropological survey lab. The Independent study program can set you up with almost anything you are interested in. There were girls who had Ind. study in clowning, genetics research, horse back riding etc. As far as clubs go, they were always having coffee nights or fund raisers or some sort of event. While I was not a member of too many, there was always an opportunity to participate.
Dorm Life:
1.) Describe the dorm life in your school - what did you like most about it?
Dorm life was one of the best things about EWS. Freshman hall was the only "unmixed" hall, everyone else lived with different classes. We were able to chose our rooms based on seniority and a lottery (I always got a bum number but managed to have a single room for the last three years). We had hall teas (themed) every week and hall themes. In the winter we had "peanuts and shells" which is a secret Santa type idea. The teachers were assigned to halls for certain things so they would participate too. We had a study hall from 7:30-9:30 at night. Freshmen had to study in the library for the first semester and if your grades were ok, you had study hall in your room for the rest of the years. You could sign out to do work in the art building or science building or meet with teachers. It was a really great system that taught me how to budget my time. Time was pretty strict (I don't know what the hours are now), we had bells for everything and cut off times for phones and socializing. Now I think they have phones in the rooms but they do turn off instant messenger during study hall and at night.
Dining:
1.) Describe the dining arrangements at your school.
The food was GREAT. We always had lots of choices, vegetarian and otherwise, full salad and sandwich bar, soups, wok bars, sundae bars. Meals happened on a eat-when-you-have-the-time basis so there was no assigned seating. Holidays and special events had family style assigned seating dinners. Weekends were great because there was a brunch with omelets just the way you want them, pastries etc. We got to know the kitchen staff and they were always really nice and helpful.
Social and Town Life:
1.) Describe the school's town and surrounding area.
I mostly went to CVS and Chinese food. I suppose I wasn't very adventurous. Troy is full of great restaurants though (I only know this NOW) and cultural activities. The weekend activities coordinator always has things for girls to sign up and do on the weekends.
2.) Describe the social life at your school - what did you like most about it?
It was a very friendly atmosphere on the halls. Girls were friends regardless of their age, background etc. I made a lot of lifetime friends and have many great memories. Weekends were fun and relaxing. We watched movies in the houseparent's apartments, went to the mall, had organized on-campus activities etc. No boys unless you wanted them around - there were plenty of dances and activities with boys though.
Daily Schedule:
Weekday
7:00 AM
breakfast check in
8:00 AM
Morning Reports (assembly)
10:30 AM
Into the Woods (environmental literature)
Weekend
11:00 AM
hang out in tv room
1:00 PM
trip to Crossgates
8:00 PM
dance with boys school or on campus movie
Emma Willard is especially good at facilitating discussion based classrooms using the Harkness Method. I am finding now that I am in college classes that are all large lectures that Emma Willard's teachers were especially. . .
Emma Willard's home on Mount Ida is in itself one of a kind. The moment you step on campus, you enter a different world of gray stone walls and unbridled passion. Emma Willard's small, close-knit. . .
One of my favorite parts about Emma Willard was the round table method of teaching. All humanities classes were taught around a round table, so that all of the students could see one another. Teachers. . .
Show more reviews (

6 reviews

)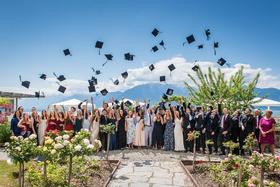 Nurturing Futures: A Journey through Boarding at Haut-Lac School in Switzerland
Nestled in the hills overlooking Lake Geneva in the French-speaking part of Switzerland lies an educational gem that embodies a unique blend of academic excellence, cultural richness and a profound sense of community. Founded over 30 years ago, Haut-Lac International Bilingual Day and Boarding School is now home to both 600 day students and a maximum of 30 boarders from around the world.
Navigating the Modern Maze: Emerging Challenges for Boarding Schools
Explore the pressing challenges facing boarding schools, from marketing difficulties and rising insurance costs to facility maintenance and recruitment of competent trustees and teachers. This article delves into these complex issues and proposes innovative strategies to overcome them.
What To Wear at Your Job Interview
Navigating job interviews can be stressful, but knowing what to wear shouldn't be. Our comprehensive guide covers the essential dress code tips for men and women interviewing at boarding schools. Make your first impression count with style and professionalism.