Reflections and Advice:
1.) What do you think makes your school unique relative to other boarding schools?
Mercersburg is unique because of its small size (just 425 students almost all of whom live on campus), its small class sizes (11-15 students), and its dedication to truly educating every aspect of the individual.Mercersburg really becomes a home for the students that are there. Eight meals a week are served together, students study, work, participate in athletics and clubs, and live together.
2.) What was the best thing that happened to you in boarding school?
Going to boarding school 3,500 miles away from my parents was very difficult. I struggled at first with the schedule and demanding nature of academics at Mercersburg. But after a brief adjustment period, Mercersburg really became a home for me. I made great friends, I accomplished great things in the classroom, and in the pool. I left with a sense of pride in myself, and in my accomplishments. I know I left Mercersburg a better person than when I came in. When I got to college, I was shocked about how much more advanced I was than other students. First, and foremost, in the classroom. My writing skills were way above those of the other students. Academics in college almost seemed easy after Mercersburg. I knew what is was like to be busy, and to have to keep a schedule. Even though I had no one forcing me to go to study hall 30 minutes after dinner, I continued my Mercersburg habits (for the most part) and they paid off very well. But even outside of the classroom, I was way ahead of the other students. I knew how to do my own laundry, how to clean my room (thanks to those room inspections!), and generally how to be "on my own." I didn't freak out because my parents weren't around, and rebel, and get into trouble. I had already been away from home for two years, there was no need to do that.Mercersburg is a wonderful place, and it will always hold a dear place in my heart.
3.) What might you have done differently during your boarding school experience?
I guess just to be ready for anything. I transfered to Mercersburg from one of the best high schools in my home town, where I was at the top of my class. But at Mercerbsurg you are surrounded with people who all have the same credentials. Teachers can be tough, and demanding. There can be stressful times, as college applications loom, etc. But the most important advice is just to enjoy the time that you have there, because it is so wonderful, and it won't ever happen again.
4.) What did you like most about your school?
Overall, I enjoyed the family environment of Mercersburg. I enjoyed getting to know my fellow students, teachers, and coaches. I enjoyed being challenged in the classroom, on the field, in the dorm, etc. and just growing and learning as a person in ways that I haven't done anywhere else.
5.) Do you have any final words of wisdom for visiting or incoming students to your school?
Tippetts hall is the best! and Romeo's has wonderful pizza, sandwiches, and ice cream. Especially their version of a blizzard.GO MERCERSBURG!
Academics:
1.) Describe the academics at your school - what did you like most about it?
Academics at Mercersburg are challenging. You will study as much as students in college. But they really prepare you. Students take the usual history, English, math, science, foreign language, but then there are also art, music, physical education, and religion electives and requirements.While everyone is trying to do well in their classes, I wouldn't say that Mercersburg is a competitive environment. To my knowledge, there is no forced curve, and teachers are very willing to help you out. It is always easy to find a teacher for more help, whether it is during the specified help periods at the end of the day, after lunch or dinner, or at night when the teacher is "on duty" in the dorm.
Athletics:
1.) Describe the athletics at your school - what did you like most about it?
The athletic programs are top notch. Everyone is required to participate in at least two "afternoon activities" These don't have to be sports, but most students do participate in at least one sport. There is great school spirit at Mercersburg, whether it is for alumni weekend, or just a random sports game. The facilities at Mercersburg are great, and improvements are always being made. The coaches are top notch, and most also are teachers or advisors in the school, so you get to know your coach not just on the playing field, but off it as well.
Art, Music, and Theatre:
1.) Describe the arts program at your school - what did you like most about it?
Mercersburg has put great effort and expense into improving its arts programs in recent years. Dance classes are now offered, as well as a multitude of theater productions. There are twice weekly music periods, which allow students who want to participate in band or orchestra to not have to sacrifice other after school activities.
Extracurricular Opportunities:
1.) Describe the extracurriculars offered at your school - what did you like most about it?
There are many after school activities and clubs. Many meet during the evenings or on weekends, so that people who want to do sports can participate in both. There are countless clubs at Mercersburg, and it isn't hard to start a new one. You just have to find a teacher to sponsor your club and a few members. Many clubs will also go on weekend trips to go camping, or go to Washington D.C. to the attractions there.
Dorm Life:
1.) Describe the dorm life in your school - what did you like most about it?
Dorm life was one of the best parts about Mercersburg. All dorms are single-sex, and almost every student has a roommate. After their first year, students do have a choice of whom they want to live with. In the dorm is really where you get to know all the other students. Dorm life is always fun and exciting, from decorating the dorm during Alumni weekend, to weekly floor meetings, to getting to know the faculty that are in residence in your dorm. (usually 1-2 faculty families per floor). Being a prefect (like a resident adviser) was a very rewarding experience for me as well. As a senior I was in responsible for trying to keep peace on my floor of 9-10th graders. It was an awesome responsibility, but it was a great opportunity and I made wonderful new friends.
Dining:
1.) Describe the dining arrangements at your school.
Mercersburg has one cafeteria. Breakfast every morning is optional, and is causal. Most students do attend breakfast, even if it is just to grab something quickly. And the Belgium waffles are to die for (especially if you mix in the Cinnamon sugar mix). During the school week, lunch and dinner (except dinner on Wed. and Friday nights) are served family style. Each table has one faculty person, a table prefect (a senior who is responsible for making sure things at the table run smoothly), and 6-8 students. Table assignments switch every two weeks, so you really get to know everyone in the school. Additionally, there is a schedule made of "blue coats" and "white coats" who are responsible for clearing the table, getting the food, etc. All meals on the weekend, except for Sunday night dinner, are served casually. Students also have several "free passes" to skip a required meal to eat with friends off campus, or to simply have some time to themselves.The food at Mercersburg is pretty good. There is always a main dish that is served, which usually consists of some sort of meat or pasta, as well as all the side fixings. There are vegetarian options that you can sign up for. There is also a salad bar. And if you have any other dietary issues, the kitchen is always ready to help out. (For example, in season, athletes can get plates of pasta at dinner so that they can get enough carbs).There also is a snack shop in the student lounge area, that is open during morning break, the afternoon, and right after dinner. You can buy pizza, snacks, pop, etc. They also come around to the dorms at night, after study hall, to satisfy all your late night cravings.
Social and Town Life:
1.) Describe the school's town and surrounding area.
The school is in a very small town, but it does have the necessities like a drug store, grocery store, bank, etc. It is a beautiful area of the country, especially in the fall as the leaves change. Additionally, the school is always scheduling day trips away for the weekend, to malls, museums, amusement parks, etc.
2.) Describe the social life at your school - what did you like most about it?
I really liked the fact that you could make really good friends at Mercersburg, because you really got to know people so well. Additionally, Mercersburg was a friendly place, where everyone knew each other. It didn't mean that everyone was your best friend, but we all knew each other and knew what the other people enjoyed, etc.
Daily Schedule:
Weekday
4:15 PM
sports/afternoon activity
8:00 PM
study hall in your dorm room, or in the library/dorm for 11th graders (seniors are not required to be in study hall if they are in good academic standing)
11:00 PM
lights out for everyone but seniors. 11:30 lights out for seniors
Weekend
8:00 AM
sports practice or leave for a day trip to D.C., Balitmore, etc.
8:00 PM
evening activity, or just hanging out
12:00 PM
back in dorms, in your room
Mercersburg has an incredibly beautiful campus. It is a place for reflection as much as anything else. The gothic chapel is designed by the architect who built Princeton University's chapel, and it carries a rich. . .
Mercersburg has a unique community in that everyone is so connected and there really is a sense of family among the students and teachers. Everyone is incredibly kind, welcoming, ambitious, and curious. the relationships I. . .
Opportunity and Community were the two buzzwords that largely encompass my Mercersburg experience. What lies between these two speaks just as loudly. There is a certain "presence of the present" that exists at Mercersburg that. . .
Show more reviews (

17 reviews

)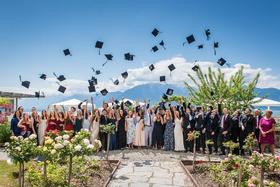 Nurturing Futures: A Journey through Boarding at Haut-Lac School in Switzerland
Nestled in the hills overlooking Lake Geneva in the French-speaking part of Switzerland lies an educational gem that embodies a unique blend of academic excellence, cultural richness and a profound sense of community. Founded over 30 years ago, Haut-Lac International Bilingual Day and Boarding School is now home to both 600 day students and a maximum of 30 boarders from around the world.
What To Wear at Your Job Interview
Navigating job interviews can be stressful, but knowing what to wear shouldn't be. Our comprehensive guide covers the essential dress code tips for men and women interviewing at boarding schools. Make your first impression count with style and professionalism.
Navigating the Modern Maze: Emerging Challenges for Boarding Schools
Explore the pressing challenges facing boarding schools, from marketing difficulties and rising insurance costs to facility maintenance and recruitment of competent trustees and teachers. This article delves into these complex issues and proposes innovative strategies to overcome them.