Reflections and Advice:
1.) What do you think makes your school unique relative to other boarding schools?
HPA offers a unique learning environment for students in several ways. The campus is located in one of the nicest rural settings on earth, with rolling hills, and a lot of beautiful open spaces. Students at HPA are encouraged to strive for excellence academically. One of the key points at HPA is importance of moving on to a college that will best suit each student. Students are exposed to a uniquely diverse living and learning environment. Students and teachers come from around the world, creating a multi-cultural, worldly atmosphere. As a student I was encouraged to go out for varsity sports, and strive to become the best team player that I could. Participation in sports activities at HPA is as important as academic success. I came to HPA with no organized sports experience, and ended up being a key player on both the Varsity Basketball and Volleyball teams. HPA builds well rounded student athletes by providing them with a wide range of educational tools that put the student in the driver's seat, giving them a healthy and empowering start into the next step of life.
2.) What was the best thing that happened to you in boarding school?
I did not naturally excel in mathematics in school, and had to work hard to get good grades. My Algebra teacher at HPA, Mrs. Schmidel worked tirelessly in her efforts to teach me in a way so that I could understand the subject material. I built my confidence up so much during that time, that I was able to actually like math, and look forward to learning it as I moved up in higher level courses.
3.) What might you have done differently during your boarding school experience?
I would have tried to utilize more of what HPA had to offer. Looking back, it was an amazing opportunity to learn about the world, both locally and globally. Aside from college, there will never be another time in your life when you are in such a unique position to find out about out world.
4.) What did you like most about your school?
I liked the marriage between the local feeling of place that is very old and established, and the cutting edge global education.
5.) Do you have any final words of wisdom for visiting or incoming students to your school?
Take a walk around campus, talk to the people you see, walk in the hills above the school, take a swim at one of the white sand beaches 10 minutes down the hill, and you will see why I have taken the time out of my life to write this message.
Academics:
1.) Describe the academics at your school - what did you like most about it?
Students must complete a series of core requirements like most accredited high school. Students are held at a high standard which helps them to challenge themselves. Students are also given freedom in picking the courses that interest them. I took physics, ceramics, and Hawaiian slack key guitar and had a great time finding a balance between the staple core classes, and the courses that I chose on my own.
Athletics:
1.) Describe the athletics at your school - what did you like most about it?
Athletics at HPA are awesome, plain and simple. Great facilities, and a great variety of options for all types of athletes. Students are encouraged to go out for a Varsity sport. It is amazing watching how fast and strong confidence is instilled in HPA students as a result of their participation in sports. Students really learn what it means to be part of a team. Lesson learned on the court, in the pool, or on the field give students life long tools to succeed in many situations later in life. I know that my involvement in HPA sports has helped me time and time again to succeed, both personally and professionally.
Art, Music, and Theatre:
1.) Describe the arts program at your school - what did you like most about it?
HPA has an amazing performing arts theater that offers students an ideal venue for the performing arts. HPA puts on plays, and concerts year round at Gates Performing Arts center. HPA has a great visual arts center that was constructed while I was at school. Students participate in ceramics, drawing and painting, and other arts as well.
Extracurricular Opportunities:
1.) Describe the extracurriculars offered at your school - what did you like most about it?
I was a member of the student body government, and the school newspaper. Both of these organizations gave me the ability to find a voice. As an English major in college, I had an early desire to write and express myself. Both of these activities helped me to start to find my own voice, and taught me to express myself in a clear, concise, yet original way.
Dorm Life:
1.) Describe the dorm life in your school - what did you like most about it?
I was not a boarder, but I spent a good amount of time in the dorms, since many of my friends were boarding. Boarding life at HPA is especially valuable to kids because they are exposed to other students from around the world. Students come from Italy, China, Tahiti, Japan, Mainland U.S.A, just to name a few, and really come together to create a unique multi-cultural living environment.
Dining:
1.) Describe the dining arrangements at your school.
There was always fresh vegetables, and simple food options if you didn't like the main meal served. Students must help in the kitchen from time to time, and are involved with menu preparation.
Social and Town Life:
1.) Describe the school's town and surrounding area.
I was born and raised in HPA's home town, Waimea. I have traveled all over the world, and have yet to find a place that is quite like Waimea. It is a small town that is comprised of working families of diverse ethnic background. Hawaii in general is known as the melting pot of the Pacific, and Waimea is no exception. Waimea has rich cultural history. It was training ground for ancient Hawaiian warriors, a key agricultural production location for Hawaiians, and later became home to cattle ranches, and farms that are still powering the economy today.
2.) Describe the social life at your school - what did you like most about it?
There are kids from around the world living and learning together at HPA. Tight cliches are not able to become too exclusive due to the fact that students are mixed so evenly with each other throughout the year in the many different activities offered.
Daily Schedule:
Weekday
7:00 AM
assembly at Gates, classes 8am-3:00 PM with lunch break+ free period (s)
2:00 PM
sports 3:30PM-5:30 PM
Weekend
1:00 AM
ogranized sports, free time
HPA Campus is set up in a unique natural surrounding. HPA does a lot of volunteer work. HPA has a lot of good and nice teachers. They help you where they can. . .
The boarding and day community were both very diverse, inclusive, and welcoming. They encouraged a lot of socializing and bonding that effectively made the school feel like family. The events that were held such as. . .
The campus location in Hawaii is very unique, and I think that this is a big plus for people coming to study outside of the state. Although I personally went home the majority of weekends. . .
Show more reviews (

4 reviews

)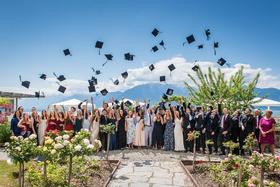 Nurturing Futures: A Journey through Boarding at Haut-Lac School in Switzerland
Nestled in the hills overlooking Lake Geneva in the French-speaking part of Switzerland lies an educational gem that embodies a unique blend of academic excellence, cultural richness and a profound sense of community. Founded over 30 years ago, Haut-Lac International Bilingual Day and Boarding School is now home to both 600 day students and a maximum of 30 boarders from around the world.
What To Wear at Your Job Interview
Navigating job interviews can be stressful, but knowing what to wear shouldn't be. Our comprehensive guide covers the essential dress code tips for men and women interviewing at boarding schools. Make your first impression count with style and professionalism.
Navigating the Modern Maze: Emerging Challenges for Boarding Schools
Explore the pressing challenges facing boarding schools, from marketing difficulties and rising insurance costs to facility maintenance and recruitment of competent trustees and teachers. This article delves into these complex issues and proposes innovative strategies to overcome them.